Friday Social: WhatsApp dark mode, Fleets and IGTV video responses
Our #FridaySocial is a weekly round-up of the key social media news stories from the previous seven days.  Let us know your thoughts in the comments or via Twitter – @Umpf
WhatsApp dark mode is FINALLY HERE!
Welcome news to many, Facebook has begun to roll out dark mode out across WhatsApp.
Facebook said 'Dark mode for WhatsApp offers a fresh look on a familiar experience. And we hope it helps prevent those awkward moments when your phone lights up the room.'
Aside from being one of the app's most requested features, there are some serious health benefits to this too. It limits the use of blue light and can reduces eye strain for us in low-light environments.
Sounds like a winner!
Twitter introduces Fleets
This week, Twitter has been testing a new feature called Fleets.
Essentially Stories, Fleets will allow users to post photos, videos and text to a customisable screen that disappear after 24 hours and appear along the top of users' home screens – similar to Instagram.
Fleets can't receive likes, replies or retweets, and they will be accessible to view even if you don't follow someone with a public profile.
For users' privacy, they won't circulate Twitter's network, show up in Search or Moments, and it can't be embedded externally.
Twitter is one of the last major social platforms to test out a Stories format and Fleets is only being trialled in Brazil right now.
Insta ad breaks
Since the ASA's warning to influencers last year reminding them that they must make it known if a post is an ad or sponsored in any way, it seems the community is taking it upon itself to be extra-careful.
Instagram stars have started to put their own placeholders before and after their sponsored posts, similar to an ad break on TV, to be as transparent as they possibly can.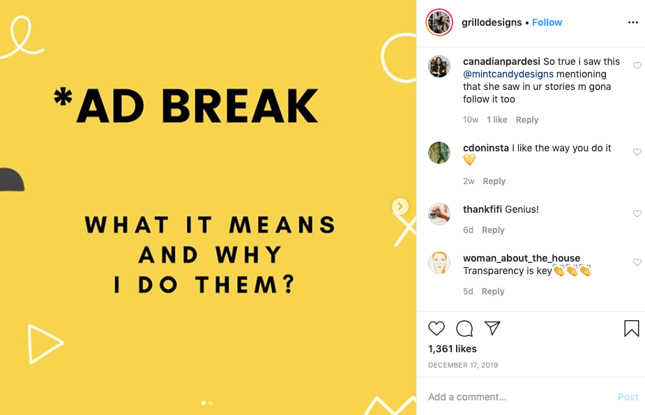 Some have been posting these placeholders with the same look as the rest of their feed so as not to interrupt the aesthetic, and some have been posting blank stories with the word 'ad' on, that run ahead of sponsored content to make the audience aware.
Interestingly, Digiday reports that influencers have claimed these posts have actually increased their following, sometimes making them even more engaged, as they are prepared for the paid-for content.
IGTV launches new video response option
In a bid to make IGTV more engaging, Instagram looks to be trying to add a TikTok-style video response option, which would allow viewers to respond to their content with short snaps of their own.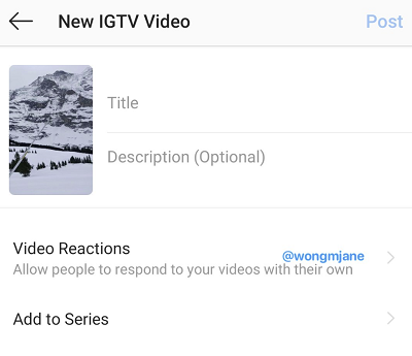 Credit: Social Media Today
However, some critics are saying that this new feature sounds a lot like TikTok's video Reactions option which overlays a video response over the original video post.
If Instagram is hoping for the same engagement with this as TikTok has managed with their similar feature, they have a long way to go, but for now we're looking to seeing if this gets rolled out and what it will mean for the app.
And finally: This Week in Tik Tok
First some serious news. You may have seen this week that TikTok has been advising users against taking part in the #skullbreakerchallenge that seems to have taken the platform by storm.
This comes after two teens in the US were charged with aggravated assault over the prank.
TikTok have said that the prank is a violation of their community guidelines and will be removing any further content in relation to this challenge from its platform.
In more uplifting TikTok news, the Creator Marketplace app is rolling out some new analytics tools so that users can see how their content is performing.
TikTok-ers will be able to see real-time insights like campaign views, engagement rates and engaged audience demographics.
It's currently only being used via an exclusive invitation-based experience system, so not everyone is able to access it yet. Brands can apply via the Creator Marketplace website or contact TikTok for a prioritised invitation.