Friday Social: Twitter Video, Social Music Chart and Qatar Campaign
1. Twitter tests video for iOS
An eagle-eyed tweeter has spotted a new feature that Twitter appears to be trialling – the inclusion of video clips in tweets.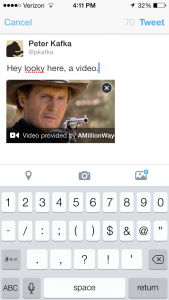 According to Peter Kafka of Re/code, a tipster pointed out that the best way to use the feature is to start drafting a new tweet using iOS, including the #amillionwaystodieinthewest hashtag (promoting Seth MacFarlane's new comedy). When typing, you'll noticed that among the usual suggested hashtags below your tweet there's the option to select a video provided by A Million Ways to Die in the West.
If you click the video option, a screenshot will appear below your drafted tweet – you can simply click to play, and again to include the video in your tweet.
2. Facebook tweaks its algorithm… again
Facebook has once again tweaked its News Feed algorithm, this time to alter the number of stories via other applications seen in the feed.
In a Newsroom post, Facebook announced that the tweaks will emphasise 'explicitly shared stories' from apps – stories that the users deliberately share – and will drop the number of 'implicitly shared stories', or stories automatically pushed out by the app.
In a developer-focused blog post, the social media giant also noted that: "Over the past year, the number of implicitly shared stories in News Feed has naturally declined. This decline is correlated with how often people mark app posts as spam, which dropped by 75 percent over the same period."
3. Twitter and Billboard launch music chart
Following announcement of the plans back in March, Twitter and Billboard have partnered to launch the first real-time music chart.
#RealtimeCharts fact: The #EmergingArtists #Trending140 charts update every second, providing an ongoing look at what's currently trending

— billboard (@billboard) May 27, 2014
Revealed this week, the chart tracks real-time US music conversation data via Twitter to compile the biggest players. The 'Trending 140' chart follows the popularity of song mentions over the past hour, day or week while the 'Emerging Artists' chart lists up-and-coming acts (with 50,000 followers) that have been shared on Twitter during the past 24 hours.
According to Mashable, music is the most widely-discussed topic on Twitter and saw more than one billion tweets on the subject during 2013 – so there's definitely an audience for Twitter and Billboard's new venture which Twitter head of music, Bob Moczydlowsky, calls "the new industry standard for tracking and surfacing the conversation around music as it happens".
View the real-time rankings here.
4. Schedule photos using TweetDeck
For the many of us that use TweetDeck, it's long been an annoyance that you are not able to schedule images using the service. This week, Twitter has updated the management service to allow images to be added to any scheduled tweet, and also the ability for shared account members to also see or amend a scheduled tweet.
5. Qatar launches 'Reflect Your Respect' campaign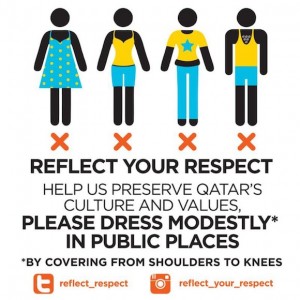 Qatar's Islamic Culture Centre has launched a social media campaign encouraging visitors to respect the country's values.
The campaign shows men and women how to dress appropriately while visiting the country, featuring diagrams and notations that shows tourists how to 'help us preserve Qatar's culture and values'. Tips include to dress modestly in public places, covering from knees to shoulders, and that leggings are not trousers.
The campaign is being rolled out across Twitter and Instagram (accompanying the leafleting, beginning in June), and has been met with mixed reviews so far.