Friday Social: Twitter stops spoilers, Instagram DMs on desktop and trends set to make a splash in 2020
Our #FridaySocial is a weekly round-up of the key social media news stories from the previous seven days.  Let us know your thoughts in the comments or via Twitter – @Umpf
Twitter Stops Spoilers
Do you ever find yourself scrolling through Twitter and realise you've missed the start of a programme you'd been waiting months to watch? Well, Twitter has a solution. The site has updated its television reminder button, meaning users will no longer miss their favourite TV shows.
The new format is a redefined version of the initial 'Tune-in' reminders which relied on Re-tweets to set a reminder as opposed to the latest update where users now have to press a dedicated button and, when tapped, will notify users when TV shows will go to air.
This update ultimately could improve engagement, and ideally get more people tweeting about the latest TV shows. Twitter is also working on ways to establish its platform with TV viewing, and later this year is set to stream events from the 2020 Tokyo Olympics – which may be the start of its online streaming future!
Instagram DMs on Desktop  
Instagram has finally announced it will roll out direct message access on the web-based version of the app. For brands this could be a life saver when responding to customer service queries, enabling an easier interaction on social media.
Although, this will only be rolled out to a small percentage of users for the time being, it looks like we could expect this for everyone in the next couple of months.
DMs, but make them desktop. 👍

We're currently testing Direct messaging on the web, so you can read and reply to your messages from wherever you are. pic.twitter.com/VJ06EpETxG

— Instagram (@instagram) January 14, 2020
Twitter Removes Insights 
Here's one for the social media whizzes – Twitter has confirmed that it is removing its Audience Insights tab from Twitter Analytics at the end of this month.
Launched back in 2015, Audience Insights provide in-depth data on your profile followers, including demographics and purchase behaviours, and can be helpful when mapping out effective tweets and ad strategies.
Twitter is yet to announce an alternative or new data platform, but we'll expect to hear updates on the topic shortly.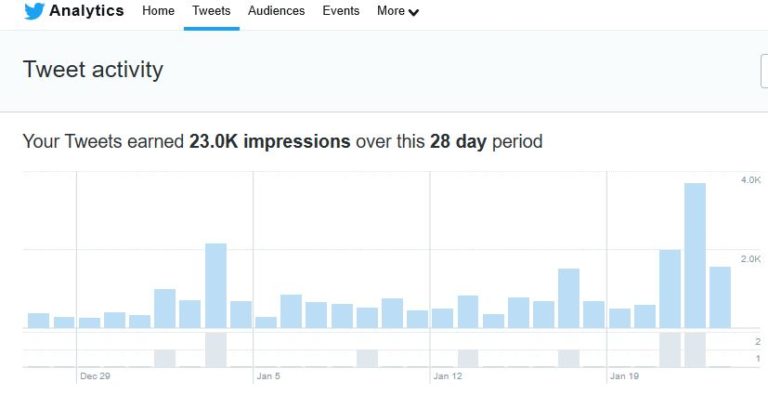 Trends Set to Make a Splash in 2020 
The social media landscape is so dynamic it can be difficult to keep up with but there a few social marketing trends which are set to lead the way this year:
The growth of storytelling to replace feed updates:
Stories on social platforms have become an increasingly popular feature, with Instagram and WhatsApp Stories being used by more than 500 million every day.
A quarter of Millennials and Gen Z users now look for Stories for brand and product info and given this, brands should look at increasing their focus on Stories.
Personalisation to replace interruptive marketing:
Consumers have more control than ever over which ads they allow in their feeds and what content they engage with; personalised marketing is another fast-growing trend. Content needs to become even more focused, even more highly specialised, in recognition of your consumer's preferences. Advanced personalisation tools cater to this, by tapping into data to customise messaging.
AR:
Augmented reality lenses are on the rise, enabling brands to create unique immersive experiences allowing for more connections and brand-building opportunities.
We can expect to see brands using AR for virtual tours and even enabling customers to try on their products without leaving the house.
And finally: this week on TikTok
In our weekly feature, we'll take a brief look at some of our favourite recent trends on the ever-changing video app…