Friday Social: Twitter spells it out, Event Insights and Pinterest Messaging
Our #FridaySocial is a weekly round-up of the key social media news stories from the previous seven days. Let us know your thoughts in the comments or via Twitter – @Umpf / @EllieHallsworth
1. Twitter spells it out
Twitter is testing an easier way to use hashtags; a new service that spells out hashtags to stop avoid confusion amongst its users.
An expanded label to some hashtag searches has started appearing for some of its users, such as #tbt (Throwback Thursday), #FF (Follow Friday) and other acronym hashtags, with the full decoded term shown beneath.
Although this new tool has started appearing for users of its iOS app, it is unclear whether the feature will be rolled out more widely.

2. The all-new Foursquare
The new and updated Foursquare app was launched this week, complete with fresh look and a new logo. Essentially, it will now focus on search and recommendations, whilst it diverts fans of its familiar check-in function to its new Swarm app.
The new app learns what you like (collated in what it calls 'tastes'), and helps you find the places it thinks you'll love based on information you've provided, the places you've liked, and the friends and experts you trust most.
The roll-out seems to have been a success; after only one day of the app being available for download, users have added over 15 million tastes to profiles globally. Popular tastes so far include 'healthy food', 'good for dates', 'fried chicken' and 'live music'.
https://www.youtube.com/watch?v=CvMVFGOJ2Z0
3. Insights for Events
Some Facebook users have reported seeing the availability of insights for events they have created, which has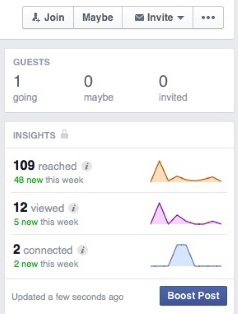 led to rumours of a wider roll-out. According to screengrabs posted online, insights include reach, times the event was viewed, and how many users connected to it each week.
If you have created an event after 24 July, are you seeing insights? Let us know on Twitter @Umpf / @EllieHallsworth.
4. Twitter's Shopping Services
More new feature updates have been flying around, but this time sparked by Twitter's new "payment and shipping" setting that a handful of users of its Android app have noticed. Although this option in the settings menu cannot be activated or opened at this point, it has led to speculation that Twitter could be planning a venture into e-commerce.
At this point it's unclear exactly what Twitter has planned, but watch this space for more news and updates.
5. Pinterest Messaging
Pinterest has this week unveiled a new way users can communicate and collaborate on the platforms, all around shared Pins. With the launch of its new messaging feature, users will be able to keep conversations going on Pinterest around their favourite Pins, without having to leave the site or apps.
Now, when users choose to send a Pin, they are shown a list of connected users to choose from. Once that Pin is sent, the conversation appears in the lower left-hand corner of the site or app. Interestingly, Pinterest messaging is available for groups too, and up to 10 people can share Pins with one another.