Friday Social: Twitter Mute, Pay-by-Instagram and Swarm
Our #FridaySocial is a weekly round-up of the key social media news stories from the previous seven days. Let us know your thoughts in the comments or via Twitter – @Umpf /@EllieHallsworth
1. Eurovision breaks Twitter record
The 2014 Eurovision song contest again dominated conversation on Twitter, generating over 5.3 million tweets, peaking as Austria performed and again when its winner was crowned victorious. A complete total of 5,384,678 tweets were sent across Europe, which smashed last year's total of 3.76 million.
The performance by the bearded drag queen Conchita Wurst saw Twitter users flocking to show their support and enthusiasm, clocking up an average of 47,136 tweets per minute.
2. Twitter Mute
This week Twitter introduced a new account feature called 'mute', which gives its users more control over the content they see on Twitter.
In the same way you can turn on device notifications so you never miss a Tweet from your favourite users, you can now mute users you'd like to hear from less. Muting a user on Twitter means their tweets and retweets will no longer be visible in your home timeline and, importantly, the muted user will not know that you've muted him or her. This new feature has been slammed by some as pointless, after all, why don't you just unfollow that annoying user? However, don't want to see any Game of Thrones spoilers or not interested in that work conference your friend is attending for the week? Then Twitter mute can come in handy as a temporary fix without that awkward "so, you unfollowed me?" conversation.
3. Pay for dinner with Instagram
A new concept 'pay-by-picture' restaurant has sprung up in London's Soho and will be heading towards Manchester and Leeds in the coming weeks. Called The Picture House, it was set up to mark the launch of a new range of meals from Birds Eye. Diners at the restaurant are served a two-course meal, and if they upload photos of the food to Instagram, Twitter or Facebook using the #BirdsEyeInspirations hashtag, they won't have to pay.
Free food? See you there, yeah?!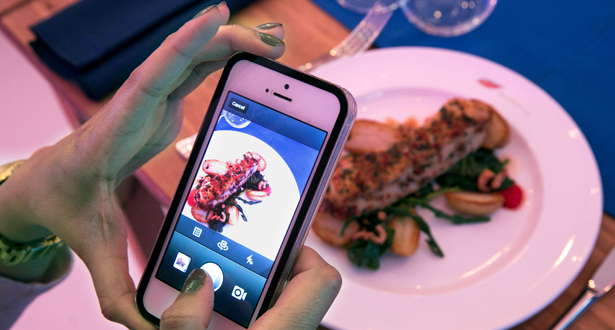 4. YouTube joins bid for leaders' debate
YouTube, the Daily Telegraph and the Guardian have announced they are making a joint bid to host a leaders' debate ahead of next year's General Election. In a clear effort to find ways of engaging a younger and more interactive audience, the consortium said it is open-minded about the precise format for the debate.
Telegraph editor-in-chief Jason Seiken said "The power of digital media comes in its ability to connect our leaders and the public in a two-way conversation. It appeals to millions who have not previously bothered to engage in the political process". Guardian editor Alan Rusbridger added "The digital world has become an increasingly vital democratic tool and forum for debate, and it's imperative that politicians understand and embrace the opportunities afforded to them by it".
If successful, the online broadcast would be free of the rules on balance that the likes of the BBC and Sky have to follow, meaning also that there would be more freedom over which leaders took part.
5. Swarm or Foursquare?
Foursquare's newly developed Swarm app became available on download this week. A break-away from its original app, Swarm is for people who want a faster and easier way to connect with their friends, to find out where everyone is hanging out and to make plans.
But what's the future for the Foursquare app? This will also go through a metamorphosis, with local search more personalised to your tastes and informed by people you trust. The opinions of actual experts should matter, not just strangers. Right now, Foursquare is polishing up this new discovery-focussed version and have promised to have it ready for users later this summer.
Downloaded the new Swarm app? Let us know what you think.