Friday Social: Twitter Likes, #RedCups and Facebook Birthday Videos
Our #FridaySocial is a weekly round-up of the key social media news stories from the previous seven days. Let us know your thoughts in the comments or via Twitter – @Umpf / @EllieHallsworth
1. Twitter 'Likes'
Twitter made a big change this week. The 'favourite' star button has now been replaced with a heart icon Twitter is now calling a 'like'. This heart icon is already being used in Twitter's Periscope platform, but now will be rolled out to both Twitter and Vine.
You can say a lot with a heart. Introducing a new way to show how you feel on Twitter: https://t.co/WKBEmORXNW pic.twitter.com/G4ZGe0rDTP

— Twitter (@Twitter) November 3, 2015
Speaking in a blog post, Twitter said: "We want to make Twitter easier and more rewarding to use, and we know that at times the start could be confusing, especially to newcomers. You might like a lot of things, but not everything can be your favourite. The heart in contrast, is a universal symbol that resonates across languages, cultures and time zones. The heart is more expressive, enabling you to convey a range of emotions and easily connect with people. And in our tests, we found that people loved it."
2. Facebook birthday videos
According to Social Times, Facebook has been experimenting with a new way to send birthday wishes to your friends. Previously users could write directly on their friends' timeline. However, it now looks like users can record a short video which can then be posted directly to the timeline.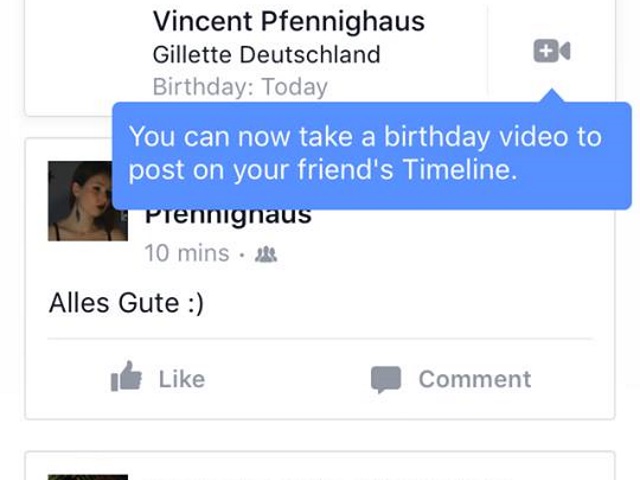 So, what's the big deal? It's no secret that Facebook wants to boost its video functionality, and with this added feature the company is arguably asserting its position in dominating content creation online.
3. Pinterest shopping
Pinterest has just launched a dedicated shopping section, called Pinterest Shop. Pinterest started adding a buy button to pins back in June, but now those buyable pins are becoming even easier to shop. With Pinterest Shop, which is a section within Pinterest composed entirely of buyable pins, you can browse "on trend" curated collections of clothing, jewellery and homeware. Individual retailers will also be able to set up shops in the section.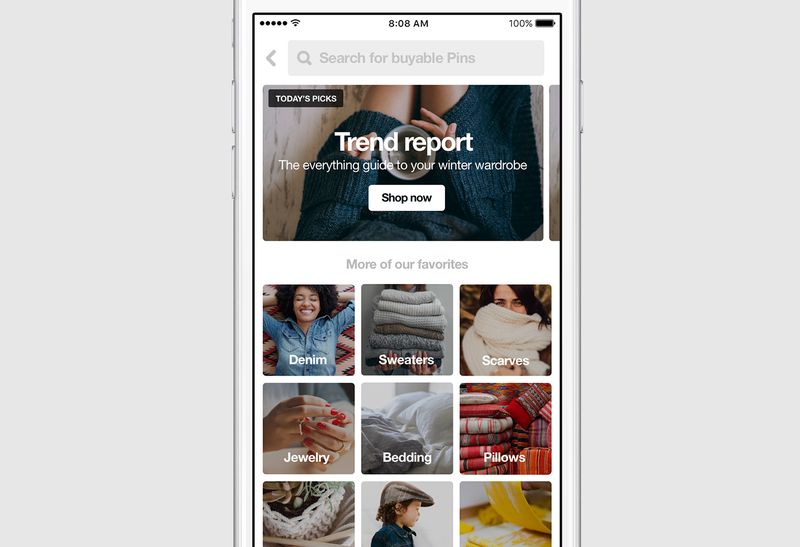 Currently this is only available on iOS and Android devices, where Pinterest gets 80% of its traffic.
4. Starbucks #RedCups
Starbucks is getting into the Christmas spirit with the launch of its #RedCups campaign, to celebrate the now iconic red cup the company has been introducing at Christmas time since 1997.
As part of the campaign, Starbucks has installed a 4 metre tall Red Cup 'tree' installation at London King's Cross station, which is designed to smell like a gingerbread latte. The tree will gradually light up as the number of mentions of #RedCups on Twitter increases. Tweets including the #RedCups hashtag will also feature across digital display boards throughout the station.
Speaking to Marketing Week, Starbucks' marketing director for the UK Steve Flanagan said "We wanted to drive engagement and really bring excitement of Christmas and 'Red Cups' to life on our social channels and in our stores. It's a nice way to tie it all together". See the full interview here:
5. Latest figures from Facebook HQ
Facebook has just announced its quarterly earnings and with that shared its latest Community Update. There are now more than 1.55 billion people on Facebook each month, including more than 1 billion people active every day.
See the numbers in closer detail…