Friday Social: Twitter GIFs, Instant Articles and Instagram Authentication
Our #FridaySocial is a weekly round-up of the key social media news stories from the previous seven days.  Let us know your thoughts in the comments or via Twitter – @Umpf/ @GrittAlessandra
Twitter introduces the gif button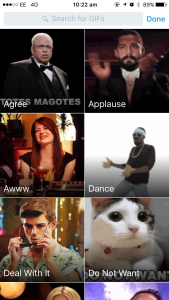 Twitter finally introduced its GIF search function this week, making it easier to share GIFs in tweets and DMs.
The function appears as a button when composing a tweet, and users can either browse categories or search for the GIF that fits their mood.
Twitter has partnered with GIPHY and Riffsy to create the tool. Alex Chung, founder of GIPHY, said in a Twitter blog:
"GIPHY's users are creating GIFs for news, entertainment, sports, and expression that can enrich Tweets. We're excited to work with Twitter to make sharing these GIFs even easier."
GIF search is rolling out across desktop, iOS and Android this week.
Facebook to let all publishers post Instant Articles
Facebook has announced that from 12 April, all publishers will be able to create Instant Articles, the platform's fast-loading news tool.
According to a post by Josh Roberts, Product Manager at Facebook, Instant Articles were built to solve the problem of slow loading times on the mobile web, an issue that affects all publishers regardless of size.
And so, after initial roll-out and improvements made following feedback, the tool will be made available to all.
Roberts' post notes that with Instant Articles, "publishers have full control over the look of their stories, as well as data and ads. They have the ability to bring their own direct-sold ads and keep 100% of the revenue, and track data on the ads served through their existing ad measurement systems, or they can monetize their content through the Facebook Audience Network. Additionally, publishers can use their existing web-based analytics systems to track article traffic or use third-party providers" – so it's easy to see why the roll-out will be good news to publishers not yet signed up.
Click here for more info on integrating Instant Articles.
Viz page removed / re-instated on Facebook
Earlier this week, Viz Comic revealed in a tweet that its popular Facebook page had been removed without warning:
Facebook have taken the Viz page down. We can appeal, but if we get it wrong, we'll be "permanently deleted". Oo-er. pic.twitter.com/r7llr1iIqK

— Viz Comic (@vizcomic) February 16, 2016
While Facebook's censorship rules often come into question by everyone from breastfeeding mothers to French art fans, the removal of Viz's page seemed especially odd. While not always safe-for-work, the page is hardly the most offensive thing seen on the social media site.
However, it was good news on Tuesday as the page was reinstated. Viz published a Facebook post to announce the news, saying "We're back. They wouldn't tell us what we did, but we promise not to do it again, whatever it was".  The Guardian published an update on Thursday stating that it was implied that Viz's risqué language had triggered the block, but this shouldn't have been grounds for removing the page.
Instagram improves security
Despite its popularity among most social media users, including the likes of Taylor Swift and Miley Cyrus, Instagram has always had a fairly lax log-in process requiring only a username and a password. Until now, that is.
Instagram confirmed to TechCrunch this week that it has begun rolling out two-factor authentication, letting users link their phone number with their account. Then, when logging in, the number will receive a code that must be entered to gain access to the account.
The news has been welcomed by Instagram users, some of which had previously been using third-party apps to add the extra security they needed.
In other Instagram news, we'd like to offer a round of applause to Adidas' social team this week. After posting a picture of a same-sex couple in celebration of Valentine's Day, Adidas received a few negative and homophobic comments. However, Adidas responded brilliantly and brushed off the negativity with emojis waving goodbye to the small-minded commenters. Well played, Adidas!
https://twitter.com/laurmanisclexa/status/699029817568538624?ref_src=twsrc%5Etfw
Facebook adds auto-captioning
This week Facebook announced that it will be introducing an automated captioning tool to improve the experience of viewing video with the sound off, as many mobile users do.
The captions will be auto-generated and can be edited and saved by advertisers. The feature comes following research which found that 80% of people react negatively when an ad plays loudly when they aren't expecting it, and a study which found that captions increase view time by an average of 12%.
The tool will begin to roll out globally over the next few weeks.
And finally…
We wanted to give a shout out to this cool Twitter app, which lets you give a custom out-of-office reply to tweets.
It's not for everyone, but if you're an active tweeter that's worried about being non-responsive while you're unconnected it might be worth checking out OOOTwitter.