Friday Social: Twitter DMs, Foursquare's Pinpoint and Facebook News Feed
Welcome to the Friday Social, our weekly round-up of the key social media news stories from the previous seven days. Let us know your thoughts in the comments or on Twitter at @Umpf or @Allllliiiii using #FridaySocial
Twitter updates DM
Twitter has this week updated how direct messaging works on the social media platform.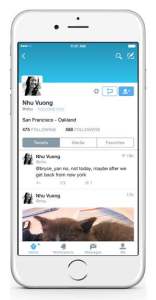 As you probably know, previously Twitter only allowed you to DM users that were already following you. To send a new contact a private DM, you'd have to tweet publicly asking them to follow you first.
Now, you can opt in to let anyone on Twitter send you a DM and you can reply to it – regardless of whether you follow each other or not.
Twitter has also introduced a new Direct Message icon on the profile of users you're able to send messages to (next to the follow/following icon).
Foursquare's Pinpoint
Foursquare has introduced its new 'full-service advertising solution', Pinpoint.
According to Foursquare, Pinpoint is powered by the world's most accurate location intelligence available and allows users to target consumers based on locations visited in the real world.
Those interested can request a demo on the Pinpoint site for further info. Partners already using Pinpoint include Samsung Galaxy, Coors Light and Land Rover.
Twitter reels in the hose
Twitter has taken back full control over its firehose of real-time data. Previously, the data was made available via one of three authorised resellers – one being Gnip, which was acquired by Twitter last year. However, in an announcement on the Gnip blog this week, Twitter has confirmed that all customers accessing the firehose will be moved to a direct relationship with Twitter.
Twitter has stated that users will notice no change but according to CEO of DataSift (a previous authorised reseller), Nick Halstead, that's not the case.
Nick says: "Twitter has seriously damaged the ecosystem this week. 80% of our customers use technology that can't be replaced by Twitter. At the end of the day, Twitter is providing data licensing, not processing data to enable analysis."
Channel 4's NewsWall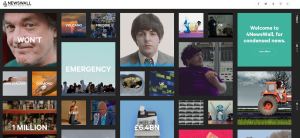 Channel 4 has launched a new site aiming to make online news more appealing to teenagers and young adults – by presenting headlines as GIFs, hosted on Tumblr.
The idea was created by Jack Croft and Stacey Bird of 4Creative, with illustrator Chris Rice providing the GIFs. The NewsWall is aimed at ages 16-34 and shows rolling news, allowing users to click each GIF for more details.
Facebook's balancing act
In a post this week titled 'News Feed FYI: Balancing Content from Friends and Pages', Facebook has announced changes to the way posts appear in the News Feed.
The updates are:
– Facebook's rules on seeing multiple posts in a row from the same source will be relaxed
– Content posted by the friends Facebook determines you care most about will appear higher in your News Feed
– Posts about users liking or commenting on a post will appear lower down the News Feed
All of these changes follow user feedback about the way News Feed works. Regarding the effects this will have on page post reach, Facebook's Product Manager Max Eulenstein and User Experience Researcher Lauren Scissors said:
"The impact of these changes on your page's distribution will vary considerably depending on the composition of your audience and your posting activity. In some cases, post reach and referral traffic could potentially decline. Overall, pages should continue to post things that people find meaningful and consider these best practices for driving referral traffic."