Friday Social: Twitter Adventures, Snapchat Ads & Facebook At Work
Our Friday Social is a weekly round-up of the key social media news stories from the previous seven days. Let us know your thoughts in the comments or via Twitter – @Umpf / @nathanbrush #FridaySocial
1. A dreadful start
We got embroiled in a Twitter adventure earlier this week and subsequently read up on how they're created. Terence Eden constructed the adventure below by setting up multiple accounts, each with a single tweet that presents the participant with two options, and multiple endings depending on which route you choose. He wrote this interesting blog on how he went about it, from creating the plot to acquiring all those different usernames. It's so well done that even Twitter congratulated Eden on his work…certainly food for thought for brands looking to do something innovative for their next campaign on the network.
They're here. Oh god! They've found you!
Run: @wnd_run
Hide: @wnd_hide

— A dreadful start (@wnd_go) January 11, 2015
2. Facebook video tabs
Facebook continued to roll out a key update to pages on the network this week, adding a Videos tab to sit alongside the usual Photos and About sections. Page managers can choose a featured video to appear at the top and create YouTube-style playlists to organise their content. The changes come as more brands turn to video to drive engagement on the network, with Facebook reporting just last week that there are one billion video plays every day.
3. Snapchat ad costs
It has been leaked that Snapchat is asking brands for up to $750,000 to advertise on the ephemeral image and video sharing app. Several people who have heard the company's advertising pitch have corroborated the figure, with some saying it is far too expensive for a relatively untested platform. Universal Pictures were the first to run ads on Snapchat, with McDonald's and Samsung following suit soon after. With 100 million monthly users from a relatively young demographic, the potential is huge, but Snapchat will be selective on which brands it partners with, and is reportedly looking for "fewer, bigger, better".
4. Facebook at Work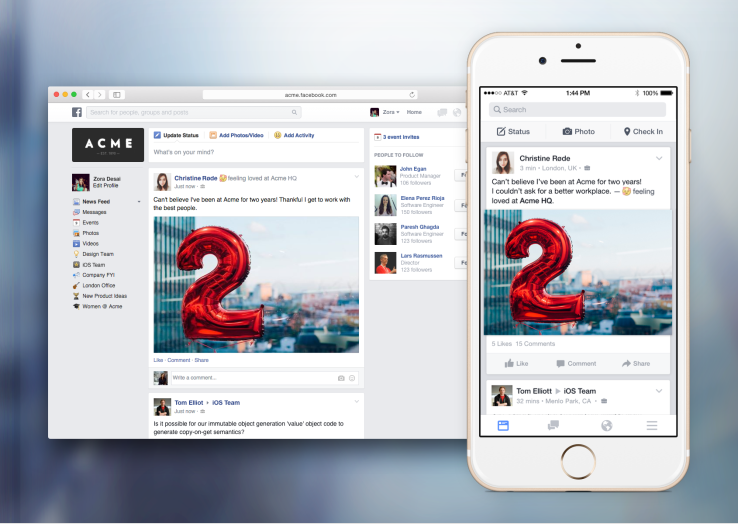 Sitting on Facebook while in the office will soon no longer be a reprimandable offence as the company gets ready to launch its professional platform, Facebook at Work. The look and feel will be similar to the personal network, but the separate platform is aimed at becoming a hub for workplace communications. Content employees post on the platform will be owned by their employer, in contrast to the personal platform's terms and conditions. Available to a select number of individuals for testing at the moment, we expect the public launch to happen in the coming months.
5. #FoxNewsFacts
The city of Birmingham has been in turmoil this week after an American terrorism expert revealed it's a place where non-Muslims "simply don't go in". Speaking on Fox News, journalist and author Steven Emerson expressed his concern over cities such as Birmingham being "totally Muslim". Unsurprisingly, it didn't take the Twittersphere long to pick up on the accuracy of Fox's reporting, with #FoxNewsFacts trending for the next couple of days. Here is our favourite put down:
For heaven's sake nobody tell #foxnewsfacts about the Black Country

— Guy Herbert (@guy_herbert) January 12, 2015