Friday Social: Tinder Social, Reddit Sponsored Ads and Twitter Shares Fall
Our #FridaySocial is a weekly round-up of the key social media news stories from the previous seven days.  Let us know your thoughts in the comments or via Twitter – @Umpf/@natashagraham_
Tinder encourages group meet-ups with new Social option
Dating app Tinder is now rolling out its new feature, letting friends invite each other to be part of a Tinder Social group. They can then share with fellow Tinder users what they're doing in the evening, and allow others to join them.
https://www.youtube.com/watch?v=yUxmPl2_sUM
Tinder Social first launched in Australia in April. To use the new feature users must activate it within the app, and can find friends who have done the same. Once it's activated, groups have the option to include a status on what their plans for the evening are, encouraging other groups to join.
Groups consist of up to four people, and they can chat with each other when one member from each group swipes right. Groups are time-limited and close at noon the following day, and the creator of the group can close it down earlier if they wish.
Tinder CEO and co-founder Sean Rad said: "Tinder Social is designed to make it as easy as possible to plan your night, get out into the real world and meet new people".
Reddit plans to sponsor user's posts (with permission)
Reddit has shared its plans to offer a type of promotional posts to advertisers. Organisations will be able to sponsor a post submitted by a user, as long as that user has given their consent to do so.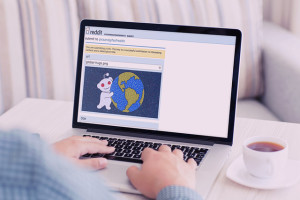 The move allows companies to utilize to viral potential of user subreddits
that could possibly reach
more individuals than a brand campaign or advertisement.
Starting on 4 August, companies could sponsor a post and see the content pushed to users through the dedicated advertising sections of the Reddit homepage. Users have the right to refuse and the company will not be able to post the ad, but if users choose to accept they will have a lifestyle subscription to the website's Reddit Gold service.
Keep an eye out next month for any sponsored Reddit ads!
Facebook to launch new Snapchat-like feature
Facebook appears to be in the early stages of building a new feature that lets friends privately share photos that disappear after 24 hours.
Currently in its testing stage, the new Facebook tool will be called Quick Updates and was first spotted by Tiffany Zhong, an analyst at venture capital firm Binary Capital. Other users have since commented on seeing the test on their profiles.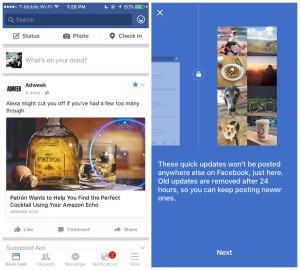 Along with photos, friends can share other content such as text or videos. At this stage, Facebook has said that it doesn't have any plans to share this test with any more people or plan to roll it out officially yet.
Watch this space…
#WeWearWhatWeWant
This week, plus-sized model and blogger Simone Mariposa fought back against body-shammers with the start of social media trend #WeWearWhatWeWant, which encouraged others to feel confident in their bodies and what they choose to wear.
Simone started the trend when she saw another woman being trolled on Twitter for her outfit choice, which was deemed 'unacceptable'. She spread the word by asking her 36.7k Instagram and 11kTwitter followers to share your own using the hashtag.
Speaking to the Huffington Post, the LA-based model said: "The story of the plus-size woman isn't commonly addressed because we are often made to feel subhuman, but with powerful hashtags like this, we are given a voice that no one can ignore".
I didn't ask you for your opinion. ??#WeWearWhatWeWant pic.twitter.com/z9Wy9uElfg

— me, a fat ??? (@SimoneMariposa) July 23, 2016
Twitter reports more losses in shares
Twitter has announced another loss of £81million ($106m) in its second quarter, and said to expect that growth will slow dramatically in the coming months, resulting in shares dropping.
The social media platform founder, Jack Dorsey, said monthly user numbers had only gone up by 3 million in the second-quarter – totalling user base of 313 million.
The slump in share growth has been linked to the vast criticism that Twitter is confusing and difficult to use, along with opinions about its lack of mass appeal.