Friday Social: Tesco Scan-Ta, Ello Tees and YouTube Awards
Our #FridaySocial is a weekly round-up of the key social media news stories from the previous seven days. Tell us your thoughts in the comments or via Twitter – @Umpf / @Allllliiiii
1. Wear Your Love for Ad-Free Ello
Ello is aiming to cement its status as the alternative – and ad-free – social network by selling t-shirts to raise revenue for the business.
The shirts have been designed by artist Chuck Anderson and will retail for $25.
Paul Budnitz, Co-Founder and Chief Executive of Ello, said: "Ello is about freedom – freedom from advertising, freedom to be who you want to be, and freedom to create. Working with brilliant artists like Chuck is a way we support Ello's creative community."
2. Santa's Racking Up Clubcard Points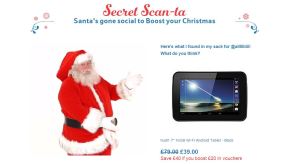 Tesco Clubcard has launched a Secret Scan-ta app aiming to help customers spend their Clubcard Vouchers this Christmas.
The app scans any public Twitter feed and uses their interests to suggest a gift that might be their cup of eggnog – it recommended I buy myself a new pair of headphones or a tablet, which isn't too far off base!
Anyone can use the app, whether they have a Clubcard or not, however only Tesco customers will be interested in the incentive to play – a chance for five winners to receive 5,000 Clubcard points each week and one overall prize of a Samsung Galaxy S5.
3. Facebook Launches Yet Another App…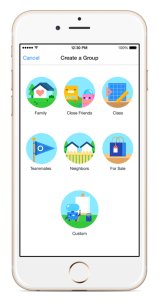 Facebook has this week launched its Groups app, splitting the existing app into yet more segments. The latest release from its Creative Labs, the Groups app streamlines and simplifies the experience of the feature.
According to Facebook's Newsroom post, the app aims to help people share faster and more easily with all the groups in their life. Do you use Groups, and will you be adopting the new app?
4. YouTube Revamps Awards
YouTube is working with partners such as Kia and VICE to host its second music awards festival, aiming to improve on last year's effort by placing importance on the fans and content creators rather than just big-name celebrities.
YouTube has launched a channel dedicated to the awards (which take place in March) here and will no doubt be linking the awards to its newly-launched subscription music service, Music Key.
5. Snapchat Shows Users the Money
Snapchat has launched Snapcash, a new service that allows users to transfer money to friends via private messaging.
The new tool, which is currently limited to users ages 18+ in the USA, works thanks to a partnership with Square – which Snapchat was quick to point out as a trusted, well-used service.
In a blog post, Snapchat said: "The product you're seeing today is fast, fun, and incredibly simple. After you enter your debit card, it's securely stored by Square, who will swiftly process your payment and send cash directly to your friend's bank account. Just swipe into chat, type the dollar sign, an amount (e.g. $11.25), and hit the green button."