Friday Social: T in the Park, #mecca_live and Snapchat updates Discover
Our #FridaySocial is a weekly round-up of the key social media news stories from the previous seven days. Let us know your thoughts in the comments or via Twitter – @Umpf / @natashagraham_
1. T in the Park tent prank
Across the weekend, T in the Park took place and on the Monday morning, festival-goers packed up to leave, apart from one individual. Scott Johnston tweeted the festival's twitter account explaining that his friends had trapped him inside his tent bag and couldn't get out.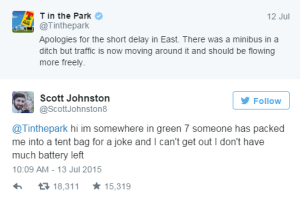 At the time, over 5,000 people retweeted his plea for help and amongst the replies, the Scottish police told him there was a search party out to look for him. After a long wait, Scott responded that he had been freed and was ok. Following his update, people began to believe Scott was only looking for attention and fabricated the story.
2. #Wimbledon reaches billions
Wimbledon came to a close on Sunday, with victories for both Serena Williams and Novak Djokovic. Over the two week tournament, tweets surrounding Wimbledon generated 8 billion impressions (views) across the internet and Twitter.
Some of the top tweets across the tournament:
– Roger Federer wins second set tiebreaker over Novak Djokovic in final
– End of match: Novak Djokovic defeats Roger Federer in final
– End of match: Roger Federer defeats Andy Murray in semi-final
– End of match: Serena Williams defeats Garbi Muguruza in final
– End of match: Serena Williams defeats Heather Watson in third round
3. Snapchat shares stories from #Mecca_live
Non-Muslims were able to get a rare glimpse inside Islam's holiest city this week. Mecca, is a city only open to Muslims, so users took to Snapchat to share their experiences from inside with the rest of the world.

The Snapchat story came about after a social media campaign asking the social media platform to share their experiences at Mecca. The story reached all of its 100 million users on Monday night, along with live updates on Twitter using the hastag #Mecca_live. Over a million people took to Twitter to praise Snapchat for streaming the events in Mecca, whilst others expressed an appreciation for Muslims and their "peaceful" religion.
4. Snapchat updates Discover feature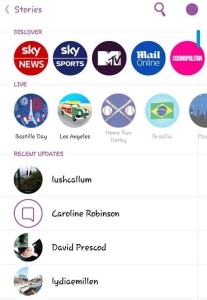 This week Snapchat revealed has a slight redesign, with the aim to focus on its Discover content. The Discover page allows users to see news content from certain media providers such as Sky News, Yahoo and Vice.
The original Discover page was launched at the start of the year and while the original page still exists, Snapchat has added the feature at the top of the Stories page.
The social media platform wants more brands to take prominence over individual stories. Snapchat has cut its $100 ad rate in March, down to $20 in May, in a bid to get more brands to use the Discover page.
Snapchat announced in May that over 2bn videos were watched every day – although they didn't make specify how much of those videos were from brands.