Friday Social – #Sochiproblems, Appsule and social media choreography
Our #FridaySocial is a weekly round-up of the key social media news stories from the previous seven days. Let us know your thoughts in the comments or via Twitter – @Umpf /@Tomscott1 
1.Twitter developing new profiles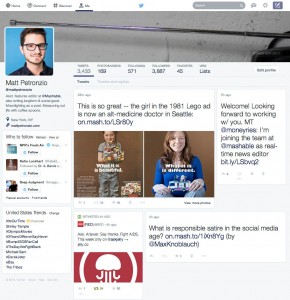 Twitter is testing out a radical profile overhaul that looks suspiciously like the Facebook layout, it wouldn't be the first time the rival platforms have introduced similar features. Facebook now has trending topics as well as the ability to search using #tags, whereas Twitter has introduced in-line images in to the timeline as well as cover pictures.
From the screenshots made available on Mashable, it seems as if the biggest design tweak will be a timeline which is no longer completely vertical, but instead will have a more Facebook style system where tweets appear in chronological order but also side-by-side instead of all in one column. Other new features include a large header photo and they way followers and following information is displayed.
Image source – Mashable
2. Juventus unveil first ever social media choreography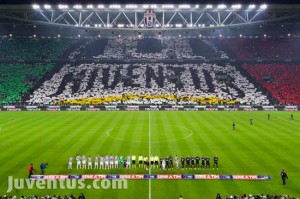 On Sunday, 2nd February 2014, the look of the Tribuna Est at Italian football giants Juventus' stadium was transformed by some unique choreography, a result of the new way the club chose to engage with their fans on social media. Building a Facebook app to crowdsource a design for an in stadium display, usually organised by fans groups or the club. The app generated 3,122  entries and over 18,000 votes were cast.
The winning entry was 16 year old Steven Kem, who got to see his design brought to life in one of the biggest matches of the season. The #LoveJu hashtag was used to display messages of encouragement on the giant screens inside the stadium.
See the video here
3.Put your media in a TimeAppsule
Described as the "anti-snapchat" this new app allows users to lock away content in order for it to be viewed on a specific date, as opposed to Snapchat which sends images and videos in real time but only allows them to be viewed for a short amount of time.
You can customise your Appsule and add videos, images, text notes and invite users to events, there is the capability to schedule up to a year in advance.
4.More options for page managers
If you're the manager of a Facebook Page as of February 20th you will see the names of admins who made posts and comments on your account page. You will also be able to view who has scheduled activity in the activity log.
5.Winter Olympics
The Winter Olympics in Sochi is in full swing and research from Salesforce ExactTarget Marketing Cloud has revealed  #Sochi2014 had 218,002 mentions on the opening day and was the most commonly used hashtag. Alternative hashtags included #Olympics, #Olympics2014, #WinterOlympics.
Embarrassingly for the organisers #SochiProblems got 35,289 mentions as visitors, athletes and guests arrived to difficult situations, especially in hotels, with many reporting broken doors, no light bulbs and getting trapped in the bathroom.
6. Facebook Gender
Facebook will now allow individuals to customise their gender on profiles, with around 50 new options for this including transgender and transsexual. Along with this new addition there will also be the option to choose the pronoun they'd like to be referred to publicly — male (he/his), female (she/her) or neutral (they/their).
You can see the full Facebook update here.