Friday Social: Snapchat's 3D lenses, #Brenda4PM and Obama's new Insta role
Our #FridaySocial is a weekly round-up of the key social media news stories from the previous seven days.  Let us know your thoughts in the comments or via Twitter – @Umpf
Take a look at Snapchat's new 3D lenses
Snapchat has launched new 3D lenses that allow users to change the world around them in three dimensions.
The new feature lets you interact with what you see on screen, from writing giant words that float around next to real objects, to planting a virtual rose in the ground.
Available now, users can tap the camera screen while using the rear-facing camera, which will bring up new 3D lenses. A cloud, a rainbow, flowers, and a floating 'OMG' are part of the initial lineup, which will change daily.
After selecting your lens, you can move it around the screen with your finger before taking a photo or video. Once you've placed it, the app behaves as if the object exists in the real world – for example, if you walk closer to it, it gets bigger. Give it a try and let us know what you think!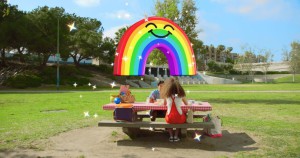 Facebook's F8 conference – 4 things you need to know
Facebook's annual developer conference F8 is underway, and even just one day in, the multi-billion pound company has unveiled new products and updates. Here are four things you need to know:
Facebook Spaces: Facebook's first social virtual reality offering is basically a way of hanging out with your friends in virtual reality, through a digital avatar of yourself. Even friends who aren't using VR can still get involved using Facebook Messenger video chat.
Facebook camera as an AR platform: They're a bit late to the party, but Facebook is going big on augmented reality with a number of Snapchat-style AR tools called the Camera Effects Platform, which includes frames, masks, filters, animated frames and effects.
Facebook Messenger Platform 2.0: With more than 1.2 billion users on Facebook Messenger every month, they are upping their game by fusing it with more artificial intelligence and a new 'Discover' tab to help users find relevant businesses, such as ones in their area.
Wireless virtual reality?: Facebook hasn't announced anything related to its wireless virtual reality headset yet, but it gave a few peeks at the concept.
Brenda from Bristol – the nation's sweetheart
After Theresa May shocked the UK with the news of another general election, Brenda from Bristol won the hearts of many as she voiced her despair.
Soon after being interviewed by the BBC, she was hailed as 'the voice of the nation' and proved a hit on social media, with her name trending above 'Mrs May' and 'Nicola Sturgeon'.
The hashtag #Brenda4PM also began trending on Twitter and social media users were quick to praise her, with many expressing how her weary reaction to the news summed up the national mood.
"NOT ANOTHER ONE!"

Watch Brenda's reaction when I tell her that the PM wants a General Election. Safe to say, she's not impressed.#Bristol pic.twitter.com/IYEdGBryyZ

— Jon Kay (@jonkay01) April 18, 2017
WE ARE ALL BRENDA https://t.co/sVYna2N1NL

— Esther Webber (@estwebber) April 18, 2017
I LOVE Brenda from Bristol ❤️ https://t.co/PkZGyKec0x

— Scott Mills (@scott_mills) April 18, 2017
Instagram adds offline support
Instagram users can create posts without an internet connection after the Android app added offline support.
Users can view, comment on and save posts already downloaded to their phones and when they go back online these actions will be updated automatically.
The announcement was made at the Facebook convention F8, and experts believe it will mean Instagram will spread in developing countries where internet connection is unreliable. More is expected to come in the following months, and Instagram is also exploring an iOS version.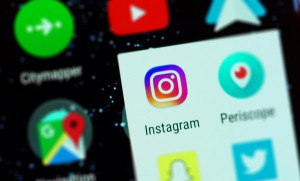 And finally…
While we're no stranger to the concept of an Instagram husband, the world has gone mad for the latest man seen taking on the role. It seems whilst President Obama has been on a well-deserved holiday, he's been put straight to work — as wife Michelle's personal photographer.
The Obamas were spotted vacationing with Bruce Springsteen, Tom Hanks and Oprah Winfrey and spent a few hours aboard music mogul David Geffen's luxury yacht, the Rising Sun, before leaving Tahiti.
Take us with you, Barack!
Barack Obama is an Instagram Husband pic.twitter.com/OouLr7bjT2

— Madeline Hill (@mad_hill) April 16, 2017