Friday Social: Snapchat Shopping, Facebook Currency & #Pridemonth!
Our #FridaySocial is a weekly round-up of the key social media news stories from the previous seven days. Let us know your thoughts in the comments or via Twitter – @Umpf
Shop in snap
Snapchat is switching up its offerings by adding a new feature in a bid to keep users loyal and engaged.
This week, the app has selected 5 official accounts to have a store within Snapchat rather than the existing 'swipe up to shop' feature that a lot of influencers, and brands currently have access to. The accounts that currently have the new feature are Kylie Jenner (Kylie Cosmetics); Kim Kardashian (KKW Beauty); Shay Mitchell (Béis); Spencer Pratt (Pratt Daddy Crystals); Bhad Bhabie (BHADgoods), but Snap plans to release the tool more widely, to more official accounts in the coming weeks.
Google Adds To SOS Alerts
Google is the midst of updating its SOS alerts with more real-time and useful information for users.
The new alerts will notify us with information about natural disasters and navigation warnings in Google Maps to help us avoid dangerous situations.
As well as this, Google Maps will soon be able to notify you if your taxi driver goes off route, either for safety purposes, or just to make sure that you're not being taken 'round the houses', as it were. By tapping the 'Stay Safer' button at the bottom of the screen, users will agree to receive a notification when they go 500m off course and as well as this, friends will be able to track your journey progress.
Facebook Plans Cryptocurrency Debut
Next week Facebook will be releasing its very own cryptocurrency which will reportedly be known as Libra. It is due to be unveiled on 18th June and is being back by major companies including Mastercard and Uber.
Facebook's cryptocurrency gets backing from Visa, Mastercard, PayPal and Uber https://t.co/DZO86FUP8t

— Matt Navarra (@MattNavarra) June 14, 2019
The cryptocurrency will allow users to send money over Facebook's messaging apps – WhatsApp and Messenger and is also hoping that its partnerships with e-commerce firms will allow users to eventually be able to spend the currency online.
Facebook is also reportedly looking into developing ATM-style physical terminals so that people can convert their money into Libra. This is all we know right now but stay tuned for more info!
#Pridemonth
It's #PrideMonth, and social media companies have been showing their support.
Instagram has celebrated its LGBTQ+ community with #UntoldPride which honours the history of the community, empowers expression and focuses on ensuring safety across the platform.
They are rolling out colourful tools, updating gender options in Profile and releasing an LGBTQ+ teen guide in partnership with The Trevor Project.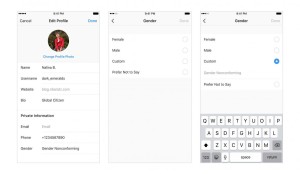 Credit: https://www.independent.co.uk/life-style/instagram-gender-inclusive-options-pride-month-trans-lgbt-a8953111.html
Facebook is also celebrating by highlighting Pride-themed backgrounds so that users can show their support for the LGBGTQ+ community.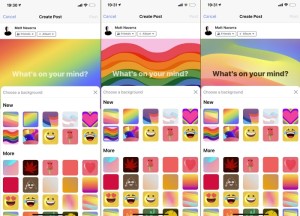 Credit: https://www.socialmediatoday.com/news/instagram-and-facebook-add-new-features-for-pridemonth/556568/