Friday Social: Snapchat Hack, Tweeting Sharks and #SherlockLives Record Smash
Our #FridaySocial is a weekly round-up of the key social media news stories from the previous seven days.
1.    The Top 2013 Pinterest Pins
Pinterest has combed through its impressive visual archives to name the top trending pins of 2013. Sorted into 29 boards, we are offered an interesting insight into what Pinners all around the world were up to during 2013, including organising favourite recipe ideas and design inspirations, to planning dream trips abroad. The realm of technology is also represented, showing a popular interest in waterproof devices, 3D printing, smartwatches and a transparent iPad concept. See the full list here.
 2.    What to expect from Google+ in 2014
Google performed well in 2013, launching a variety of new and improved products and maintaining its dominance in the mobile OS race. Now it's 2014, where will Google place its efforts next?
According to Google's CEO Larry Page, Google+ is being developed as the "social spine" for everything Google offers on the web. The integration of YouTube and the Google Play store in 2013 is only the beginning according to The Next Web, as its bloggers predict more of Google's top products and services will likely become tied into Google+, creating a broader social tool. It's unlikely that Google will relent in its quest to make Google+ a social media force in 2014; other improvements teased by its head of community and partnerships, Steve Grove, include swanky new photo features as well as an emphasis on live video.
3.    Snapchat Hack
Approximately 4.6 million Snapchat usernames and phone numbers leaked online this week, after anonymous hackers posted them on a now suspended website. Visitors to the site were able to download the information in various formats. Explaining the reasoning behind the hack, the group has said that its efforts were simply to raise awareness of the platform's security issues. In an official post, Snapchat says that changes will be made to both its apps and its service in order to prevent future leaks, including being able to opt out of the 'Find Friends' feature that users personal information such as phone numbers.
Want to check if your Snapchat account was compromised? Two developers have created this tool where users can find out quickly if their data was included in the leak.
4.    The Sharks are Tweeting
Several hundred sharks in Western Australia have been issuing their own warning to beachgoers – via Twitter. Following six deadly attacks in the past two years, Scientists have attached transmitters to more than 320 sharks, including great whites, which monitor their movements up and down the coast.
When a tagged shark swims around a kilometre of a beach, it triggers an alert, which then instantly turns the shark's signal into a tweet on the Surf Life Saving Western Australia's (@SLSWA) Twitter feed. Followers will be able to see the size, breed of the shark and its approximate location. Chris Peck, from SLSWA, told Sky News the system utilising social media is far quicker than traditional warnings on local radio and other news outlets.
Fisheries advise: tagged Tiger shark detected at 1.5km off Scarborough receiver at 06:37:00 AM on 3-Jan-2014

— Surf Life Saving WA (@SLSWA) January 2, 2014
5.    Sherlock Lives, Twitter Reacts
Over nine million people tuned in to watch the first much-hyped episode of BBC1 drama Sherlock, as it aired on New Year's Day. Now in its third series, the Twitter reaction to the return of the famous detective was nothing short of spectacular, as it sparked more tweets than any other single episode of a drama series on UK TV.
A staggering 369,682 tweets were sent during the 85 minute episode, peaking at 7,744 tweets per minute as the episode began. The previous record of highest tweet volume for a single episode of a drama series on UK television was held by the final episode of Broadchurch, which drew in 260,709 tweets.
In a round-up of Twitter mentions, the official hastag, #SherlockLives was used 98,533 times, while Sherlock on its own and as a hashtag in total was used a massive 265,057 times. Martin Freeman's character John saw 23,447 mentions, while Moriarty's appearance generated 111761 tweets. Special mention to Derren Brown, who saw himself mentioned 4,993 times for his cameo.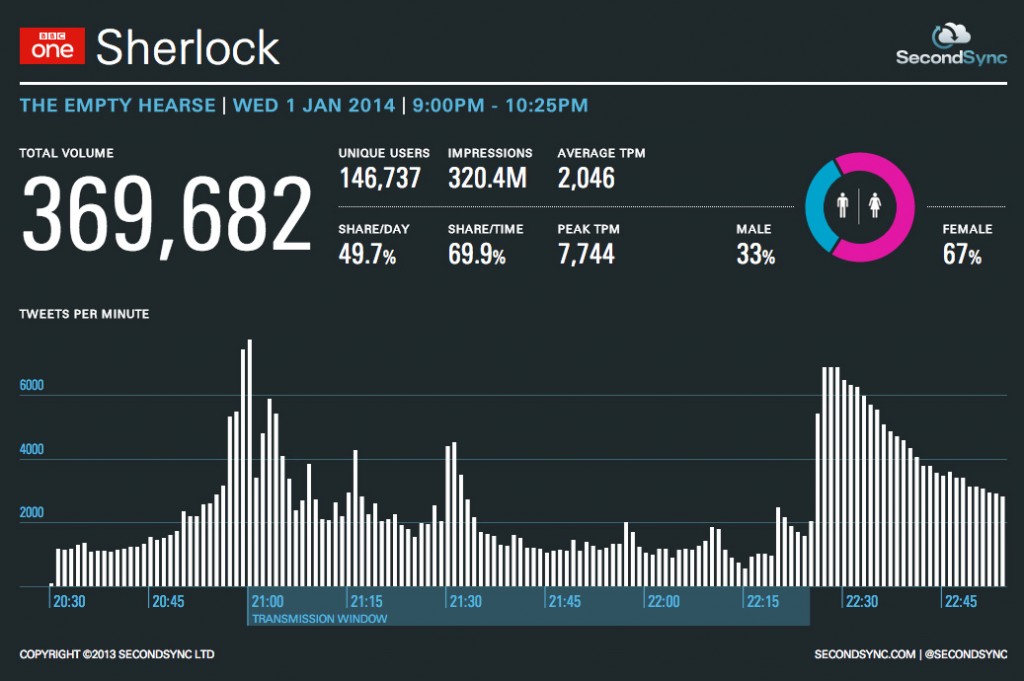 Have any comments on this week's blog? Let us know your thoughts and feedback on Twitter @Umpf / @EllieHallsworth