Friday Social: Snapchat Ads, InstaAds and Facebook's Mentions Box
Our #FridaySocial is a weekly round-up of the key social media news stories from the previous seven days. Let us know your thoughts in the comments or on Twitter – @Umpf / @Allllliiiii
1. Instagram Ad Tools
Photo-sharing social media platform Instagram has just launched its new suite of tools aiming to offer more businesses and brands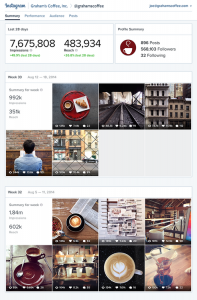 further insights into how consumers are interacting with their imagery.
According to Instagram, the tools will focus on three main areas:
Account Insights, allowing brands to see how they're increasing awareness through impressions, reach and engagement
Ad Insights, showing the performance of paid campaigns
Ad Staging, allowing planning and collaboration on upcoming campaigns
The tools are currently being released to Instagram advertisers and will be available to all brands later in the year.
Have you seen any advertisements nestled between #cats and #foodporn on Instagram, and will you be trialling the new tools?
2. New Vine Camera
Vine has this week released a new camera feature for the mini vid-sharing application, offering new editing tools as well as the ability to import existing footage from your phone's camera roll.
Vine's announcement states that as well as using front- and rear-facing cameras, you can now import one or more older videos (including slow-motion films) to edit using the new features including crop, duplicate and mute. The new Vine features are available now, and to celebrate the launch Vine is asking fans to share the oldest video on their phone using #VintageVine.
3. Twitter Tweaks Timeline – It's Official
Following reports earlier this month that Twitter was rethinking its timeline, the news has become official – you can expect to see more tweets from people that you don't follow in your feed.
As noted by The Next Web, Twitter has changed its definition of a Twitter timeline on its site to now include the following point:
"Additionally, when we identify a Tweet, an account to follow, or other content that's popular or relevant, we may add it to your timeline. This means you will sometimes see Tweets from accounts you don't follow. We select each Tweet using a variety of signals, including how popular it is and how people in your network are interacting with it. Our goal is to make your home timeline even more relevant and interesting."
4. Snapchat Adds Ads
The Wall Street Journal has reported that Snapchat is looking to launch Snapchat Discovery, a platform that will partner with brands and businesses to serve video and ad content.
Snapchat hasn't yet confirmed or denied the reports, but sources told the Journal that the new service is set to launch in November and may include snippets of brand-submitted articles or even TV shows.
5. Facebook's Mentions Box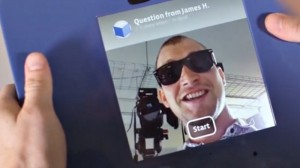 Facebook has revealed its brand new toy to Mashable – the Mentions Box.
The Mentions Box, built by iStrategyLabs, connects celebrities and fans via Facebook and will debut at this year's Emmys on Monday 25th August.
Prior to the event, fans will be able to submit questions to a list of celebrities via Access Hollywood's Facebook page. Access Hollywood will then manage the Mentions Box during the event by selecting the current celeb participant's name from the list and handing the device over. The chosen celebrity will shake the box to make a question will appear at random on the touchscreen, and then a video response will be recorded.
The response will then be posted to Facebook by the Access Hollywood team. Clever!