Friday Social: Shadowbanning, Facebook's 'Memories', MPR Raccoon and #TrumpKimSummit
Our #FridaySocial is a weekly round-up of the key social media news stories from the previous seven days. Let us know your thoughts in the comments or via Twitter – @Umpf / @daniiyk
#TrumpKimSummit
In light of U.S President Trump and North Korean leader Kim Jong-un's historic meeting in Singapore this week, Twitter ensured it was at the forefront of all the action by creating a dedicated emoji.
The emoji featured two hands representing the U.S president and North Korean dictator 'high-fiving' over the successful negotiation over an extremely delicate denuclearization agreement – Twitter definitely took a risk here as there was no guarantee that the meeting was going to be successful and the outcome could have taken a turn for the worse.
US President @realdonaldtrump will meet North Korea Chairman Kim Jong-un on 12 June in Singapore.

Tweet with these hashtags to unlock a special #TrumpKimSummit emoji. ? pic.twitter.com/THa3IRlnTi

— Twitter Government (@TwitterGov) June 10, 2018
Facebook launches 'Memories'
Facebook has launched a new section to let you relive the best posts shared with family and friends over the years. The page is essentially an expanded collection of familiar Facebook features, like 'On This Day' or 'Friendversaries', and allows users to dip into the past by looking at old photos and videos shared, friendships stuck on the social network, and major life events.
The content isn't necessarily new, but it now has its own section on Facebook, so you can easily find it any time. The aim is to ultimately encourage more personal sharing on the site, as organic sharing has been rapidly declining. You can also filter out memories of specific friends and moments you don't wish to be reminded of by using the tool's privacy controls.
Shadowbanning
This week, plus-size model and body positive activist Georgina Horne went to the press around Instagram supposedly 'shadow banning' her account after noticing her engagement vastly depleting and her posts never making the 'top posts' on hashtags.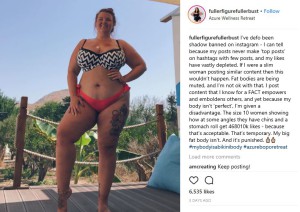 'Shadowbanning' is a term used when a social media site ultimately hides your photos from those who don't follow you – making it harder for users to grow their account or reach new followers as hashtags become ineffective.
Instagram has this month confirmed to TechCrunch that it does not down rank users for posting too frequently or other specific behaviours and does not hide people's content on hashtags.
MRP Raccoon
A stranded racoon on the ledge of an office building in St. Pauls, Minnesota, captured the world's attention after scaling the skyscraper. Onlookers, reporters and social media users fretted about the welfare of the trash panda as it climbed the UBS Tower on Tuesday, taking periodic rest breaks on window ledges during its gruelling climb.
Minnesota Public Radio branded the raccoon #mprraccoon, a hashtag that spread around the world and become the top trending topic during its arduous journey.
My picture from the 13th floor around noon. Hope he makes it down OK! #mprraccoon pic.twitter.com/gfVWysn9iO

— Ben (@Johnson88Ben) June 12, 2018
For the love of Sweet Baby Jesus and all things fluffy, feathery, and furry!
Get #mprraccoon down from the vents!
The little fuzzy is tired and scared and hasn't had a drink or food in a day! pic.twitter.com/otmEYKmi6M

— Fiona Adorno (@FionaAdorno) June 13, 2018
Would you be this relaxed after climbing 21 stories up the outside of an office tower? #mprraccoon Thanks @donnelly_law for the hospitality! pic.twitter.com/SsFBZc0C0z

— Tim Nelson (@timnelson_mpr) June 12, 2018
We're pleased to say that the tale has a happy end – the raccoon finally scrambled its way to the top of the roof at 03:00 on Wednesday and was greeted with a large bowl of cat food – the world rejoiced!
Video of the #mprraccoon making it all the way up to the roof of the UBS building where there is potentially live traps with food. The raccoon has gone 2 days without food or water!! pic.twitter.com/v7rU2OkCTH

— Keith Schubert (@keithsch94) June 13, 2018
And finally…
The wait is finally over … FIFA World Cup in Russia has begun! If you're not already hyped up about the much-anticipated event, here is a couple of examples how people have been celebrating.
Today is the first day of the #WorldCupRussia2018 (soccer), and the sport fanatic in me is so excited!! ? ? pic.twitter.com/QxkzI7114f

— Katrine ?? (@hargitaygirl_) June 14, 2018
I've got World Cup fever!
Come on @England! ⚽️????????#threelions #WorldCupRussia2018 pic.twitter.com/HYXm3u3Cxq

— Teddy (@MrTeddyTedster) June 14, 2018
Check out our #WorldCup themed studio! ⚽️? @mikebreakfast #WorldCupRussia2018 pic.twitter.com/RtMdIQYQH5

— BBC Breakfast (@BBCBreakfast) June 14, 2018