Friday Social: Rule 40 on Twitter, Facebook Ads, and InstaDrafts
Our #FridaySocial is a weekly round-up of the key social media news stories from the previous seven days.  Let us know your thoughts in the comments or via Twitter – @Umpf/ @GrittAlessandra
Twitter Rules Out Rule 40 Account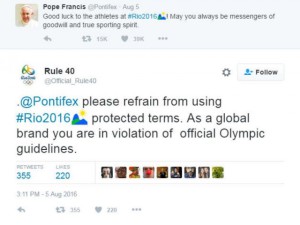 Twitter has removed a fake 'Rule 40' account that was passing as a tool attempting to stop non-sponsors from piggy-backing on the Games' reach.
Rule 40 prevents anyone but official International Olympic Committee sponsors from connecting their brand to the event, and can result in legal action if ignored.
The account in question was providing 'automated alerts for infringement of Rio 2016 guidelines', with even the Pope receiving a telling-off via social media.
Facebook Forces Ads
Facebook has this week announced updates to the way that ads are shown and controlled, and has also confirmed that it'll begin showing ads to those using blockers.
In a blog post, Facebook Ads & Business Platform VP Andrew Bosworth said that Facebook has worked hard to understand what people don't like about ads, noting that irrelevant or disruptive content puts users off.
As a result, Facebook is now updating its ad preference tools. The post explains:
"If you don't want to see ads about a certain interest like travel or cats, you can remove the interest from your ad preferences. We also heard that people want to be able to stop seeing ads from businesses or organizations who have added them to their customer lists, and so we are adding tools that allow people to do this. These improvements are designed to give people even more control over how their data informs the ads they see."
Moving on to discuss ad blockers, the post goes on to state that as these more powerful controls are introduced, "we'll also begin showing ads on Facebook desktop for people who currently use ad blocking software".
Twitter Opens Moments
Twitter has announced this week that it'll soon open Moments to more content creators, rather than just its own curation team.
Starting immediately, more influencers, partners, and brands will be allowed access to the tool, with everyone invited to create their own Moments in the coming months.
Twitter describes Moments as a tool that "allow(s) people to capture and experience richer stories reflecting the diversity of Tweets that, together, make Twitter so powerful".
Fool Your Snapchat Followers
New app Late Night Snap Hacks is promising to fool your Snapchat (or Instagram, as The Next Web points out) followers into thinking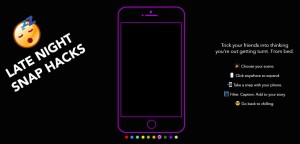 you're out on the town when really you're tucked up in bed.
Choose from one of ten different scenes, add a witty caption or stickers to your heart's content, and you're done.
We're waiting for two friends faking the same snap to be caught out…
Instagram Drafts
As reported in last week's Friday Social, it's been a busy time for Instagram with the launch of its Stories tool.
Now, some users are reporting seeing a 'Save Draft' function when preparing to post:
#Instagram Begins Experimenting With 'Save Draft' Feature for Posts – https://t.co/jE3tqRDpgA #News pic.twitter.com/pE9PupRpes

— AIVAnet (@aivanet) August 10, 2016
TechCrunch has confirmed with an Instagram spokesperson that the feature is currently being tested, saying "We're always testing new ways to improve the Instagram experience".
Have you spotted the new tool?