Friday Social: Redhead Emoji, White House Messenger and #ICantKeepQuiet
Demands for a redhead emoji
Silicon Valley execs have responded to the outcries for a redhead emoji by discussing plans to introduce one within Apple technology worldwide.
Apple is hosting a Unicode Technical Committee this week in San Fransisco, after persistent campaigning on social media from users asking for the redhead character.
This has been spurred on by an online petition demanding a ginger emoji, organised in Scotland,  which has gained 21,000 signatures.
Jeremey Burge the founder of emoji website, Emojipedia claims "The lack of a redhead emoji has been the most frequent complaint from users in the past three months".
Will you be using the emoji?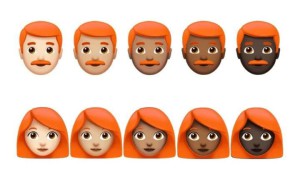 @POTUS
Millions of Twitter users have been forced to follow Donald Trump due to a major tech error during the handover of the presidential account.
When the official @POTUS account was handed from Barack Obama to the new president, its followers were transferred to a @POTUS44 account where Obama's presidential tweets are preserved.
Users who had opted to unfollow @POTUS, or chosen to only follow @POTUS44, complained that they had been subscribed to Trump's tweets without their permission, prompting backlash directly aimed at Twitter chief Jack Dorsey.
Dorsey responded on Twitter, saying the issue affected "about 560,000 people" claiming: "This was a mistake, it wasn't right, we own it, and we apologise. No excuses."
All: we investigated what happened here, and we made some mistakes (which have been corrected). Some context first. https://t.co/W1n3Xs6LaN

— jack (@jack) January 21, 2017
Search on Snapchat
Snapchat has introduced an overhaul which introduces a universal search bar to the top of the app as well as a couple more new features.
Snapchat wanted to make app navigation easier as well as finding friends in groups and to discover publishers or Our Stories by introducing a universal search bar, accessible at the top of the app.
The visual style and "Quick Chat" suggestions will let you hop to a particular friend's message thread or story a lot faster. Snapchat has previously been labelled as confusing due to its layout and relying on users knowing how to swipe around the app. It made steps to improve, adding navigation buttons in June 2016, but now users will be able to get around via search.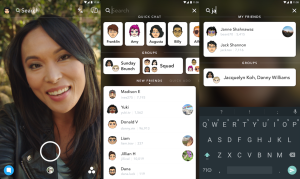 #ICantKeepQuiet
In the midst of the millions taking part in the Women's March on Saturday, a small collection of singers delivered a moving rendition of the song "Quiet" by LA singer MILCK which has since gone viral. 
A flash mob organised by MILCK dressed largely in pink 'pussyhats' sang the moving song during the event, bringing together a variety of singers from all over the states.
Israeli director Alma Har'el captured the moment and posted the video on Facebook, gaining more than 14 million views by Thursday afternoon.
Along with the song, the #ICantKeepQuiet hashtag was launched by MILCK, who tweeted messages with the hashtag in the days leading up to the march. The hashtag has now been used on Twitter thousands of times.
The White House now uses Messenger
The White House are now requesting that instead of calling their switchboard, they would much prefer a message on Facebook…
Previously, you could express your concerns, gratitude, queries etc. to a member of staff or even be put through to the appropriate person.
If you ring, you will hear "the comments line is currently closed." Instead, it urges you to send the president an online comment. It then gives you two options.
First, you can go to the White House website and leave an online comment. The second is for the more social media-savvy. It asks you to head to the White House Facebook page and leave comments via Messenger.
But what about those who don't use social, or perhaps a generation where they do not dabble in the online world?