Friday Social: Pinterest's wellness activities, Instagram's Rich List 2019 and #heatwave!
Our #FridaySocial is a weekly round-up of the key social media news stories from the previous seven days.  Let us know your thoughts in the comments or via Twitter – @Umpf
Instagram rich list 2019
The Hopper 2019 Instagram Rich List has been announced, showing the amount of followers celebrities and influencers have and the cost that they charge brands, per post.
Top of the list is Kylie Jenner who charges a whopping $1,266,000, followed by Ariana Grande (charging $996,000 per post), and Cristiano Ronaldo ($975,000 per post), showing a slight reshuffle from last year's list, where Kylie Jenner, Selena Gomez and Ronaldo took the top three spots.
Pinterest to promote wellness
Pinterest has introduced in-app emotional wellness activities in partnership with Brainstorm, the Stanford Lab for Mental Health Innovation, Vibrant Emotional Health and the National Suicide Prevention Lifeline.
Today we're rolling out a collection of emotional well-being activities right on our app, from deep breathing to self-compassion exercises. Here's how we're hoping to find new, interactive ways to help improve your mood:https://t.co/1u3NMUIc1j pic.twitter.com/ZTH9kJnhiA

— Pinterest (@Pinterest) July 22, 2019
The activities are designed for users when they are feeling anxious, sad or stressed, and include deep-breathing and self-compassion exercises. They will pop up when a Pinterest user searches for terms that indicate they might be feeling down.
The activities will have a different look and feel to the rest of the content on the app, and creators are keen to help users understand that they are private and will not be connected to their account. No recommendations or ads will be offered based on the use of the tools and Pinterest will not be tracking who uses them and who doesn't – the activity will be stored anonymously using a third-party service.
The activities will be fully rolled out over the coming weeks – we think it's a great idea!
Love Island stars offered 'social media survival kit'
The ASA have teamed up with ITV to create an at-a-glance checklist for Love Island stars, warning them about product plugs for cash on social platforms, and to ensure that they are being 'upfront' with their followers.
This comes as the result of a crack-down on this across the board over the last few years. Under the ASA's rules, the influencer must make it 'instantly recognisable' that they have received something in return for posting, ensuring that it is 'obviously identifiable' in the eyes of the audience.
Influencers that have been penalised for this include Made in Chelsea's Louise Thompson and Love Island's Olivia Buckland.
Snap sees growth thanks to gender-swap filter
Snap has reported a greater-than-expected increase in the number of daily Snapchat users in the past three months, which they are crediting to its gender-swapping filter.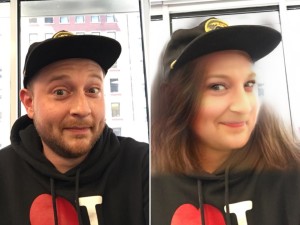 Photo credit: Ben Gilbert/BusinessInsider
The filter attracted 7 million new users to the app in the five days after it was released in May, which is a huge increase compared to the same five-day time span a week before, where the app was downloaded only 3 million times.
This comes at a good time for Snap as they had been struggling to keep hold of their existing users and attract new ones since Tik Tok recently rose in popularity.
#heatwave
It's been a bit warm this week, and as well as soaking up all of the cool air we can from our 8 fans in the office (yes, 8!), we've also been enjoying the reaction on social:
Is there a word for 'feeling jealous of a Polar Bear'? #heatwave pic.twitter.com/dyb14SWlwK

— Yorkshire Wildlife Park ? (@YorkshireWP) July 24, 2019
The heatwave, day two. No one could sleep. Deodorant does nothing. Desk fans have melted. Leather sofas are hotter than the sun. Ice cream is more valuable than oil. People still insist on drinking tea.#heatwave

— innocent drinks (@innocent) July 24, 2019
'surviving the #heatwave?'

me: pic.twitter.com/ykmztolVZG

— Metro (@MetroUK) July 23, 2019
It is still hot.

Please do not panic.

Continue inserting tea into your face as normal.

This message was brought to you by our Sales Department.#heatwave

— Yorkshire Tea (@YorkshireTea) July 24, 2019