Friday Social: Peach, Twitter ads and musical twin towns
Our #FridaySocial is a weekly round-up of the key social media news stories from the previous seven days. Let us know your thoughts in the comments or via Twitter – @Umpf / @EllieHallsworth
1. Peach app
Vine's co-founder, Dom Hofmann, has launched an app called Peach, the newest social platform on the block. Hoffman described Peach as a "fun, simple way to keep up with friends and yourself".
Broken down, Peach gives you friends rather than followers, and leaves your profile and activity generally private only viewed within the app, rather than public on the open web. Like Twitter, activity is limited to simple updates, users create an account and handle and users view a stream of updates from connections, tapping posts to reveal more. However, the difference comes with Peach being centred around 'magic words' such as gif, here, draw etc. If a user types in 'song', for example, the app will recognise what they are listening to and add a link for their followers to open the track in Spotify or Apple Music.
Peach features variations of Facebook's 'poke' feature to get other users' attention. Users can wave or blow a kiss with a corresponding emoji. Users can also 'hiss' or 'put a ring' on a friend as well as 'quarantine' them should they deserve some silent treatment.
? Hello, Peaches! Peach for iOS is now in the @AppStore ? https://t.co/H81Qm5EJmJ pic.twitter.com/LGzUwVYBzU

— Peach (@peachdotcool) January 8, 2016
At present, Peach is only available on an iOS app and for US phone numbers.
2. Twitter's new ad tool
Twitter is reportedly developing a new advertising product that would allow brands to use tweets from everyday users within ad campaigns on the platform. Essentially, it will make it easier for advertisers to collect tweets related to their products or services and then promote the content within their Twitter ad campaigns.
This new product is based on what Twitter is calling a "brand enthusiast gallery", which will pull-together a catalogue of brand-related tweets for advertisers to pick through. Twitter will then DM the author of the tweet to ask permission on behalf of the brand to use the tweet before reposting it.
Twitter has declined to comment on or confirm the reports.
3. #RIPDavidBowie
The morning the sad news broke of the death of music legend David Bowie, fans flocked to Twitter to pay their respects. At 11am, Twitter reported that 2.3 million tweets were posted using #RIPDavidBowie, peaking at 20,000 tweets per minute. Throughout the day, more than 8 million tweets about the star were posted, and Twitter analysed the top songs fans were remembering him with:
More than 8 million Tweets about David Bowie in the past 24 hours as fans pay their respects. pic.twitter.com/vFuBPuHtSZ

— Twitter UK (@TwitterUK) January 12, 2016
4. Musical twin towns
The BBC and Shazam have teamed up on a project to look into the music people search for the world over, using their smartphones. Shazam, a smartphone app that allows users to identify snippets of music they hear on-the-go, shared with the BBC the top 10 songs being looked up on its platform during the entire month of November 2015 in 4,900 cities in 200 countries across the world. The BBC then used the data to pair up musical "twin towns", pairing near and far-flung places with similar tastes in popular music.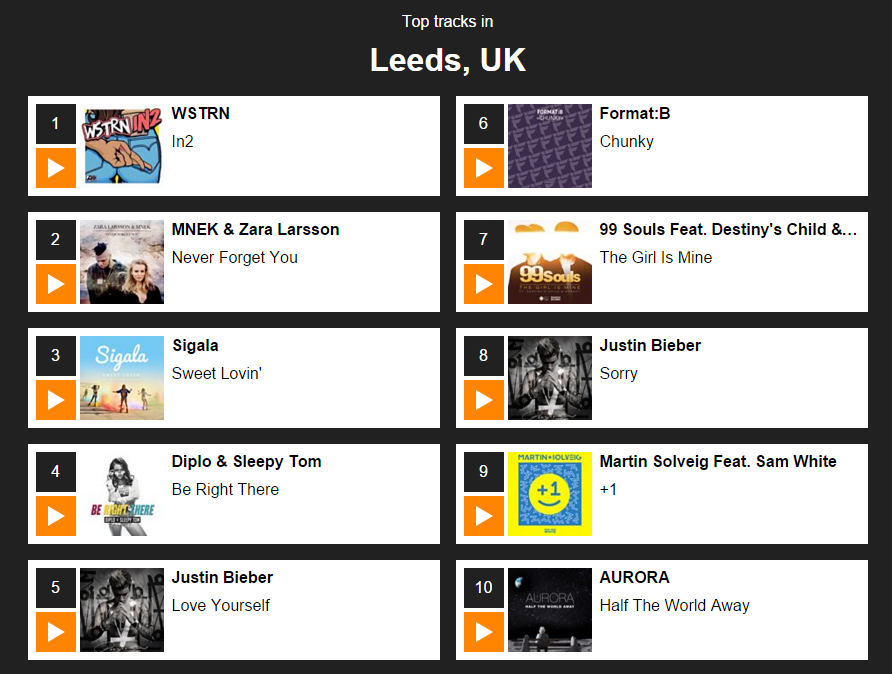 Unsurprisingly, Adele's Hello was the most-searched for song in November. The track made it into Shazam's top 10 in 2,578 cities, which is more than half of the locations sampled.
Find your own musical twin town here.
5. Periscope to autoplay
This week, Twitter announced via a blog post that Periscope will now autoplay directly within its feeds.
Starting with its iOS app, Periscope broadcasts will now display as an auto-playing video card. Tapping on the card will allow users to see the broadcast in full screen, including being able to view comments and hearts from other viewers. Hearting and commenting on the stream from your own account, however, can only be done within the Periscope app.
Periscope described the new feature as adding "a whole new dimension to Twitter".