Friday Social: Love Island Snubs Snapchat, Instagram says 'You're All Caught Up' and haven't you heard? #ITSCOMINGHOME
Our #FridaySocial is a weekly round-up of the key social media news stories from the previous seven days.  Let us know your thoughts in the comments or via Twitter – @Umpf
LOVE ISLAND DUMPS SNAPCHAT
As it is the most talked about show on TV at the moment, you'd be forgiven for thinking that Love Island social media channels are almost entirely carried by the fans – but it turns out there's a lot of thought going into the social media strategy behind-the-scenes.
Patiently waiting for tonight's show like… #LoveIsland pic.twitter.com/WNEIhXcSZP

— Love Island (@LoveIsland) July 4, 2018
In 2017, Love Island's social media activity ran consistently across Snapchat, Twitter and Instagram and won the five-person team a Drum Content Award for their work. However, this year the team are seeming slightly more selective with their activity, favouring fresh, new Instagram Stories over our old friend Snapchat.
Although it was the most successful platform for Love Island during the 2017 series, it seems that the number of people using Snapchat has dropped significantly compared to last season, and the audience has 'vanished' on the channel. Some believe that the decreased use of Snapchat has come from the app's most recent update which received mainly negative reviews, leaving users frustrated and unsatisfied.
Can snapchat stop updating every five seconds and keep things in the same place? #snapchatupdate

— Tom ? (@tomallsop505) May 10, 2018
https://twitter.com/_jhley/status/994722377861918720
It seems like it was a good choice though – as a result of putting all its eggs in Instagram's basket, the official account's audience has nearly doubled in size in just five week, and by dropping a social media channel, the Love Island social media team are now able to focus on achieving more for their audiences and commercial partners, as well as exploring new engagement avenues.
LADBIBLE DESTIGMATISES MENTAL HEALTH THROUGH POWERFUL CAMPAIGN
The success of LADbible's 'UOKM8?', which began as a three-month project to raise awareness of male mental health issues, has meant that the campaign has now been converted into an ongoing initiative.
Male suicide is the biggest killer of men under 45. That's why we're asking #UOKM8? https://t.co/GsCt3VkLM2 pic.twitter.com/Zc499jnff1

— LADbible (@ladbible) September 13, 2016
In collaboration with CALM, Samaritans, Movember, and the Mental Health Foundation, the campaign used questionnaires alongside stories on mental health issues to develop the understanding of mental health and suicide risk in the UK by gathering data from the LADbible audience. The aim was to drive thought, discussion and conversation through a series of films and a social takeover of mental health themed editorial content.
Very proud to be featured in a short documentary by @ladbible for the brand new video platform #IGTV by @instagram!

Boxing has given me another shot at life, and I'm determined to do some good with it.#LadBible #Boxing #PTSD #UOkM8 #MentalHealth #Sports #NotDoneYet ??? pic.twitter.com/nBUffhtPCE

— Jamie Cross (@JamiecrossNDY) June 21, 2018
The initial three-month campaign reached a total of 36 million people and received a whopping 823,000 engagements across the LADbible social channels and LADbible said that reading through the comments and seeing genuine reactions is what confirms that the campaign has resonated with their audience.
Well played, lads.
NEW FEATURES: INSTAGRAM & FACEBOOK
This week Instagram has introduced its 'You're All Caught Up' warning in a bid to spend users' time a little bit better, and to stop them scrolling in search of new posts that have been scattered by the algorithm.
The warning serves as a way to tell you that there is now nothing new for you to see from the people you are following, from the last two days. If users choose to scroll past the notice, they will only be able to see posts that they have already seen or that were posted more than 48 hours ago.
While the non-chronological algorithm has meant that people can see the most 'interesting' posts in their feed, it has not been well received by everybody. Users have complained about missing posts and content of interest, and this new warning is seen as a way to fix that.
In other news, Facebook and Instagram have also both been prototyping their 'Do Not Disturb' options that let users shut off notifications from the apps for a length of time that suits them.
This serves as a solution to the spamming notifications that are sent from both apps, and it has been speculated that this is a way of deterring users from permanently disabling their Instagram or Facebook accounts.
SET, GAME AND SNAP
This week, as a tribute to Wimbledon, Snapchat has launched a new lens that lets you play tennis against Serena Williams.
Snap and Williams have teamed up on a new, interactive 3D Bitmoji lens that lets you take on the champ in an increasingly fast-paced match.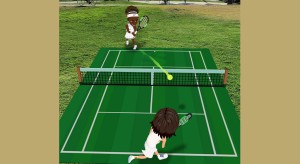 The app lets you record your high scores and compare with friends.
#ITSCOMINGHOME
World Cup fever has well and truly hit the UK, and if you were present on any kind of social media channel on Tuesday evening between 7 and 10pm (yes, it did go on that long), you will have caught sight of the hashtag #ItsComingHome.
Here are a few of the best tweets …
This ??? #WorldCup #ItsComingHome pic.twitter.com/rlq0TZTJKi

— Stephen Jones (@SPJ91) July 3, 2018
Were you as happy as @RossKemp after #ENG's epic #WorldCup win?? ?? #ItsComingHome https://t.co/u9SxIFZ5yv

— Good Morning Britain (@GMB) July 4, 2018
Look closely!! ??????????????#itscominghome pic.twitter.com/9JWyWgjnVr

— Vernon Harris ⭐️⭐️ (@HarrisVernon) July 4, 2018
PS. it's coming home