Friday Social: InstaPope, Giphy Studios and Nom
Our #FridaySocial is a weekly round-up of the key social media news stories from the previous seven days.  Let us know your thoughts in the comments or via Twitter – @Umpf/ @GrittAlessandra
Instagram to introduce personalised feed
Instagram has announced this week that it'll be scrapping its current chronological timeline in favour of a Facebook-style personalised feed.
In a blog post, the folks at Instagram stated that the changes would improve user experience by showing the moments 'we believe you will care about the most'.
The post continued: "The order of photos and videos in your feed will be based on the likelihood you'll be interested in the content, your relationship with the person posting and the timeliness of the post. As we begin, we're focusing on optimizing the order — all the posts will still be there, just in a different order.
If your favorite musician shares a video from last night's concert, it will be waiting for you when you wake up, no matter how many accounts you follow or what time zone you live in. And when your best friend posts a photo of her new puppy, you won't miss it."
The changes will be introduced over the coming months. If Twitter's reaction is anything to go by, the tweaks might not be as welcome as the Instagram team had hoped…
I am NOT HERE for this @instagram feed switch up! That's what the explore tab is for – keep it chrono!!

— Olivia Ochieng-Mbai (@oliviaakumu) March 17, 2016
Oh boo! Instagram is shifting from a chronological feed to an algorithmic feed, like FB. Here's a petition about it https://t.co/yyHJ5ReHnf

— ?Marta (@martamikl) March 17, 2016
Giphy Launches Studio
After recently partnering with Twitter to launch the GIF search button, Giphy has this week introduced Giphy Studios.
The Giphy team will be working with Nick Weidenfeld, of Adult Swim and Fox's ADHD fame, to create original content in GIF form.
In an interview with Engadget, Giphy's COO Adam Leibsohn noted that they'd been working with Weidenfeld for a few years, and have now decided to collaborate and create 'official, original content for the web'.
Giphy founder Alex Chung added: "It's like Netflix. They started with other people's content. But they only had to have a few shows to be seen as an original content place. We'll be focusing on high quality, high-end content. Our original content will be a small part; we'll do branded agency work as well. A team of animators and editors will be working on it."
Stay tuned here to see what comes out of Giphy Studios.
Facebook Introduces Profile Picture Frames
Following the introduction of temporary profile pictures and team frames last year, Mark Zuckerberg has this week shared the new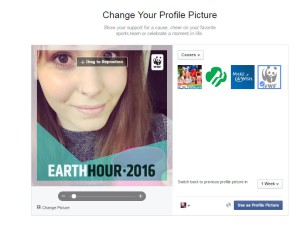 profile picture frames browser.
There are dozens of options on the page in categories ranging from sports and movies to charities and causes. You have the option to revert back to your previous profile picture in an hour, a day, a week, or never (when you manually re-select your profile image).
As part of his post sharing the tool, Zuckerberg highlighted a lovely occurrence in India and Pakistan during the 2016 ICC World Twenty20: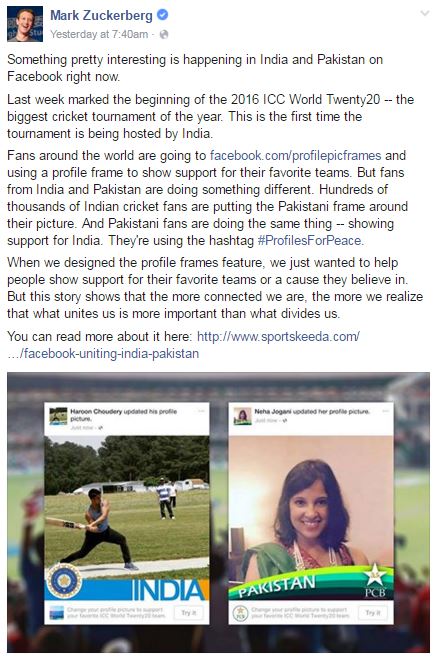 It's not yet clear how brands can sign up to offer their own frame – but we're sure you'll be able to purchase one soon.
Pope Francis Joins Instagram
It's been confirmed this week that Pope Francis will be joining Instagram as part of a wider social strategy aiming to broaden the reach of the church's teachings across the world.
The Vatican's communications team has announced that Pope Francis will be Instagramming under the handle @Franciscus from 19 March, to celebrate his third anniversary of inauguration.
The Drum reported that Pope Francis met with Instagram CEO Kevin Systrom last month to discuss the power of images: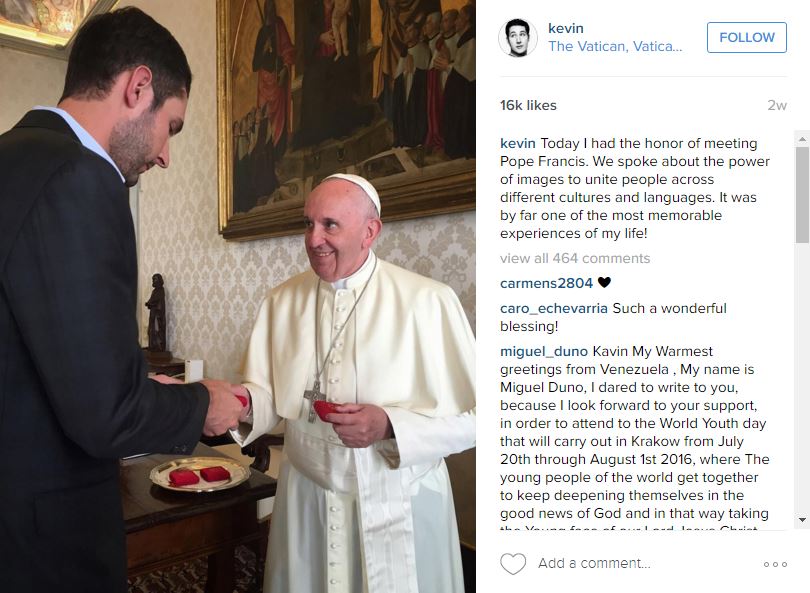 YouTube Co-Founder Launches Food App
Steve Chen, co-founder of YouTube, has launched a new food app, Nom, a live-streaming video platform for foodies – just like Periscope, but just for snacks.
Both Chen and Nom Chief Executive (and former YouTube engineer) Vijay Karunamurthy spoke about the new platform at SXSW, revealing that conversations over and about food in Google's cafeterias were the inspiration for the app.
Chen went on to say that Nom is open to suggestions from its user base, and mentioned plans to bulk out the site with additional capabilities such as polls as well as their intention to monetize the platform.
He said: "If we're going to do any form of advertising, it's going to be related to hopefully something that is inside the video. And in our case, it's pretty easy because usually when you're cooking, you're using something that you can sell".
And finally…
A quick one that we liked this week: tech site Gadgette has launched #EggAid, an Easter-related 'charity campaign to reclaim the humble egg from trolls'.
Gadgette editor Holly Brockwell explains that while an egg is assigned to every new Twitter user, they've come to be associated with trolls hiding behind the anonymity they offer.
We're fighting Twitter trolls with chocolate eggs https://t.co/Nb1Uu8mlYh #EggAid pic.twitter.com/gDM0Y6yhAx

— Gadgette (@Gadgette) March 17, 2016
So, Gadgette has partnered with cyberbullying charity Cybersmile to let kind-hearted folks purchase a virtual egg, the cost of which goes towards helping victims of Twitter trolls. Find the eggs you can choose from, including Mini Eggs, Fancypants egg, and the Golden egg, here.
If that wasn't nice enough, there's a chance to win all kinds of sweet treats just for donating.