Friday Social: InstaHotel, #LetsEatTogether and Real Life 'Social' Media
Social Media
Uncategorized
1. Following on from the world's first Twitter-themed hotel, Sydney, Australia, now has its very own Instagram hotel, complete with a
'selfie wall'. The 1888 Hotel (named for the year that Kodak launched the first box and roll camera) is part of the 8Hotel group and offers rooms for £89 per night, or free to Instagrammers with more than 10,000 followers. The hotel has been designed with the photo-sharing app in mind and features unique views from every level, a digital photo frame with revolving images in reception and is adorned with guest-shot images. Monthly photo competitions also allow guests the chance to stay for free.
2. Coca Cola's #LetsEatTogether campaign has blended a TV and social campaign, showing live tweets during advertisements. The Romanian campaign was created to leverage the fact that around 60% of Romanians don't tend to eat meals together – using the hashtag #LetsEatTogether, viewers could tweet during the advertisement to invite friends and family to dinner. Following the campaign, Coca Cola's Romanian Twitter base had increased by 15% – you can view how the campaign unfolded here.
3. American phone operator AT&T landed itself in the centre of a controversy this week as it seemingly used the 9/11 anniversary as a product placement platform. The company posted the below tweet as a tribute to the anniversary of the attacks –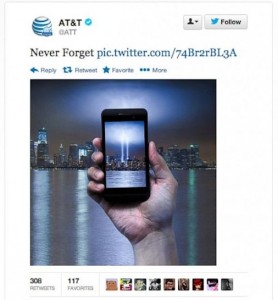 While some tweeters said that this was a fitting and appropriate image, many social media users attacked AT&T for the tweet, calling it 'disgusting' and 'tacky'. AT&T responded via Twitter, saying: "We apologize to anyone who felt our post was in poor taste. The image was solely meant to pay respect to those affected by the 9/11 tragedy".
4. NASA has launched an official Instagram channel, taking 'its fans on an out-of-this-world journey through images of Earth and beyond'. Since the account's launch on the 6th of September, it has gained more than 159,000 followers and has posted images of both stunning space views and peeks into what astronauts are getting up to during work in and out of space. NASA's social media manager, John Yembrick, said that Instagram works because 'NASA is such a visual organization'.
NASA's Instagram launch happens as the platform itself has announced 150 million monthly active users, with 60% of these outside the USA.
5. Facebook has begun testing a new 'professional skills' section, allowing you to add further info to the work and education area of
your Timeline in a move appearing to mirror LinkedIn. As The Next Web points out, the difference between Facebook's new feature and LinkedIn is that when adding skills via Facebook, you link to a specific interest. This could be used to find like-minded people that you are not already connected to via Graph Search, and makes Facebook the new place to seek out jobs and candidates to hire. Will you add your professional skills to your Facebook page?
6. One man has set out on a mission to bring the 'social' into social media, and has been making an effort to meet – in the 'real world' – all of his followers on Twitter. Declan Dineen, a 32-year-old living in Scotland, posted on his blog back in January stating his intention to meet everyone that follows him on Twitter. Since then, he's managed to meet around 150 of the people he knows virtually. Of course he hasn't been able to meet 100% of his followers – some are brand or promo accounts, and some people refused to take part. Declan visited 17 cities in 14 days in order to meet even more people, and he says that he's never met anyone 'properly crazy'. Would you meet all of your Twitter followers?