Friday Social: Instagram zoom, Facebook vertical videos and Geofilter tools
Our #FridaySocial is a weekly round-up of the key social media news stories from the previous seven days. Let us know your thoughts in the comments or via Twitter – @Umpf / @EllieHallsworth
1. Snapchat's behavioural targeting
Snapchat is introducing a new behavioural targeting tool, which will soon be able to offer advertisers a more sophisticated targeting capability.
Advertisers will be able to tailor campaigns based on the type of content Snapchat users consume, by utilising data the app collects from its users. It's rumoured that Snapchat will begin to roll out the behavioural targeting capabilities in the third quarter of 2016.
The new tool comes as Snapchat bulks up its advertising offering, which is moving fairly rapidly given that it only began selling ads in late 2014.
2. Facebook vertical videos
You don't need to be all square… at least not when it comes to Facebook videos. Facebook is launching the capability to upload vertical videos in the style of Snapchat's rectangular videos that fit perfectly onto smartphone screens. Brands already on board include Budweiser, Axe, GE and Mountain Dew.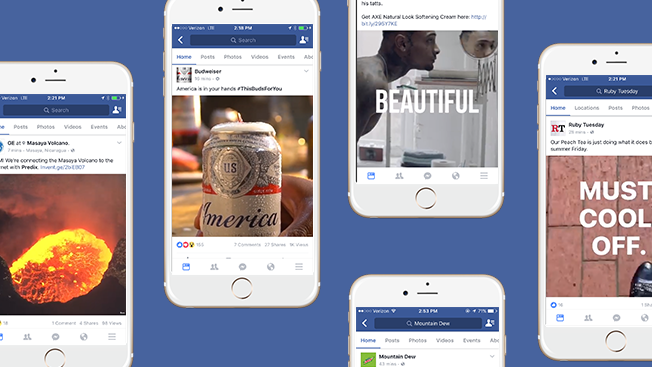 Read more here.
3. Instagram zoom
Instagram is ready for its close up, as this week it introduced a zoom capability on photos and videos uploaded to the platform. The feature, which is now live on iOS devices, uses a simple pinch gesture to get a closer look at all content on your feed.
Android users will have to wait a while longer for the zoom feature, which will arrive "in the coming weeks". There has been no announcement on Windows support however.
Today we're bringing ZOOM to Instagram on iOS! Pinch to zoom on photos & videos in feed, on profiles and on Explore pic.twitter.com/j1g4JQozK2

— Instagram (@instagram) August 31, 2016
4. Twitter pre-roll ads
Twitter has just announced that select pre-approved US creators will be able to insert pre-roll adverts into any video clips they upload. The idea behind the move is to empower content creators to monetise their content.
We're expanding our revenue programs to empower creators to earn money in multiple ways! ? https://t.co/ebnJxNaZqA pic.twitter.com/OGlI9tbeMa

— Twitter Video (@TwitterVideo) August 30, 2016
Read the full announcement from Twitter here.
5. New Snapchat Geofilter tools
Back in February, Snapchat announced its new Geofilters feature, which enables any user to create their own Snapchat filter on-demand. Geofilters have proved popular, especially as filters can be purchased for as little as $5.
However, without an on-hand graphic designer, these can be slightly tricky to make – which is why Snapchat has launched a new solution. Now offering a new desktop Geofilter creation tool, Snapchat now gives its users access to a range of templates and tools to help build a custom overlay quickly and effectively.