Friday Social: Instagram Polls, PM's P45, and Snap Inc's Specs
Our #FridaySocial is a weekly round-up of the key social media news stories from the previous seven days.  Let us know your thoughts in the comments or via Twitter – @Umpf
Instagram Stories Introduces Polls
Instagram Stories has introduced a poll feature, meaning users can pose a question within their Story and get live responses from their followers.
Just like adding a sticker, emoji or location – the user can place a two-answer poll anywhere on their Story, which will last for 24 hours and reveal the results in the view count page.
Not only this, but Instagram has also introduced a colour picker tool, allowing users to carefully select a specific colour within their story, allowing them to write a message with that specific hue. They really are spoiling us…
Professional Prankster Hands the PM her P45
Social media went wild this week for Steven Brodkin, aka Lee Nelson, aka Britain's best blag-artist, who managed to get on stage at the Conservative Party Conference and hand Prime Minister Theresa May a P45 form stating, "Boris asked me to give you this".
Hi @BorisJohnson, I gave Theresa her P45 just like you asked. pic.twitter.com/gzW0UluDMv

— Simon Brodkin (@simonbrodkin) October 4, 2017
The comedian, who is well known for his high profile gate-crashing appearances was quickly escorted out of the venue and later arrested, before being released with no further charge.
Although many online could see the funny side, points were raised regarding the safety and security measures in place.
A serious security issue there? A protestor got close enough to Theresa May to hand her a fake P45 during her speech.

— Daniel Sandford (@BBCDanielS) October 4, 2017
On a serious point, MASSIVE security lapse to let prankster with P45 into hall front row right by @theresa_may. Very scary

— Robert Peston (@Peston) October 4, 2017
Snap Inc. Sells Only 150,000 Spectacles
Despite the massive hype and social media buzz surrounding 'the next big thing' for Snapchat, this week it was revealed that only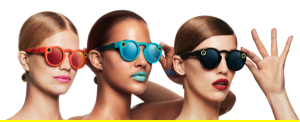 around 150,000 pairs of Snapchat Spectacles had been sold (and Umpf has one of them!)
The camera-enabled specs that allow you to capture first-person video and feed that straight back into your Snapchat were expected to take the digital world by storm.
Despite Snapchat's 173 million people user base, Snap CEO Evan Spiegel announced that uptake had been slower than anticipated.
This is another setback for the social media giant, which is seeing Instagram rocket past it up the popularity charts.
To see what Snapchat Spectacles are all about, check out our video review!
#SnapchatSpectacles are now on sale in the UK, but what are they like!? @BillyTruswell has been let loose around Leeds to find out.. ?? pic.twitter.com/4wtonbQpE3

— Umpf (@Umpf) June 21, 2017
Calls Made for Instagram to Notify Edited Photographs
This week, calls were made for brands to openly state when photos posted to Instagram contain a model who has been made to look thinner.
This comes after France brought in new laws which force advertisers to say if a commercial image has been edited to enhance the models figure.
Actress-turned-body coach Mel Wells is now calling for social media companies to get on board, and the online community appear to be with her, including celebrities such as Meghan Trainor and Lorde, who have all spoke out about retouching in the past.
https://twitter.com/lorde/status/450460437998747650?lang=en
Browser Plug-In Saves the World
… well not quite, but bear with me.
Browser plug-in Impakt is on a mission to save the world one web search at a time, by helping you buy products from more ethical companies.
The start-up company helps the user buy products from companies that pay workers fair wages, promote equality, and protect the environment.
By collating public government data and industry reports, the extension will advertise more ethically minded companies and even notify you when buying from a company that is known to exploit ethical values.
The plugin isn't available to the public yet, but Impakt launched a Kickstarter campaign and hopes to launch a beta extension early next year. Amen to that!