Friday Social: Looping Instagram videos, Tory ad spend & 77th Brigade
Our Friday Social is a weekly round-up of the key social media news stories from the previous seven days. Let us know your thoughts in the comments or via Twitter – @Umpf / @nathanbrush #FridaySocial
1. Tweets return to Google SERPs
Tweets will return to Google search results later this year, it has been revealed. The search engine has struck a deal with Twitter, which will mean tweets could appear in SERPs as soon as they are posted. Previously, Google had to crawl the social network for content, meaning a large proportion of tweets went unindexed. The move shows the importance Twitter has for news in particular, but also the potential for brands to have their social content exposed to a vastly increased audience.
2. Fighting the election on Facebook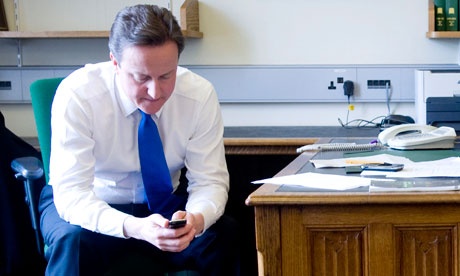 As the election race picks up steam, it has emerged that the Tory party is spending more than £100,000 a month on Facebook advertising in an effort to reach out to younger voters. Despite such heavy investment, the size of the Conservative's Facebook community (341,938 likes) is eclipsed by Britain First, who have nearly double that figure. As part of National Voter Registration Day on 5 February, Facebook users saw a banner appear at the top of their news feed, prompting them to register. On election day itself, we expect Facebook will again urge people to head to the polling stations with notifications across all platforms.
3. Instagram's going loopy
Instagram updated its app this week to make videos loop continuously in users' feeds, similar to Vine. As the network looks to open up its advertising offering to more brands, looping video will certainly appeal to potential advertisers. The time-limit remains at 15 seconds, which some would say is a little long for a looping video, unlike Vine's 6 second cut off. Users of the app will not be able to disable the feature, but can choose for videos to only preload when connected to Wi-Fi.
4. 77th Brigade
The British army is taking its battles to social media with the launch of the 77th Brigade, a special force skilled in social media and journalism, to combat 'unconventional warfare in the information age'. Based in Berkshire, over a thousand recruits will undertake 'non-lethal' work to control the online narrative around world events. They've got a long way to go to catch up with the Israeli Defense Force though. The IDF is active across 30 channels, even Instagram.
5. Twitter syndicating ads
Twitter has started to syndicate ads onto external platforms after it agreed partnerships with Flipboard and Yahoo! Japan. UK advertisers will soon be able to run campaigns across multiple platforms with the same targeting, reaching a large audience and generating engagement. According to Twitter, there were a massive 185 billion impressions of tweets off Twitter in the third quarter of 2014, a figure that will increase even further as advertisers spread their promoted tweets further than ever before.