Friday Social: InstaBrands, Facebook Culls Likes and Twitter Revenge Porn
Our #FridaySocial is a weekly round-up of the key social media news stories from the previous seven days. Let us know your thoughts in the comments or on Twitter – @Umpf or @Allllliiiii
1. Facebook likes become 'more meaningful'
Facebook announced this week that it's planning to make page like data more meaningful by removing deactivated or memorialised accounts from like counts. According to Facebook's statement, there are two key benefits to removing these accounts from a page's like count:
Business results: Removing inactive Facebook accounts from Page audience data gives businesses up-to-date insights on the people who actively follow their Page and makes it easier for businesses to find people like their followers through tools like lookalike audiences.
Consistency: We already filter out likes and comments generated by deactivated or memorialized accounts from individual Page posts, so this update keeps data consistent.
Facebook has alerted page owners that this change may decrease page likes over the coming weeks.
2. Brands prefer Instagram to Facebook
According to a new report by L2, brands are sharing more content on Instagram than Facebook.
Of the 250 brands the study tracked, L2 found that brands posted an average of 9.3 times each week on Instagram versus 8.8 times each week during the same quarter.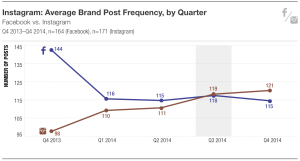 Instagram may well be becoming more popular than Facebook as it doesn't (currently) restrict the content that your followers see, although its advertising options are limited.
3. Facebook Firehose
Facebook has this week launched a new product called Topic Data with the help of DataSift.
In a blog post, Facebook said: "Topic data shows marketers what audiences are saying on Facebook about events, brands, subjects and activities, all in a way that keeps personal information private. Marketers use the information from topic data to make better decisions about how they market on Facebook and other channels, and build product roadmaps.
For example, with topic data:
A business selling a hair de-frizzing product can see demographics on the people talking about humidity's effects on their hair to better understand their target audience.
A fashion retailer can see the clothing items its target audience is talking about to decide which products to stock.
A brand can see how people are talking about their brand or industry to measure brand sentiment.
While this type of data has been available from third parties before, the sample size was often too small to be significant and determining demographics was nearly impossible. With topic data, we've grouped data and stripped personal information from Facebook activity (not including Messenger) to offer insights on all the activity around a topic. That means marketers get a holistic and actionable view of their audience for the first time. It's important to note that topic data provides guidance for marketers but it cannot be used to target ads directly."
Facebook also stresses that all of the information used for topic data is anonymised, so private data will remain private.
4. @Design
Twitter's design team has introduced its brand new design blog, @Design. The blog aims to clarify the thought process behind some of Twitter's design changes, and hopefully put a stop to (at least some) of the moaning each amend incites. The blog is set to include:
Feature teardowns: What went into designing new Twitter experiences and key decisions made along the way.
Research: Key findings from the research we conduct around the world that reveal how people use our service and other technologies.
Team operations: Our team is growing fast. The way we operate our studio may be helpful for you in considering how you run your design function or manage your own career.
Diversity and other important topics: We aim to run the most diverse and inclusive Design & Research team in the world, and we have strategies to share which can help the larger industry progress towards greater diversity in our field.
Fun stuff: We reserve the right to post crazy stuff from time to time.
As always, the team behind the blog are asking for feedback and submissions – @design and @research.
5. Twitter addresses revenge porn
Twitter has updated its privacy rules this week to prohibit users from sharing explicit imagery without the subject's consent.
Previously, Twitter's policies only warned against releasing personal information or making threats of violence. A Twitter spokesperson told Mashable that now, users will be able to report tweets under the new guidelines by verifying their identity and stating that they are the subject of a photo or video.
After review, Twitter will hide the post and lock the offending user out of their account until the tweet is deleted. Twitter's Trust and Safety team will be online 24 hours a day to review posts.
And finally…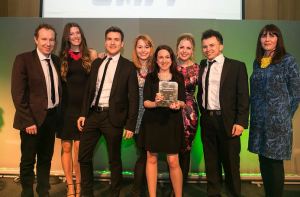 We're winners! Umpf was awarded with three honours at this year's PR Moment Awards for the North of England, Northern Ireland and Scotland including Best Social Media Agency, Best Integrated Agency and Best Use of Evaluation. Hurrah!