Friday Social: InstaAlbums, Facebook Video Updates, and Twitter Money Woes
Our #FridaySocial is a weekly round-up of the key social media news stories from the previous seven days.  Let us know your thoughts in the comments or via Twitter – @Umpf / @GrittAlessandra
Instagram to introduce albums?
According to Mashable, Instagram is testing a new feature: photo / video albums.
The tool is in testing in the beta version of the Android Instagram app, and lets users select up to ten images or videos to combine into one single post. The feature doesn't currently let users actually post their 'album', so it's not yet clear how the post will appear in the feed. Instagram declined to comment on the feature.
While there's no guarantee the tool will be rolled out to all users, it'd be interesting to see how it changes the way people use the app. As Mashable points out, most users choose to use Instagram as a highlights reel of their best photos, with many popular accounts banking imagery to be posted later – will an albums feature encourage users to post more in-the-moment? Maybe, instead of having a 'themed Insta', the new feature would allow influencers more flexibility by posting themed albums instead?
Facebook video updates
Facebook has this week announced a series of new ways to watch video on the social media platform.
In a Newsroom post on 14 February, Product Manager Dana Sittler and Engineering Manager Alex Li revealed updates including:
B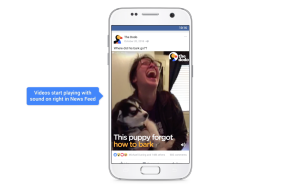 ringing sound to News Feed videos – rather than tapping to hear sound, it'll now fade in and out as you scroll through videos in News Feed if the volume on your device is turned on. This feature can be disabled in Settings.
Vertical video – videos shot in portrait will now appear larger in the News Feed.
Watch and scroll – like on YouTube, users can now pop out a picture-in-picture video that keeps playing while you continue browsing the News Feed.
Video app for TV – Facebook reports that users want more options for how and where they watch Facebook videos, so it's announced a new app which will roll out to Apple TV, Amazon Fire TV and Samsung Smart TV app stores, with more to follow. This feature follows on from last year's introduction of streaming from Facebook to TV.
Twitter's money woes
This week, Twitter's Chinese rival Weibo announced a market capitalisation of $11.13 billion – higher than Twitter's, at $10.57 billion.
The blow follows disappointing 2016 Q4 results for Twitter, which continues to report slow growth compared to its social media competitors such as Facebook.
It's been a bad few months for Twitter: its financial woes come after more complaints about abuse on the platform, with former CEO Dick Costolo saying he'd missed an opportunity to tackle bullying, and a lukewarm (at best) response to Twitter's new Support tools:
We're working hard to make Twitter safer.

Here's an update on some changes we're introducing today: https://t.co/RFRMIczsFf

— Twitter Safety (@TwitterSafety) February 7, 2017
We want you to get notifications that matter. Starting today, you won't get notified when you are added to a list. https://t.co/82xiaZbg1W

— Twitter Safety (@TwitterSafety) February 13, 2017
We heard your feedback – this was a misstep. We're rolling back the change and we'll keep listening. https://t.co/9ozPS4XlVI

— Twitter Safety (@TwitterSafety) February 13, 2017
Facebook tool reveals all
A new tool, Stalkscan, is showing Facebook users just how much data they're willingly handing out on the social media platform – do you want to know, or is ignorance bliss?
Created by Inti De Ceukelaire, the tool uses Graph Search to provide a perhaps shocking amount of information up for grabs via your Facebook profile. Remember Graph Search? Launched in 2013, it allowed you to search for things like 'Friends who like Harry Potter', or 'Photos of my friends taken at XXX'. Users immediately raised privacy concerns, and while the tool is no longer easily accessed, it's still functional.
It's not just your uploads that can be found – pictures you've commented on, statuses you've liked… it's all there.
Speaking to Vice Motherboard, De Ceukelaire said:  "Graph Search and its privacy issues aren't new, but I felt like it never really reached the man on the street. With my actions and user-friendly tools I want to target the non-tech-savvy people because most of them don't have a clue what they are sharing with the public."
Need a job? Head to Facebook.
Facebook has this week launched a new tool to allow users to apply for jobs directly via Facebook.
Facebook executive Andrew Bosworth revealed the new tool to Mashable, showing how Pages (in the US and Canada, for now) can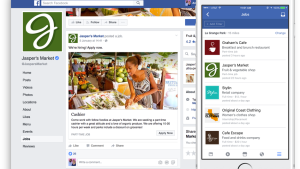 post a job application as easily as posting a photo, and applicants can apply directly through the platform. Job posts can be published for free, and can be boosted in the same way as any ad on Facebook.
As employers have had to link to third-party sites in the past, this new tool will eliminate that step – and potentially a lot of traffic for LinkedIn.
Interviews can even be conducted through Messenger, although the employer won't be able to see anything else in your Facebook profile that isn't already controlled by your privacy settings. Keep an eye out for vacancies in a News Feed near you, if the tool is a success…
And finally…
TV presenter Sian Welby caused a stir at the BAFTAs this week, when she walked the red carpet wearing a pair of 'blue shades':
The press can't understand why I wore 'blue shades' on the #BAFTAs red carpet! ? They're Snapchat @Spectacles! I was filming EVERYTHING! ? pic.twitter.com/WoSxWhwv87

— Siân Welby (@Sianwelby) February 13, 2017
How it looks getting photographed on the red carpet at the #BAFTAs @Spectacles ?? pic.twitter.com/KGVUimilYz

— Siân Welby (@Sianwelby) February 13, 2017
Would you rock Spectacles out and about? It's still a little bit too Black Mirror for our liking, but ask us again in six months…