Friday Social: Facebook's new look, it pays to Vine & Flawk
Our #FridaySocial is a weekly round-up of the key social media news stories from the previous seven days. Let us know your thoughts in the comments or via Twitter – @Umpf /@EllieHallsworth
1. Facebook's new look
This week Facebook rolled out an update to make Pages appear more streamlined for desktop users, as well as unveiling its latest design for News Feed.
Pages will have an updated Timeline display; scrapping the old designs where posts appear alternatively on the right and left hand columns, there will now be a cleaner one-column display where all posts will appear consistently on the Page. The left-hand side of the Page will have a dedicated space for key information about the business, including website URL and short description. It's good news for admins too; "No matter where you are on your Page, you can now view information about the ads you are running and new likes on your Page, as well as unread notifications and messages." In summary, the new-look pages will aim to make it easier for users to find the information they want and for admins to find the tools they use the most.
The latest design for News Feed aims to make its desktop and mobile experience the same, making Facebook more consistent and easier to use across platforms. With plans to roll it out globally over the next few weeks, the update will feature new iconography, bigger photos, news fonts and story cards. Another notable change is that all users will see a Graph Search bar, where they can type in queries such as "friends of friends who are single" or "photos my friends took in New York City".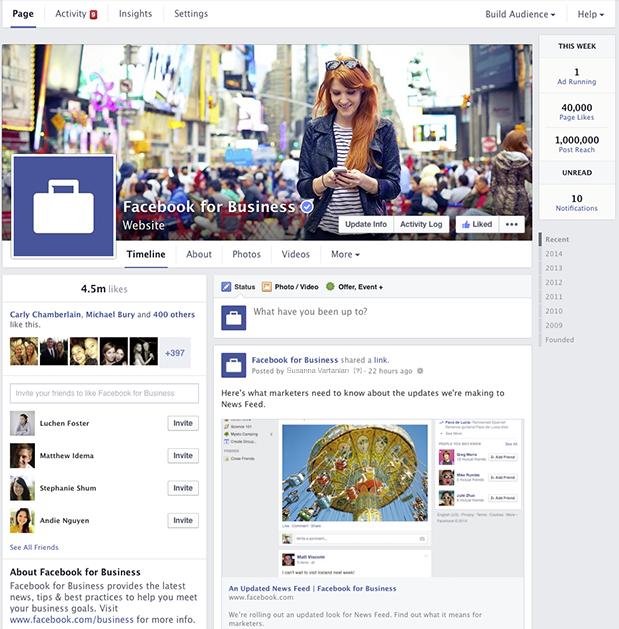 2. Vine = cold hard cash
Lauren Giraldo, better known as Princess Lauren on Vine, is a 16-year old social media star who makes about $2,000 per sponsored Vine. Cody Johns is a 24-year-old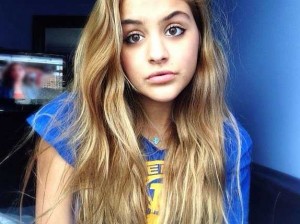 aspiring actor in Los Angeles, who worked on one Vine ad campaign that paid off his entire college tuition. These young Viners with followers in the six figures are simply
making a killing from the budding social media advertising industry. Speaking to Business Insider, they attribute some of this success to when Vine launched the 're-vine' feature back in July, that lets anyone share someone else's Vine to their own followers, thus significantly increasing their reach. Lauren explained "I left on a cruise with my family and I had 3,000 followers. But while I was on the cruise the whole re-vine thing happened. By the time the cruise ended I had 30,000 followers." As brands realise the huge potential in the platform due to audience size of its biggest stars, it's likely the money will keep rolling in for those willing to do link ups and be ambassadors for a brand's current marketing campaign.
3. Flawk
Flawk is a new real-time platform for fan engagement that allows its users to easily host a live Q&A with their Twitter followers. Let's face it, if you've ever taken part in or been part of the hosting side of Twitter Q&As, it can have its flaws. Flawk aims to answer this by employing a one-to-many communication model that lets fans do more than trawl through and expand Twitter conversations that often aren't in chronological order. Its process is simple, users access Flawk through their Twitter accounts, choose an avatar and create an online 'event'. Whoever hosts the Flawk has control of the event, e.g. what photo, video, etc. to share, what question to answer and which person to interact with. Visitors to the event can then watch the Q&A play out in real-time instead of waiting for a carefully crafted response to a tweet.
What does this mean for brands? As well as improving the real-time experience of the Twitter Q&As, Flawk could also provide an opportunity for a brand to share new campaigns, videos and other media with their online audience to get instant reactions from their followers.
http://youtu.be/wdktYVxun98
4. Cameron pays out for fans
It was reported this week that Tory Party chiefs have spent thousands on Facebook advertisements to encourage users to like the Prime Minister's Page. Marketing experts put the price of £7,500 on the campaign, which successfully doubled his fan base in a month and has overtaken the Deputy Prime Minister Nick Clegg's Page in terms of Page likes. Slammed as 'egotistical' by opposition MPs, the Tories defended their actions stating such campaigns were 'above board' and 'common practice' among American presidential candidates.
5. Instagram update
This week Instagram released a new iOS update; 5.0.6. Alongside speed improvements and bug fixes, there's a new creative tool in the edit screen. Now when you tap the Lux (sunburst) icon when editing a photo in the app, you'll see a slider that lets you adjust the intensity of the effect. Slide to the right to increase contrast and saturation in your photo, or slide to the left for softer tones.