Friday Social: Facebook's Faces, Twitter's Favourites and Anti-Social Networking
Our #FridaySocial is a weekly round-up of the key social media news stories from the previous seven days.  Let us know your thoughts in the comments or on Twitter – @Umpf / @Allllliiiii
1. DeepFace Nine(ty seven point two five)*
Facebook has recently announced that it is developing a new set of algorithms called DeepFace, aiming to improve the way the social media site recognises and tags faces in images.

According to Facebook, DeepFace will be capable of recognising faces with 97.25% accuracy regardless of lighting or angle of the photo – nearly the same as human capability. According to MIT Technology Review, the algorithm uses 3D modelling techniques to virtually rotate faces, while a simulated neural network works out a numerical description of the reoriented face. If DeepFace comes up with similar enough descriptions from two different images, it decides they must show the same face.
Yaniv Taigman, co-founder of Face.com (acquired by Facebook a few years ago), is one of Facebook's artificial intelligence scientists behind DeepFace. He states that the error rate has been reduced by a whopping 25%, compared to earlier software that handles the same tasks. Creepy or cool?
*Credit to Umpf's @TomScott1 for a hand in creating this puntastic headline
2. Pinterest Gives the Gift of Shopping
Social media pinboard Pinterest has just launched a brand new gifts feed, making it even easier for customers to purchase via the site.
Capitalising on the popularity of boards full of gifts for him, gifts for her and gifts for everyone in between, Pinterest's new Gifts Feed only shows products that are available for purchase. While Pinterest describes the new feed as a work-in-progress, users are now able to search for gifts and find availability and store location info directly via the site, as well as streamlining their search by price.
The pins are currently curated by Pinterest, with retailers unable to add their own info for the time being – although items pinned via Etsy and eBay will be pulled through into the feed.
3. The Anti-Social Network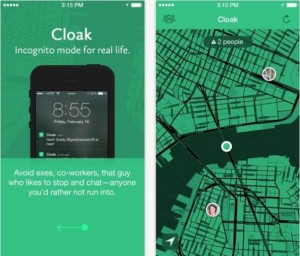 Finally, a 'social network' for the days when you're feeling anti-social – new app Cloak uses info from other social media sites to help you avoid people that you may not want to bump into.
Using data from Foursquare and Instagram, Cloak shows you a map of where you are in relation to your friends' recent check-ins. If you spot someone you don't want to run into, flag that contact in the app – Cloak will warn you when they come within a certain distance so you can make your escape.
Created by former BuzzFeed creative director Chris Baker and programmer Brian Moore, the app could be the first of many social media sites that help to keep people apart rather than bring them together. Baker told the Washington Post: "I think we've seen the crest of the big social network … I think anti-social stuff is on the rise. You'll be seeing more and more of these types of projects."
4. Facebook Microsharing
Facebook for iOS 8.0, released earlier this week, is offering a new feature that allows users to share images with a much smaller group of friends – in the style of Snapchat.
The new 'Share with only these friends' option allows you to share photos with as few people as you'd like. The feature has quietly been in testing for a few months but now has been rolled out for all images uploaded by all users. Previously, this kind of microsharing could only be done by creating Lists – a feature which still isn't very popular with most users, even with the introduction of the newer Smart Lists.
5. Twitter Plays Favourites
According to TechCrunch, Twitter is testing a new 'Fave People' feature that allows you to keep track of your favourite users in a separate timeline.
Called a 'user-friendly version of Lists', the feature appeared in the alpha version of Twitter's Android app (where features are tested first) and is placed quite prominently next to the Home timeline. When using the new timeline for the first time, Twitter says:
Keep track of your favorites
Tap the star icon on the profiles of your favorite people to see their Tweets in this timeline. You can also chose to receive notifications when they tweet from Settings.
Users are then prompted to head to their Following list to begin picking favourites – quite a time-consuming process for those of us following 1,000+ accounts. As TechCrunch notes though, if testers don't find the new feature engaging, it could well be scrapped or re-worked.
6. Twitter Removing @replies?
The simple @reply is the backbone of conversation on Twitter – without it, users wouldn't receive notifications when you direct a tweet at them. However, Twitter's Head of News, Vivian Schiller, has hinted that this might not be the case for much longer – during a speech at the Newspaper Association of America mediaXchange event, BuzzFeed's Ben quoted Schiller…
Twitter's @vivian calls hashtags & @s "arcane": "We are working on moving the scaffolding of twitter into the background" @cwarzel

— Ben Smith (@BuzzFeedBen) March 17, 2014
… sending Twitter into a frenzy. Despite Schiller initially denying the claims (when asked if Twitter was indeed phasing out @replies and hashtags, she replied 'Not at all') she has since sent the following interesting tweet:
@cwarzel @stkonrath There's a lot of creative thinking going on around how to make Twitter more and more intuitive. Watch this space.

— Vivian Schiller (@vivian) March 19, 2014
Mashable also notes that during a call with Twitter CEO Dick Cotolo in February, Costolo hinted that there would be changes looking at 'making Twitter more accessible for newbies'. BuzzFeed has also noticed that in the alpha version of Twitter's Android app, @replies may indeed be about to change: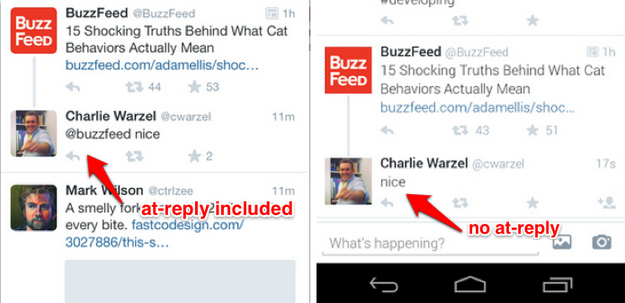 This change seems to apply only to @replies as part of a thread, not the basic @mention. Stay tuned for more updates – don't forget to tweet us your thoughts @Umpf (for the time being, at least).