Friday Social: Facebook's Election Postcards, Snapchat's Giphy Integration and Twitter Verifies Shooting Survivors
Our #FridaySocial is a weekly round-up of the key social media news stories from the previous seven days.  Let us know your thoughts in the comments or via Twitter – @Umpf
Facebook Election Postcards
Facebook is currently embroiled in the US election scandal, coming under intense scrutiny for allowing divisive political adverts and 'fake news', paid for by Russians, to be used to discredit Hillary Clinton and promote Donald Trump.
In a bid to prevent a repeat performance of the 2016 general election, Facebook will now send out postcards to verify the locations of people attempting to buy adverts relating to the US election candidates. Facebook will send out the card, via US mail, which will contain an individual code. The advertiser would need to input the code online to complete the purchase.
Find out more here.
Snapchat's Giphy Integration
Snapchat has partnered with GIF hosting site Giphy to allow users to search and add the animated stickers to their snaps.
To access the Giphy library, users with the update should tap the sticker icon in the top-right corner of their screen once they've taken a photo or video in the Snapchat app. From there, they can select which GIFs they'd like to use, and add them in.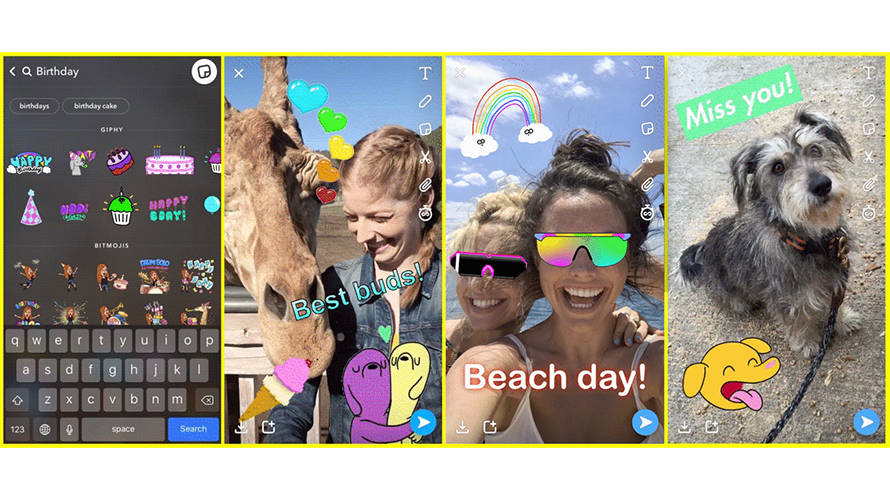 MPs Investigate the Impact of Social Media on Young People
The Commons Science and Technology Committee has announced that it has launched an inquiry into the impact of social media and screens on the health of young people.
The committee has identified that smartphones and social media are increasingly being used by children and young people, and wants to look into the scale of the issues surrounding excessive screen use, physical and mental harms, addictive behaviour, as well as what monitoring and regulations are needed to protect young people's welfare.
Anyone who would like to contribute to the inquiry can submit written views in no more than 3,000 words through the committee's inquiry page by 6 April 2018.
Read more on this here.
Nike Teams Up with Snapchat
Nike's Jordan brand has teamed up with Snap and e-commerce company Shopify to pre-release the Air Jordan III "Tinker" on Snapchat during the NBA All-Star game.
Thousands of All-Star after-party attendees were given access to exclusive Snap codes, which re-directed them to the Snapchat app and enabled them to order the new trainers and have them delivered by 10.30pm the same night. According to Tech Crunch, the trainers sold out within 23 minutes. The move is the first of its kind and has made Nike the first brand, other than Snap itself, to sell through the Snapchat app.
As well as the clever Snap codes, Snapchat geofenced the area over the Staples Centre during the All-Star game, giving fans access to a 3D augmented reality Michael Jordan lense.
See more here.
Twitter Verifies Shooting Survivors
In a bid to shut down online trolls and unjust comments, Twitter has this week verified many of the Parkland shooting survivors that are publically speaking out on gun control, following last week's dreadful events.
Since the school shooting which took 17 lives last week, many survivors have taken to Twitter to rightfully voice their pain, anguish, and opinions on America's gun control laws.
Despite the comments receiving global applause, many have been subject to online abuse and ridicule from pro-gun supporters trying to discredit their validity, with some even suggesting the survivors are 'crisis actors'.
To show its support to these young activists, Twitter has verified their accounts in a bid to add credibility to the students as they continue to press for stricter gun laws.