Friday Social: Facebook Stops Stalking, Instagram's Copyright Apocalypse, WhatsApp's Wizardry and #YouAreOfficiallyOldIf
Our #FridaySocial is a weekly round-up of the key social media news stories from the previous seven days.  Let us know your thoughts in the comments or via Twitter – @Umpf
Facebook Stops Stalking
Facebook is drawing back the veil to show uses what data it collates.
A new feature, called 'Off-Facebook Activity' is being rolled out, enabling users to view all the apps and websites that sends information about you to Facebook, which is then used to target ads more effectively.
People will soon be able to take control of these ads and clear their history to prevent future off-app behaviours being tapped, however, for now, it is being rolled out in Ireland, South Korea and Spain – with the goal to eventually to offer it globally.
Today, we're starting to roll out Off-Facebook Activity, a new feature that gives you more control over your datahttps://t.co/GXpWUKeAyL

— Facebook Newsroom (@fbnewsroom) August 20, 2019
Instagram's Copyright Apocalypse
A viral hoax has been duping some of the most high-profile users on Instagram, including Julia Roberts, Pink, Rob Lowe and Usher.
The message claims Instagram is about to introduce a new rule to its privacy policy, warning that anyone who doesn't share the message will automatically give blanket permission to use their photos, videos and messages posted on the platform.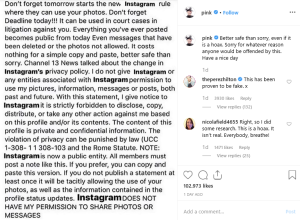 Instagram's chief Adam Mosseri has claimed that the message was not real and there would be no changes to the company's polices regarding content ownership – which is that the Facebook-owned firm can actually use someone's content however it likes, though it does not have full ownership of the pictures or videos.
It is not the first time the hoax has spread across social media but nevertheless does highlight the dangers of social media when it comes to the spread of propaganda and 'fake news'.
WhatsApp's Wizardry
WhatsApp users have been left baffled this week after discovering you can change your fount in a newly discovered hidden feature.
Not only does the feature allow you to change the font to a monospaced font (where every letter and character occupies exactly the same amount of horizontal space), it is also possible to make messages on the app bold and italic as well as add a strikethrough effect.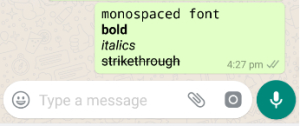 Here's how to do it:
Monospaced font: "`text goes here"`
Bold: *text goes here*
Italics: _text goes here_
Strikethrough: ~text goes here~
And finally…
The hashtag #YouAreOfficiallyOldIf trended on twitter this week, highlighting objects, activities and programmes that are no longer around in today's day of age. How many do you remember?
#YouAreOfficiallyOldIf you were ever friends with Tom pic.twitter.com/sB4nMtQfOJ

— David Leavitt (@David_Leavitt) August 22, 2019
#YouAreOfficiallyOldIf you remember the relationship of pencils and cassettes pic.twitter.com/xksKwdFuSY

— Just John (@BobFrantic) August 22, 2019
#YouAreOfficiallyOldIf you ever owned a Nokia 3310 pic.twitter.com/7mUfdAxX1u

— Ghassan (@Humble__Rumble) August 22, 2019
#YouAreOfficiallyOldIf you learned to type on one of these. pic.twitter.com/7Z0MT9tDQ7

— debbiecat (@debbiecat4) August 22, 2019
If you remember tamagotchi being banned from your school for being to distracting!! #YouAreOfficiallyOldIf pic.twitter.com/VEb7Z3nGNB

— Hokage of hidden Yaoi village (@ProudTwilight1) August 22, 2019
#YouAreOfficiallyOldIf you remember back when you had to rewind movies after watching them. pic.twitter.com/pclVK963Wu

— J?sh Gaming ?????‍♂️ (@JoshGamnChannel) August 22, 2019
#YouAreOfficiallyOldIf this was your way of getting football news pic.twitter.com/QhgXVvSClz

— Sy (@Sy081286) August 22, 2019
#YouAreOfficiallyOldIf your sibling whacked you on the head with these…. pic.twitter.com/7IwHlM0O6c

— MysticMom (@Amom4life1) August 22, 2019