Friday Social: Facebook Live, InstaAPI and Twitter News
Our #FridaySocial is a weekly round-up of the key social media news stories from the previous seven days. Let us know your thoughts in the comments or via Twitter – @Umpf / @GrittAlessandra.
Facebook Rivals Periscope
Facebook has this week quietly rolled out a new live video-streaming service aiming to rival Meerkat and Twitter's Periscope: Live.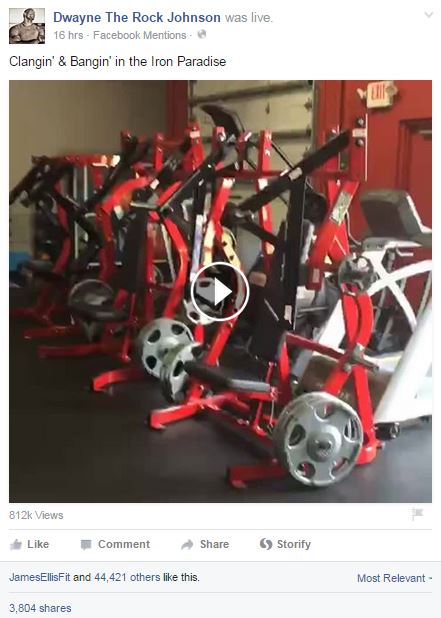 Live is available only to public figures with a verified Page and works through the social media site's Mentions app. When a celeb begins broadcasting, the live-stream appears in the news feed of their fans and recently-engaged users will also receive a notification.
Comments and viewer figures appear in the same way as in Periscope, and the celeb can respond to or hide comments.
The biggest difference between Live and its rivals: the video doesn't disappear. It's published to the Page so that fans can visit and re-watch at a later date – although the celeb can choose to delete it at any time.
All Change at Instagram
This week, Facebook-owned Instagram has switched on its advertising API so that now, anyone can begin buying ads – meaning you'll likely begin seeing a lot more of them in your feed.
Advertising on Instagram was previously limited to large brands (with equally large budgets) going through Instagram's sales team directly. Now, the process will be much more efficient.
Hootsuite has also announced this week that Instagram will now be available via the Hootsuite Dashboard, allowing users to publish and schedule content and monitor engagement via the scheduling platform.
However, the scheduling feature might not be all that it's cracked up to be – The Next Web has reported that the scheduling tool works as more of a reminder service to publish your content at a set time.
Twitter Experiments with News
Twitter is testing a new tab among its United States-based audience, making it easier to quickly view current news stories.
The tab, which sits between Notifications and Messages, features trending headlines from major news publishers including USA Today and ABC News. Tapping into a headline offers further information and a link to the main story, as well as related tweets from both the news publisher and other Twitter users.
If successful, the feature is expected to be rolled-out globally as part of Twitter's drive to add more value for its users.
Very's Shoppable YouTube Ad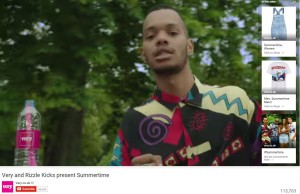 Online retailer Very has created a shoppable YouTube advert, allowing users to buy any of the items they see in the video.
The video features Rizzle Kicks covering DJ Jazzy Jeff and Will Smith's Summertime. Viewers can click the 'Shop the video' banner in the corner of the screen to view all of the items worn and used in the video, from clothing to camping chairs. Clicking on an item takes you away from the video and to the Very site.
Very's ad follows Asda's shoppable video experiment last year.
Writer Raises Funds
Writer John Underwood has raised a whopping £28,000 (at the time of writing) for Anthony Nolan after tweeting his JustGiving link.
Shortly after being diagnosed with a rare form of cancer, Underwood launched the JustGiving page in aid of Anthony Nolan, writing: 'if you want to do something to support the charity that's hopefully going to save my life a little while down the line, I thought you might as well do it here where I can get a smug glow from watching the total'.
The donation total sprang to more than £22,000 in just 48 hours and continues to grow. Underwood is tweeting updates during his treatment:
There we go. Twenty bloody grand. Please enjoy this extensively modified celebration hat and THANK YOU OH MY GOD pic.twitter.com/JLxfqFuyRP

— John (@JM_Underwood) August 5, 2015
You can read more from Underwood on his blog here. To donate to his JustGiving and to find out more about joining Anthony Nolan's register, visit https://www.justgiving.com/John-Underwood-Anthony-Nolan/
Facebook Simplifies Messaging
Facebook is set to make it easier for brand Pages to private message customers, launching a series of new features this week.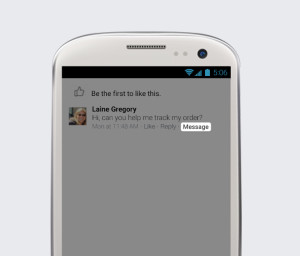 Firstly, the social platform has launched a 'Send Message' call-to-action button that can be added to ads, allowing customers to quickly and easier connect with brands to find out more. The button can be added to local awareness ads.
Facebook is also adding the option to reply to customer comments with a private message (see image). This will be useful to Page admins as previously, Pages could only message a customer when the customer initiated the conversation.