Friday Social: Facebook Inspires Voting, InstaBillboards, and Twitter Password Hack
Our #FridaySocial is a weekly round-up of the key social media news stories from the previous seven days.  Let us know your thoughts in the comments or via Twitter – @Umpf/ @GrittAlessandra
Twitter Passwords May Have Been Hacked
This week, ZDNet reported that a Russian seller has claimed to have obtained a database including the email addresses, usernames, and passwords of millions of Twitter accounts.
The seller, who made the claim via an encrypted chat, is selling the cache for 10 bitcoins.
LeakedSource has analysed the data and has reported that there are more than 32 million accounts in the database. It also noted that it's unlikely Twitter was breached, stating that malware is likely to be the culprit.
A Twitter spokesperson said: "A number of other online services have seen millions of passwords stolen in the past several weeks. We recommend people use a unique, strong password for Twitter. We detail other steps people can take to keep their accounts secure on our help center."
Instagram's First-Ever Ad Campaign
Instagrammers in France could be seeing their snaps on digital billboards as part of the photo-sharing app's first advertising campaign.
The campaign, launching in time for the UEFA Euro 2016 championships, will see the community's images used across online media and as part of cinema promos in addition to the billboards.
Head of Facebook France, Laurent Solly, said that the initiative is "a way to celebrate our Instagram community, [which is] very active in France."
The agency behind the ads states that it was inspired by the French community's content on the app.
Twitter testing Carousel adverts
Twitter is testing a new ad unit whereby advertisers can feature their own and other users' tweets as part of a carousel in the timeline.
With user permission, brands can promote tweets which tell a story about their product or campaign, alongside their own content, in a swipeable format.
Disney is one of the first brands to test the tool, sharing conversation around The BFG film.
It is assumed this format will only be available on mobile, unless Twitter plans to add new functionality to its desktop newsfeed as well, and a wider rollout is expected later this year.
— Twitter Marketing (@TwitterMktg) June 3, 2016
Facebook Rallies Young Voters
This Tuesday (07 June) was the last day for voters in the UK to register to vote in the upcoming referendum – until technical difficulties extended that deadline – and Facebook has been praised for increasing registrations by sending reminders via the platform.
Twitter user Dan Barker first spotted the trend after Facebook displayed a registration call-to-action at the top of UK users' News Feeds on Friday 03 June. That day, according to the government, online registrations to vote spiked with around 186,000 people filing their forms – more than double the number submitted in days before. Of those registrations, around 120,000 were aged 34 or younger.
Facebook hasn't expressed a position on the EU referendum.
Twitter Joins TfL
Twitter and Transport for London have announced that the two will be piloting a new service alerting customers of severe delays on London Underground and TfL rail services as they occur, aiming to avoid disruption.
In a blog post published on Thursday 09 June, the service was announced as a world-first. It also explains that the initiative will allow notifications to be sent straight to a customer's mobile phone or computer free of charge as a DM, whereas previously, this live info could only be found by visiting the relevant account or searching for keywords.
Anyone who follows one or more of four existing TfL Twitter feeds (London Overground, TfL Rail, Central line and District line) can opt-in now – if well-received, the service could be extended to other TfL Twitter feeds as well as key roads. To opt in users can, click here and select the lines that they're interested in.
In Twitter's blog post, the pilot was heralded as the first time Twitter has joined forces with a transport authority to provide live information in this way.
The Mayor of London, Sadiq Khan, said: "Like every Londoner I rely on public transport to get me around and this world-first service looks set to become an essential tool for millions of Tube passengers. It is an innovative way of providing people with live updates from the Underground and contributes to my goal of making it as easy as possible to get around the capital."
Notify friends about Facebook posts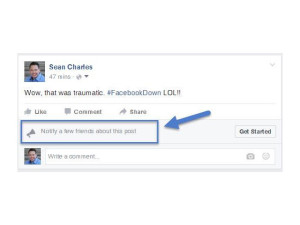 A new Facebook feature which lets users notify friends about posts they may be interested in has entered testing this week.
The new button, which appears underneath the usual 'Like', 'Comment' and 'Share' actions, is entitled 'Notify a few friends about this post' and will only appear underneath your own posts.
A Facebook spokesperson commented: "Instead of tagging friends in the post or the comments section, we're testing a more discreet option to alert them of your post by sending them a notification."