Friday Social: Facebook At Work, Message Requests &Twitter TV Ad
Our Friday Social is a weekly round-up of the key social media news stories from the previous seven days. Let us know your thoughts in the comments or via Twitter  – @Umpf /@nathanbrush #FridaySocial
Facebook launches Message Requests
The 'Other Inbox' on Facebook is now a thing of the past. This was where messages from people who aren't your friend (or friend-of-a-friend) went to be ignored, or more likely, not seen altogether. Many Facebook users didn't even know of its existence and it was only accessible on desktop, not mobile. Facebook has now launched Message Requests, whereby all someone needs to get in touch with you is your name. A user who receives a request can then decide if this person should be able to contact them again.
Tony Leach, Messenger Product Manager, has described phone numbers as a 'relic of the '50s', insisting that names are a much better way of contacting people. Facebook acquired mobile messaging app Whatsapp in $22 billion in 2014, but little has been revealed about how the network intends to integrate Whatsapp's 900 million monthly active users.
Twitter polls available to more users
We announced in last week's #FridaySocial that Twitter is releasing its polling feature to all users. While we have seen the feature appear on some of the accounts we manage, others are still waiting to receive the functionality. Furthermore, access via desktop does not necessarily mean the feature will appear on mobile. Early adopters, like our very own @MrsPip81, have been keen to show off the new feature, while 65% of @Independent's followers said they'll consider launching a poll.
I have the Twitter polls – do you have the Twitter polls? ?

— Pip (@Mrspip81) October 25, 2015
You can make polls on Twitter now – but will you use them? https://t.co/JVhnR215ma

— The Independent (@Independent) October 21, 2015
Facebook At Work
Not allowed, right? Unless you work at a social media agency or your company is trialing Facebook's ongoing corporate experiment of course. Facebook At Work is the network's idea of a rival to LinkedIn, but it is still in its early stages, and essentially constitutes a private network for employees to contact each other and collaborate. This week, RBS was announced as the first bank to sign up to the plan, adding 100,000 staff. Users can publish photos, form groups, create events and send private messages, via desktop and mobile. Version 2.0 is rumoured to launch in the new year.
Organic Instagram results declining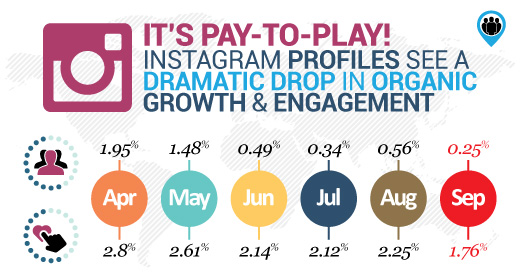 A recent analytics report into growth and engagement on Instagram shows that both metrics have been in steady decline over the past couple of months. The data, compiled by Locowise, shows organic follower growth dropping 1.7% and organic engagement dropping by 1.04% over the past six months. The decreases coincide with Instagram opening its advertising platform to all users, hence decreasing the exposure of organic content.
Twitter launches TV ad
Never miss a moment of the #WorldSeries. Explore the best of Twitter and follow Game 2: https://t.co/0mZw3ZKwA8https://t.co/OeHuNg7rpX

— Twitter (@Twitter) October 29, 2015
The likes of Facebook and Google have been advertising on television for sometime, and they have now been joined by Twitter. The 30-second advert, which debuted on Wednesday evening in the States, features highlights from the Major League Baseball playoffs as they were posted on the network. However, the advert confused some viewers as the content flashes past very quickly, presumably to symbolise how 'exciting' it is to be a Twitter user.