Friday Social: Design Your Own Selfie Lens, Wetherspoon Quits Social and #Beychella Makes History
Our #FridaySocial is a weekly round-up of the key social media news stories from the previous seven days.  Let us know your thoughts in the comments or via Twitter – @Umpf
Design Your Own Selfie Lens with Snapchat
Selfie-addicts, this one's for you. This week, Snapchat announced it will add Selfie Lens creation to its Lens Studio software, meaning you can design, build and customise your very own selfie filter.
Up until now, users of Lens Studio could just make 'world lenses', which could only be used on the rear facing camera. But now, designers, animators and little old you can use seven brand new templates and a host of additional features on Lens Studio to create 2D and 3D augmented reality selfie lenses.
To grab all of these fabulous new designs, keep an eye on the Discover slide of the app where Snapchat will showcase its most popular designs.
Fancy like designing your very own Snapchat selfie filter? Give Lens Studio a try!
Snapchat's newest lenses will feed your selfie addiction https://t.co/N0Seych0Zf pic.twitter.com/jknBAib9vq

— Mashable (@mashable) April 17, 2018
Wetherspoon Takes Last Orders on Social Media
Pub chain and overall mainstay of British dining culture, Wetherspoon, has this week quit all of its social media accounts following the recent Facebook data scandal.
In a Twitter post, the account highlighted that all Facebook, Twitter and Instagram channels will close with immediate effect.
Founder and CEO Tim Cooke pinned the surprising decision to pull all of its 900 pubs off social media on its damaging effects to society, and the recent concerns surrounding misuse of personal data.
This is not the first organisation to threaten to go off-the-social-grid, however it does become one of the largest companies to pull the plug for good. Will others follow suit? We'll have to wait and see.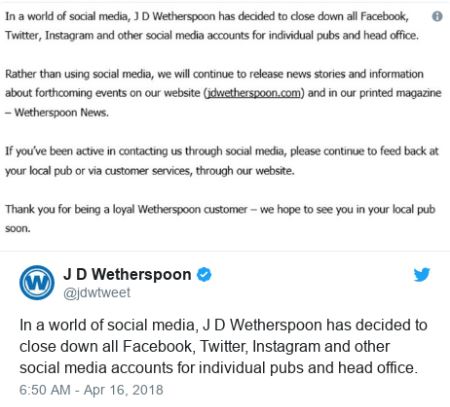 #Beychella Makes Festival History
When Beyonce performs at one of the biggest festivals in the world, you can bet your life it will be a pretty momentous occasion – and this year's Coachella gig, was no exception.
Her headline set on Saturday 14th was live-streamed by over 458,000 people on YouTube, the highest number since the festival began.
Not only this, she became the first woman of colour to headline the popular music and arts festival in California – comfortably sending the online world into a frenzy of 'yaaaaas slay'… naturally.
Beyoncé breaks record as the most-viewed #Coachella performance of all time w/ over 458K simultaneous viewers, 75% over last year. ??https://t.co/82Ar0Q4x2n #Beychella pic.twitter.com/WwV16YSxcV

— BEYONCÉ LEGION (@Bey_Legion) April 17, 2018
Say Goodbye to Single Use Plastic
The UK government this week announced plans to ban the sale of plastic straws, stirrers and plastic stemmed cotton wool buds in a bid to reduce single-use plastic waste.
As the levels of plastic affecting our oceans, beaches, rivers and landfills reach an all-time high, the government will discuss the introduction of a complete ban on the production of these items.
The news has naturally been welcomed with open arms, but many online are urging this move to be the first of many more environmentally conscious acts of legislation.
UK government plans to ban plastic straws in England! It really is time to say no to plastic we don't need. Who's with us? ✊ #PromiseForThePlanet pic.twitter.com/SMD8j9TElh

— WWF UK (@wwf_uk) April 19, 2018
And finally… anyone hungry?
You'd probably think that fried chicken kings KFC don't need much advertising – those things sell themselves.
And you would be right. But when they do, they do it well, and we are loving this action-themed print campaign from the guys at KFC Hong Kong.
KFC and Ogilvy Hong Kong's new campaign brings KFC's signature Hot & Spicy recipe to life with clever fireball visuals. Via AdWeek: https://t.co/Y2xiODlpmb #ClientWork pic.twitter.com/Ubb6VaGXXW

— Ogilvy (@Ogilvy) April 18, 2018
By taking hair-rising, action-packed, fire-bellowing shots and Photoshop-ing the flames for their classic chicken, this campaign is simple, brilliant and not to mention… hunger inducing!