Friday Social: Burger King & McDonald's McWhopper, Dogs Trust Emoji's and X Factor Tweeting
Our #FridaySocial is a weekly round-up of the key social media news stories from the previous seven days. Let us know your thoughts in the comments or via Twitter – @Umpf / @natashagraham_
Meet 'M': Facebook Messenger's New A.I. Assistant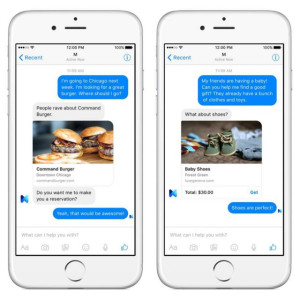 Facebook is in the testing stage of building an A.I. based assistant called "M" that will be able to make purchases for you, book restaurant reservations for you and even arrange for gifts to be sent to your loved ones.
Facebook's Messenger chief David Marcus said the feature will be "powered by artificial intelligence that's trained and supervised by people".  Looking at image of M shared by sources, it will be able to recognise conversational questions raised by the user and be able to act on them through Facebook. When this new feature comes into action, it could potentially become a significant competitor to Siri, Microsoft's Cortana and Google Now.
Burger King's Proposal to McDonalds is a Whopping Great Fail
This week, Burger King came to McDonalds with idea of putting two hands together and creating the McWhopper.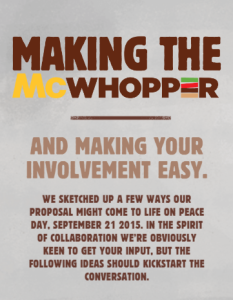 The proposal came as an idea to celebrate Peace Day next month – where the two largest fast food chains would come together for one day, and share a united front in the name of their combined burger creation. All sales from the burgers would go directly to Peace One Day, a non-profit organisation – raising awareness of the International Day of Peace.
Burger King came prepared with their proposal – building its own website hosted on Tumblr, filled with graphics detailing exactly how the McWhopper dream could become a reality. It given its well thought-out presentation, it seemed like an offer McDonalds couldn't refuse however, the world's biggest fast food chain took to Facebook to shut down Burgers Kings offer: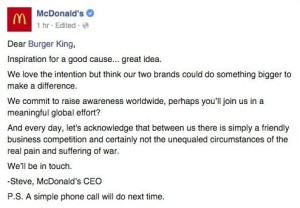 Dogs Trust Builds its Own Emoji Keyboard
The UK's largest dog welfare charity has taken it upon themselves to raise awareness of the canines needing homes by creating 23 dog breed emoji's.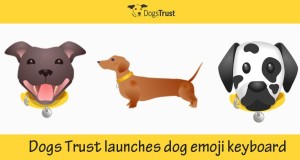 The breeds chosen to feature in the selection are based upon the charity's research on which dogs are found at the centres across the UK every year, some of the dogs featured are Pugs, Shar-Peis and huskies. The launch of the emoji app came on the same day at National Dog Day (26.07.15) – making it the perfect fit to raise awareness of the charity. The Dogs Trust Emoji is available to download on IOS and Android.
Public Choose Groups For X Factor Judges Via Twitter
X Factor returns to our screens this weekend and with some new judges, also comes new ways the public can get involved. Viewers are given more power by being able to dictate which judge will be mentoring which group through the TV show's own hashtag on Twitter.
Voting opens this Saturday during the first episode of the new series and will close at 12:00pm on Tuesday 1st September.

People can vote by putting the first name of the judge followed by the group in their tweet, so people wanting Nick Grimshaw to mentor the groups would use the hashtag #NickGroups. The final flourish of this new way of voting will see the addition of specially-created Judges Emojis that Tweeters can use in addition to their voting.