Friday Social: Burberry Launches AR, WhatsApp's Dark Mode, TikTok's Sticker Pinning & Yorkshire Tea
Our #FridaySocial is a weekly round-up of the key social media news stories from the previous seven days.  Let us know your thoughts in the comments or via Twitter – @Umpf
Solace's Hidden Replies
This week, women's aid group Solace launched a new Twitter campaign which used the platform's Hidden Replies feature to underline a key message around domestic violence.
The organisation used Twitter's 'Hidden Replies' which places comments behind an extra click, intended to prevent trolling or irrelevant comments from dominating the conversation, in a creative way.
The post they published showed a couple and encouraged people to 'tap to view the hidden replies', which took them to a video that added context to the story:
— Hidden Abuse (@DomesticAbuse) February 25, 2020
This campaign is a great creative use of the platform's features, and enables Solace to showcase that it's not always easy to spot domestic abuse.
Burberry launches AR
Burberry has launched a new augmented reality (AR) shopping tool through Google Search that allows users to get a better idea of what an item looks like before purchasing it.
Through Google, shoppers will now be able to see a digital image of the company's Black TB bag or Arthur Check Sneaker at scale. More products are expected to be added shortly.
Burberry launches AR shopping tool with Google https://t.co/F8ha5GTvOa pic.twitter.com/ZRGo7Z5heD

— FashionNetwork Worldwide (@FNW_WW) February 25, 2020
With online sales on the rise, it's a step forward for the industry and allows brands to showcase their products in their entirety without anyone having to step foot in a store.
WhatsApp Dark Mode
WhatApp's dark mode has been long time coming, but it's now available for beta testing on Android and iOS.
It's not overly exciting but the dark mode will see the messaging apps current palette replaced with shades of black, green and midnight blue.
WhatsApp is catching up with Twitter and Instagram in offering a dark mode – with Facebook still lagging behind. Dark mode generates less glare, making it easier to look at over a long period of time, and it also uses less power, saving on the treasured battery life – while others may just prefer a change of scenery! Hopefully we'll see this widely rolled out soon.
A Storm Brews on Twitter
This week, Yorkshire Tea was caught it in Twitter furore over a post Rishi Sunak published of himself making a cuppa with a big bag of Yorkshire Tea.
Quick Budget prep break making tea for the team. Nothing like a good Yorkshire brew. pic.twitter.com/zhoQM9Ksho

— Rishi Sunak (@RishiSunak) February 21, 2020
The company received a huge amount of backlash, with many commenting that 'it's not their cup of tea' and would boycott the brand who they believed had links with the Conservative Party, regardless of the brand denying the association.
So it's been a rough weekend.

On Friday, the Chancellor shared a photo of our tea. Politicians do that sometimes (Jeremy Corbyn did it in 2017). We weren't asked or involved – and we said so the same day. Lots of people got angry with us all the same. pic.twitter.com/7uVmKDf7Jd

— Yorkshire Tea (@YorkshireTea) February 24, 2020
While this isn't the first-time political parties have caused a storm on social media by using brand association, many companies spoke up for Yorkshire Tea, sharing messages of support.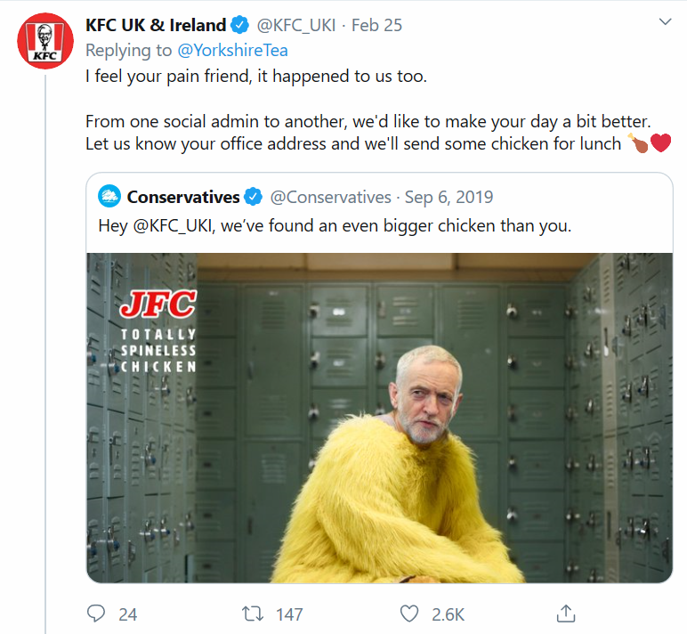 Let's raise a cup to the team behind Yorkshire Tea's social channels who in a time of crisis opened up people's eyes to acknowledge behind every channel there is a human who has to deal with it.
Let's be kind!