Friday Social: Bumper Bank Holiday Edition featuring Facebook Events, Brands on Periscope and Twitter Dissolution Disaster
Welcome to a special Bank Holiday Thursday edition of our Friday Social, our weekly round-up of the key social media news stories from the previous seven days. Let us know your thoughts in the comments or on Twitter at @Umpf or @Allllliiiii using #FridaySocial
Facebook Event Notifications
Facebook is introducing a new feature offering users the chance to sign up for notifications alerting them whenever a page they like is hosting an event nearby.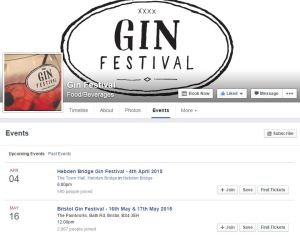 The new section sits in the Events area of the site, underneath each user's Upcoming and Calendar of events, and allows fans to subscribe to receive notifications from pages when an event is to be hosted nearby. As spotted by TechCrunch, fans can now subscribe to notifications directly from a page's Events tab as well (pictured).
The new feature means that fans will never miss out on a brand or musician's event near them, even if they don't spot the related post in their News Feed.
Brands Quick to Raise the Periscope
Following the launch of Periscope last week, a number of early-adopting brands have been quick to jump on the bandwagon.
Red Bull has been using the app to stream goings-on at its Guest House during Miami Music Week, while DKNY virtually took viewers through its wardrobe. Jimmy Fallon also gave viewers a sneak peak of The Tonight Show using the app after doing the same using Periscope rival Meerkat earlier this month.
Most importantly, Mashable reported that American Graze-box-for-dogs BarkBox has been streaming puppies hanging out in its office! The future is now.
Facebook Votes for PA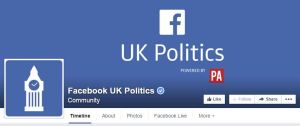 In a deal announced this week, Facebook has partnered with Press Association to curate content surrounding the General Election 2015.
The Facebook UK Politics page is already live and will host interesting content including articles from both PA sources and wider journalists.
Crack Down on Vlogger Sugar-Coating
Groups including Action on Sugar and the National Union of Teachers are urging the Advertising Standards Authority (ASA) to crack down on loopholes that allows YouTube to show unsuitable ads on content that is aimed at children.
Ads for unhealthy foods and even gambling have appeared on videos by vloggers such as sugary-sweet Zoella, with viewers as young as 11. While such content would be banned on television, these rules don't apply to YouTube which uses Google AdSense to determine which ads are shown on videos.
Current ASA rules state that ads for high in fat, salt or sugar products can't appear around programmes likely to appeal to children under 16. Graham MacGregor, chairman of Action on Sugar, wants this to apply to YouTube as well.
He said: "Regulations about online advertising need to mirror that of TV advertising".
NBC is Kik'ing it
American television network NBC News has launched an official Kik account in a bid to reach a younger audience, and will be allowing users to curate their own news content.
Instant messaging app Kik, available across iOS, Android and Windows, is a free-of-charge app similar to BlackBerry Messenger with more than 200 million users.
Kik users can message the user NBCNEWS with a keyword, such as 'politics' or 'technology' to immediately receive a current article from the NBC site. The account will also push messages, perhaps including breaking news, to Kik users.
MPs' Dissolution Disaster
Parliament has dissolved this week and so from Monday, there are no Members of Parliament. Former MPs have been forced to give up the title during the Dissolution,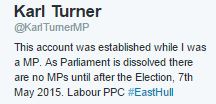 causing problems for those that have the title in their Twitter name.
Tory whips issued the following guidance on the changeover:
"If your website, Twitter account, Facebook page etc. refer to you as an MP (on their pages or in the address or in the handle) make sure you have either set up alternatives to use from Monday 30th March at 00:01 until polling day, or frozen the account, or published the necessary disclaimer making it clear you are not an MP during the Dissolution period"
Hellmann's Hinges Campaign on Comment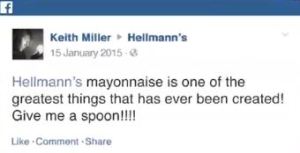 Condiment creator Hellmann's has launched a campaign in response to a single Facebook comment from a fan who described the mayo as 'one of the greatest things that has ever been created'.
The ad, developed by Ogilvy & Mather London, asks if Hellmann's mayonnaise is better than a series of things including the lightbulb and the internet, ending with the tagline 'The greatest thing ever created. Apparently'.
Senior Global Brand Director Julian Nichols said: "It's humbling to see the many amazing things that people all over the world say about Hellmann's. Sharing the love people express in a humble and playful way is at the heart of our new global campaign idea and we are excited to watch it develop."
Facebook's Baby Boasting
Facebook has this week launched Scrapbooks, a new tool allowing parents to tag their children in photographs without creating a fake or premature profile for them.
To set up a Scrapbook, parents just need to add the child to their Family & Relationships section on Facebook and then click Add Scrapbook next to their name. Users are also given the option to add a partner as a contributor to a Scrapbook, but only if they're listed as 'In a relationship' on Facebook.
Once a Scrapbook has been created, it'll appear under the parent's Photos section, within Albums. Only a parent and a partner are able to tag photos, and the privacy settings can be changed for individual photographs exactly the same as any other on Facebook.
Twitter's Curator
Twitter has launched its answer to Storify – Curator.
In a blog post, Twitter says that the platform was 'built to allow media publishers to search, filter and curate Twitter content that can then be displayed on web, mobile and TV', and it's now available for free to all publishers worldwide.
Users can search real-time tweets and Vine videos by keyword and hashtags which can then be defined by locations, time zone, follower count, language – offering great potential as an analytics tool. Twitter's suggesting that for further integrations, users work with Twitter Certified Partners such as Flowics, Livefyre, ScribbleLive, Spredfast and Wayin
Riff with Facebook
While everyone else was telling their best April Fools' Day fibs, Facebook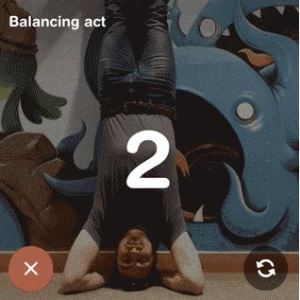 (legitimately) launched its newest tool – Riff.
Riff allows friends to collaborate to create video content. Facebook explains in a Newsroom post:
"Anyone can start by creating a video. All you have to do is give it a topic, like #AprilFools, then your friends can view it and choose to add their own clips on that topic. Once a friend adds a clip to your video, your friend's friends will also be shown the video in Riff and will be able to add to it. The potential pool of creative collaborators can grow exponentially from there, so a short video can become an inventive project between circles of friends that you can share to Facebook, or anywhere on the internet, at any time."
Periscope Updates App
Periscope has updated its iOS app this Thursday with a set of amends aiming to make the app more user-friendly. Changes include:
– Faster broadcasts
– Users you follow will now appear at the top of the live broadcasts area so they're easier to find
– Chat has been improved (so, in Periscope's words, it now works even when kajillions of people are watching)
– Location features have been changed so you can choose to share or not before broadcasting
Periscope is also reportedly looking to introduce improved notifications and an Android version of its app. The changes come days after rival Meerkat released its own series of amends in an attempt to claw back users from Twitter's Periscope.