Friday Social: Big Week for Facebook, Instagram's New Look & LinkedIn News
Our #FridaySocial is a weekly round-up of the key social media news stories from the previous seven days.  Let us know your thoughts in the comments or via Twitter – @Umpf/ @GrittAlessandra
Kids Could Sue Parents For Sharing Baby Pics on Facebook
The Guardian has reported that French authorities have advised parents they could be fined up to £35,000 plus receive a year in prison if they share images of their children via social media without their consent.
The advice relates to France's strict privacy laws, and many experts are warning that the photos uploaded may be creating a digital footprint that will follow the child for years to come.
Professor Sonia Livingston of the London School of Economics told The Guardian: "If [parents] can be open with their children about what they wish to share, with whom and why, this need not result in a draconian crack-down on all sharing."
Facebook Tests 'Discover' For Groups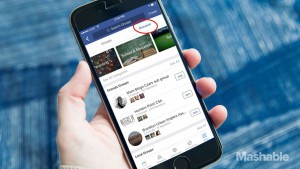 Facebook is reportedly testing a dedicated 'Discover' feature to let users find groups relating to their interests.
If the feature is rolled out, users will be able to find both public and private groups by category, as well as by local / friends' groups.
Mashable journalist Samantha Murphy Kelly noted that the feature was easy and intuitive to use.
New-Look Instagram & InstaAnalytics
You won't have missed Instagram's updated logo and UI, which has drawn some controversy via Twitter:
Really impressed with all the time and effort that went into redesigning the Instagram logo. pic.twitter.com/E0uTdT66uh

— Madison Malone Kircher (@4evrmalone) May 11, 2016
How the new #Instagram icon was createdhttps://t.co/Pnq1IWvpfM pic.twitter.com/eLs0fJ9Q0q

— The Poke (@ThePoke) May 12, 2016
In a blog post, Instagram revealed the thoughts behind the new look of Instagram, Boomerang, Layout and Hyperlapse:
"The Instagram community has evolved over the past five years from a place to share filtered photos to so much more — a global community of interests sharing more than 80 million photos and videos every day. Our updated look reflects how vibrant and diverse your storytelling has become."
Additionally, some users are receiving a first peek into Instagram's analytics tools. Scheduling tool Later has published a great blog post outlining the features – which looks very similar to Facebook's own Insights tools.
Instagram in Talks to Produce Facebook-like Instant Articles
LinkedIn is in talks with a number of media outlets to introduce publishing features similar to Facebook's Instant Articles, aiming to boost its news offering.
A LinkedIn spokesperson told BuzzFeed News:  "Publishers remain a very important part of our content ecosystem and we are in regular conversations with them about new ways to work together. Our goal is to ensure we get the right content in front of the right member at the right time to deliver the best member experience possible."
The move follows the acquisition of Pulse back in 2013 as part of LinkedIn's drive to become a key source of business news.
Facebook Loses Photo-Tagging Fight…
A judge has this week rejected Facebook's request to throw out a lawsuit against the social media giant.
The lawsuit claims that Facebook "secretly amassed the world's largest privately-held database of consumer biometric data" and relates to a feature that allows Facebook users to tag themselves and their friends in photos uploaded to the site. An Illanois, USA law is cited that requires consent from the users involved, which Facebook hasn't requested.
Facebook has pointed out that users can opt out at any time, but this hasn't cut it for the judge – the case will move to trial. Stay tuned.
…But Wins in China
Despite being banned in China, Facebook has won a case against a food and drink company attempting to trademark the name 'Face Book'.
The trademark request was denied once before, and has been upheld because the registrant did not provide evidence that the 'Face Book' name had been used other than with the intention to jump on the success of the Facebook brand.
Despite the small victory for Facebook, there are no signs of movement on China's block on the site in the country.