Friday Social: #AppleEvent, Snapchat Hardware, and Pokémon GOogle Maps
Our #FridaySocial is a weekly round-up of the key social media news stories from the previous seven days.  Let us know your thoughts in the comments or via Twitter – @Umpf/ @GrittAlessandra
Apple on Twitter
Apple finally updated its Twitter presence earlier this week, ahead of the #AppleEvent on Thursday 7 September.
The account is verified and has more than 500,000 followers at the time of writing, but the account is yet to feature any tweets in its timeline – during the Apple Event, content was promoted-only, except for a few spoilers which were tweeted and deleted before the iPhone 7 was even mentioned on-stage.
The tweets, which included feature highlights, including new cameras and water-resistant speakers, and prompted pre-orders, were deleted minutes after they were posted – but not before they'd had hundreds of engagements and were of course screengrabbed. The Verge has a great round-up of the now-deleted content here.
Reactions to the Apple Event were varied, with Brandwatch noting that the new EarPods received the largest negative reaction:
#AppleEvent: Earpods weren't as popular as the #iPhone7 or #AppleWatch on social: pic.twitter.com/XudD8HQUOV

— Brandwatch React (@BW_React) September 8, 2016
Our favourite reaction of the evening goes to US chain Denny's, which nailed it with this GIF:
The new water-resistant Pancake. pic.twitter.com/sOpzLyeMVf

— Denny's (@DennysDiner) September 7, 2016
Google Maps' Pokémon GO Option
If you're still on the Pokémon-chasing bandwagon, Google Maps might have some good news for you – it has added a 'Catching Pokémon' option in its timeline feature.
If you haven't used your timeline before, open the Maps menu and choose 'Your timeline' to activate the feature. It'll then began tracking your movements to provide an update on where you've been and how you've travelled there, and, as The Next Web has noted in the screengrab below, 'Catching Pokemon' is now listed as an option: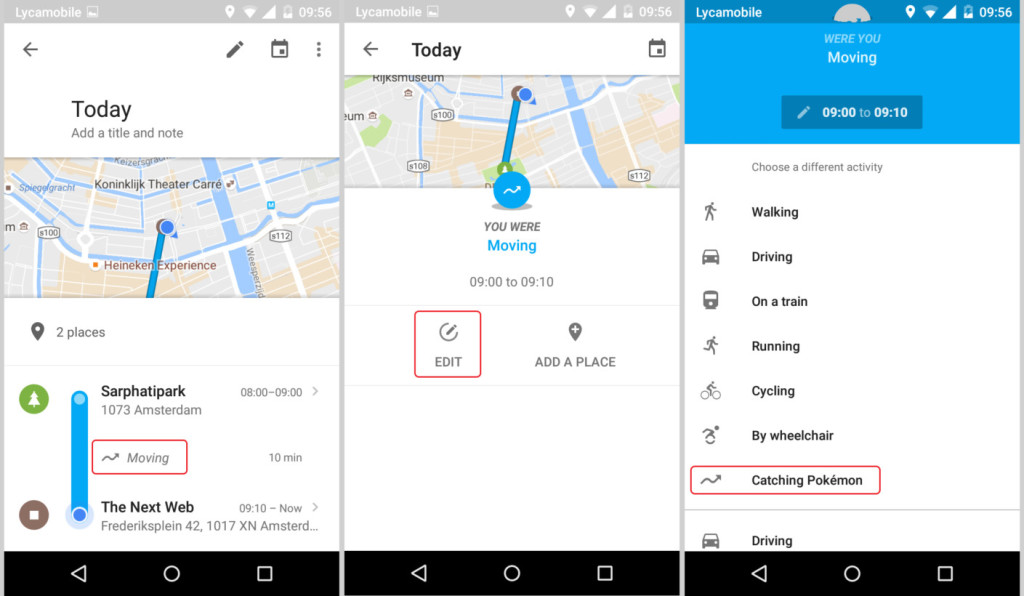 A nice way to get around the game's lack of tracking function besides the basic Journal, for the time being.
Twitter Adds Live Video Notifications
Twitter is making more of a feature of live video on the platform, with the addition of a new button allowing users to receive notifications when certain accounts begin streaming on Periscope and share the link on Twitter.
According to BuzzFeed, this feature has now rolled out globally – but we haven't yet spotted it at Umpf HQ. Do you have the option yet?
Instagram Photo Map
Instagram has confirmed to Mashable that it is removing its photo maps feature, in a change that has already begun rolling out.
While images will still be geo-tagged, you'll no longer be able to visit someone else's profile to view where they've snapped which photos – which could be a good thing:
Prolly didn't help they were used to stalk celebs https://t.co/JrC5BohaSp via @Fusion https://t.co/IZEPzc924q

— Carl Franzen (@carlfranzen) September 6, 2016
A statement released by Instagram said simply that "Photo Map was not widely used, so we've decided to remove the feature and focus on other priorities", adding later that the changes won't affect Instagram's API allowing developers to scrape tagged location information from public posts.
Snapchat Developing Hardware Product?
According to reports released this week, Snapchat could be working on its first hardware product – augmented reality style glasses, a la Google Glass.
The Financial Times first reported the story, and various sources have pointed to a number of factors backing-up the rumour: Snapchat's recent joining of the Bluetooth Special Interest Group, the body that oversees the development of Bluetooth standards; recent hires from Nokia, Google, and Logitech's augmented reality departments; its 2014 acquisition of Vergence Labs, a startup creating a similar product to Google's ill-fated Glass product; and images of CEO Evan Spiegel, who was spotted sporting what looked to be a smart-glasses prototype.
A hardware product would link nicely with Snapchat's current AR technology – its ever-changing collection of Lenses.
Snapchat has yet to comment on the reports.
Durex's Aubergine-Flavoured Condom
And finally, we liked this social stunt from Durex this week – a fake 'Aubergine-flavoured' condom.  Announced to generate awareness of the brand's campaign for a condom emoji, which aims to promote safe sex:
#BreakingNews: We're launching an exciting new savoury #condom range – Aubergine flavour! ? #CondomEmoji pic.twitter.com/bJpgZ8xMz5

— Durex Global (@durex) September 5, 2016
You got us, there's no Eggplant condom! But why no #CondomEmoji? RT if you agree emoji makers should make one! pic.twitter.com/6H6AU6zkJ6

— Durex Global (@durex) September 5, 2016
We will continue to campaign for a safe sex #CondomEmoji! RT this if you also want #emoji makers to create one… pic.twitter.com/Ad32YCZmz2

— Durex Global (@durex) September 6, 2016