Friday Social: #AmazonBasket, Secret Chat and National Social Media Archive
Our #FridaySocial is a weekly round-up of the key social media news stories from the previous seven days. Let us know your thoughts in the comments or via Twitter – @Umpf / @Allllliiiii
1. Buy directly through Twitter with #AmazonBasket
Amazon and Twitter have joined forces this week to launch #AmazonBasket, allowing tweeters to buy items directly through the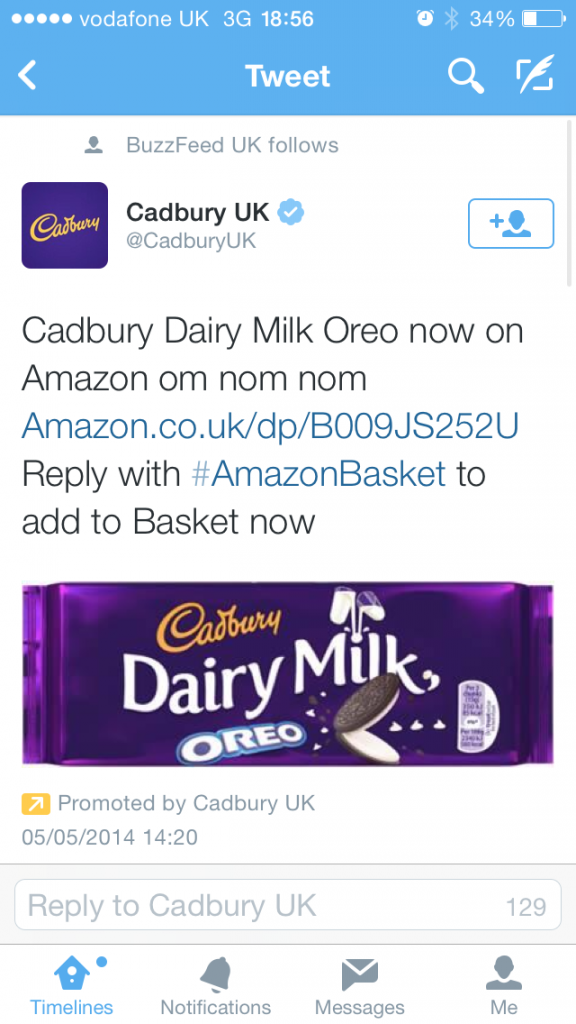 social media site.
When users see a tweet with a link to an item they'd like to purchase on Twitter, they can now reply with #AmazonBasket to have the product automatically added to their online shopping bag. The user will then receive an email, reminding them to pay for their items.
While there are a few restrictions – users must first link their Twitter and Amazon accounts and must visit the Amazon site to pay – #AmazonBasket (or #AmazonCart, for my folks overseas) is a clever way of making the most of impulse purchasing decisions.
2. French Connection jumps on #selfie bandwagon
Fashion brand French Connection has just launched a new in-store and social campaign capitalising on the popularity of selfies, #canthelpmyselfie.
The #canthelpmyselfie concept, launched during a press event at French Connection's Regent Street store, features an interactive photobooth that captures images to be projected on to the windows of the store. A series of consumer events are set to be held to roll the concept out to further stores, including Manchester, Oxford Street, Bluewater and Newcastle.
To support the campaign, in-store screens will also feature French Connection's SS14 collection modelled by fans of the brand and social competitions will encourage participants to snap the most fashionable selfies.
3. Secret looking into chat feature
Anonymous app Secret is planning to release its own native private chat feature, according to the app's founders.
At a TechCrunch event this week, Chrys Bader-Wechseler said: We're working on it and we ultimately we want to facilitate human connection. You should be able to take [conversations] offline. I think Anonyfish has shown that."
(Anonyfish is a private one-on-one chat function that allows users to create throwaway usernames and give those out to whoever they'd like to chat to – it's often used on Secret.)
Bader-Wechseler also said that one feature he liked about Anonyfish is that you have to participate in a comment thread to share your private details – you can't just message someone out of the blue. The founding duo also acknowledged but downplayed the fact that cyberbullying is rife, saying that most secrets are 'positive to neutral'. Time will tell how a chatting function could affect sentiment on the app.
4. Social media entering National Archives
Important tweets and YouTube videos will be entering the National Archives for the first time, sitting alongside key documents from British history as the Archives makes a move into social media.
Thousands of posts from Government departments, such as those announcing the birth of Prince George, have already been recorded and events such as the Queen's Jubilee and the 2012 Olympics will also be pulled into the National Archive as digital 'snapshots'.
https://twitter.com/ClarenceHouse/status/359396416566734848
Clem Brohier, Interim Chief Executive and Keeper of The National Archives, called the move an 'exciting step for archives and history', saying: "Social media now plays an important part in government communications with departments using Twitter to clarify policy and You Tube to promote initiatives.
"So it was imperative for The National Archives to develop systems to support social media archiving and for these formats to be preserved as part of the official public record."
View the National Archive's social media records here.
5. Huawei tries to make 'groufie' a thing
Huawei has unveiled its latest smartphone this week, the Ascend P7.
While the new phone is loaded full of features, such as ultra-tough Gorilla Glass, screen resolution of 1080×1920 displaying 445 pixels per inch, an eight megapixel camera on the front and a 13 megapixel camera on the back, Huawei has made one fatal flaw.
The phone includes a 'Groufie' mode, allowing users to take panoramic group selfies. 'Selfie' might've been 2013's word of the year but like 'shelfie' and 'belfie' before it, the 'groufie' is not a thing. Stop this madness.
Besides the ridiculously-named 'groufie' mode, Huawei's Ascend P7 is an impressive-looking smartphone. It's being touted as the ultimate 'selfie' device and as well as its impressive two cameras, it features a five-piece aspherical lens, Automatic Beauty Enhancement and a Smart Preview Window. Can I still hashtag that with #nofilter?