Friday Social: Baby Jonas, Facebook Looks Back and Twitter Shares Dive
Our #FridaySocial is a weekly round-up of the key social media news stories from the previous seven days. Let us know your thoughts in the comments or via Twitter – @Umpf / @Allllliiiii
1. Procter and Gamble brand sponsors celebrity birth
Most celebrities sell exclusive news and pictures to a glossy mag, but not former Disney kid Kevin Jonas – he and his wife Danielle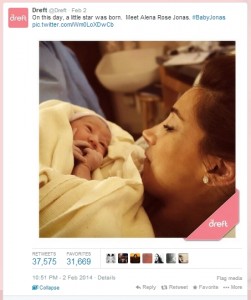 agreed a sponsorship deal with Procter and Gamble laundry detergent brand Dreft ahead of the birth of their baby girl.
Ahead of the big day, the couple tweeted (to their combined five million followers) about preparing for the birth with the help of family-friendly brand Dreft –
"Love using @Dreft as we prepare for Baby Girl! Follow @Dreft for exclusive content from our growing family!"
Baby Jonas was born earlier this week, and Kevin tweeted that we could "Follow dreft for all the updates!!!!!!!!! It's showtime #thisisnotadrill"
Dreft was first to share a picture and the name of the baby girl – Alena Rose Jonas. The tweet has been retweeted more than 37,000 times and favourited by more than 31,000 users.
2. Facebook celebrates ten years
Facebook turned ten this week and celebrated by giving users a visual 'look back' at their years on the social media site.
By visiting www.facebook.com/lookback, users are able to retrieve a personalised video charting their arrival on the site, their first moments, most popular updates and a selection of images shared – with an option to share the video to your Timeline, of course.
The feature has highlighted some touching stories – one Dad campaigned to be allowed to view his late son's Look Back video and after taking to YouTube and Reddit, Facebook contacted him offering to send the video and also to "… take a look at things a bit differently and see how they can help families with lost loved ones".
Mark Zuckerberg told CNET: "It's been an incredible journey so far, and I'm so grateful to be a part of it. It's been amazing to see how people have used Facebook to build a real community and help each other in so many ways."
3. Twitter shares fall
Twitter has this week reported slow user growth during the last quarter of 2013, causing shares to drop more than 10% to $58.
Twitter reported $243 million in revenue during the fourth quarter, which topped investors' expectations of just over $218.2 million – however it seems that user growth has begun to dwindle. The site averaged 241 million monthly users during the last three months of 2013, up only 3.8% from the previous quarter; the lowest rate since Twitter began disclosing figures.
Timeline views also dropped sharply from 159 billion to 148 billion, indicating that users are refreshing the page less.
4. Tube strike causes Twitter chaos
This week's 48-hour tube strike has made getting to and fro inconvenient for many Londoners, who took to Twitter with their dry wit, fun-poking and general outrage. Here's a selection of the best, including a few clever brand hijackings –
It is 9am, the store is OPEN. However, all the books are still stuck at some bus stop somewhere. #tubestrike

— WaterstonesOxfordSt (@WstonesOxfordSt) February 5, 2014
Travelling in London today? Here are your options… pic.twitter.com/GYnpxGMvY6

— innocent drinks (@innocentdrinks) February 5, 2014
We'll get the jam. You get the bread. Meet us at 42 Adler Street #tubestrike #TFL pic.twitter.com/UUHBcbPTrU

— Qbic London (@QbicLondon) February 5, 2014
The people of Shoreditch will not be beaten by a Tube strike #tubestrike pic.twitter.com/TS85J9ufh9

— The Poke (@ThePoke) February 5, 2014
Live pictures from the scene at King's Cross #tubestrike pic.twitter.com/cGe4RKtsQH

— Tom Phillips (@flashboy) February 5, 2014
5. YouTube to 'audit' views
YouTube has announced that it will begin to 'audit' video views in order to crack down on artificially inflated view counts.
Some more unethical YouTube users use redirecting tools or view-buying sites to bump up the numbers attached to their videos, and thus increase their popularity on the site. YouTube, owned by Google, said in a blog post:
"YouTube isn't just a place for videos, it's a place for meaningful human interaction. Whether it's views, likes, or comments, these interactions both represent and inform how creators connect with their audience. That's why we take the accuracy of these interactions very seriously. When some bad actors try to game the system by artificially inflating view counts, they're not just misleading fans about the popularity of a video, they're undermining one of YouTube's most important and unique qualities.
As part of our long-standing effort to keep YouTube authentic and full of meaningful interactions, we've begun periodically auditing the views a video has received. While in the past we would scan views for spam immediately after they occurred, starting today we will periodically validate the video's view count, removing fraudulent views as new evidence comes to light. We don't expect this approach to affect more than a minuscule fraction of videos on YouTube, but we believe it's crucial to improving the accuracy of view counts and maintaining the trust of our fans and creators."