Flacks, Hacks And Media Spamming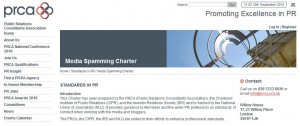 A charter to tackle media spamming has been launched by the CIPR, PRCA, the Investors Relations Society and the NUJ.
At Umpf we welcome anything which supports and promotes good practice in the industry, and which improves our relationships with the media – as a former journalist myself, I've experience on both sides of this debate.
However, I wanted to expand on my comments in PR Week about how agency bosses and journalists should have a greater role in self-regulation.
PR agency staff don't spam the media to deliberately offend or because they enjoy it.  They're probably doing it because they either haven't been taught well, or they're being driven by those further up their agency food chain to hit coverage targets.
As agency bosses we should be advocating a quality-not-quantity mantra.
That said, I've seen situations in agencies where – whether it's because they're striving to do great work that impresses clients, or there's a late deadline, or for some other reason – there's an irresistible temptation to hit 'send all'.
I do believe there's less of this going on than this debate would suggest, but each of us – flack or hack – has a one-click email option to 'block sender' that would curtail the spam being sent from repeat offenders.
Read the Charter here.  Read more thoughts on the debate from Speed MD Stephen Waddington.  See more on the Inconvenient PR Truth campaign.