Five New and Nifty Apps We Love
Here's our round-up of our favourite new social or phone-based apps that we've seen over the recent weeks. Let us know which is your favourite – and if you think we've missed anything – in the comments.
1. We wouldn't usually be too into the mushy or lovey-dovey, but this is pretty cute – Pair, the app which lets couples stay virtually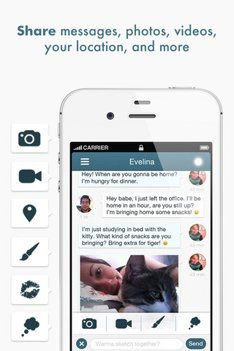 connected, has launched its Android app this week. The Android version sits alongside the still-new iOS app (Pair initially launched in March) and includes all of the same features as its predecessor including the ability to share photos, videos, messages, doodles and locations, as well as sending a 'thumb kiss' that makes both phones vibrate when the couple touch the same spot on the screen. Awww!
2. Fear not world, Nestle / KitKat have launched a new app that promises to save youngsters from being driven over the edge by social media stress – hurrah! Maybe a touch dramatic, but Nestle says that its new Social Break app aims to cut the stress faced by social media users by giving them a break and posting updates on their behalf. JWT, the agency behind the app, surveyed 900 19-26 year-olds in China, Singapore and the USA and found that over half find keeping up with social networks too stressful, but fortunately the app is easy for weary tweeters to use – just log in and select how you want automated posts to be sent. The widget is launching in Singapore later this week and can be downloaded here.
3. Facebook users have been abandoning its Social Reader app in droves according to new stats released by AppData.com and Forbes. Following the trend of many other auto-sharing apps – such as Spotify, which people scrambled to stop appearing in their newsfeeds – Facebook users aren't keen on their online actions being automatically broadcast. Stats show that The Washington Post's Social Reader app has fallen from 17.4 million active users in the past month, while The Guardian's has fallen from 600,000 daily users to under 100,000. Many users (myself included) are bypassing the Social Readers by copying and pasting the title of an interesting piece into Google and clicking straight through to the news site from there – proof, perhaps, that there are some things that we don't want to share online, or at least that we want to be in charge of what we share. Or maybe just proof that we're all a bit embarrassed about our occasional trashy reading habits?
4. Since its launch in 2008, TwitPic has made online photo-sharing easy – at least it did, until Twitter released its own built-in photo service and left TwitPic redundant. TwitPic has been laying low until this week, when it launched its very own photo app for iOS. Similar to Instagram, the TwitPic app mixes photo editing capabilities and social sharing with an in-app timeline. Wired have had a play with the app and commented on its editing capabilities (good – more than Instagram, less than iPhoto), its cropping tool (bad – not very user friendly) and its social side (not great). The app also offers Twitter-size 140-character captions and the ability to see how many times your image has been viewed, as with the online version. I'll be giving it a go, but don't think I'll be converted from Instagram.
5. Last but certainly not least, the coolest thing we've seen for weeks – The GLORIOUS! Flavour Map. We might be biased (we created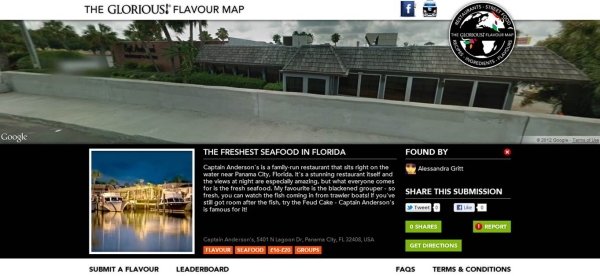 this app alongside our client GLORIOUS! Foods) but the Flavour Map really is an awesome tool. The Map is an interactive global Google Street View mash-up tool, similar to a TripAdvisor for food, which lets users pin flavours, meals, recipes and natural produce that they've discovered around the world. Users can add photographs and reviews to their pins, as well as suggesting who they'd recommend their pin to – families, couples, groups, and so on. You can also search for pins by location, price range or cuisine if you're looking for something special in a certain location! GLORIOUS! will use the Flavour Map as research and development, making sure that consumers are getting a taste of what they fancy from around the world as part of its A-Z of Global Flavours ethos. You can visit the Flavour Map online now and keep an eye out for the Facebook, iPhone and Android apps which are coming soon.