Friday Social: Facebook's big deal, #PricelessSurprises and Potato Mashtags
Our #FridaySocial is a weekly round-up of the key social media news stories from the previous seven days. Let us know your thoughts in the comments or via Twitter – @Umpf /@EllieHallsworth
1. Facebook acquires WhatsApp in its biggest deal yet
Facebook announced this week that it acquired messaging app WhatsApp for a cool $19 billion. The deal represents one of the biggest acquisitions in recent mobile tech history at almost double the $8.5 billion Microsoft paid for Skype and dwarfs its 2012 purchase of Instagram for $1 billion. Facebook has made it clear in a press release that it intends to let WhatsApp operate independently and retain its brand. Facebook's founder Mark Zuckerberg described the real-time messaging app as an "incredibly valuable" service that is well on its way to connecting 1 billion people around the world, with 1 million new registered users per day.
2. #PricelessSuprises
Brit Awards sponsor Mastercard became tangled in a news and social media storm the morning of the big event, when a Telegraph journalist outed its PR agency, House PR, for offering press accreditation in exchange for publishing promotional tweets.
Telegraph writer Tim Walker sent a copy of an email he received from House PR to news site Press Gazette, which laid out conditions attached to his press pass, including a requirement to publish pre-written tweets with the Mastercard Twitter handle and its #PricelessSurprises hashtag. After successfully riling the nation's journalists who took to Twitter to voice criticise its tactics, House PR released a statement defending its actions, saying that the agency's job was to "pursue all coverage opportunities". Mastercard has since intervened in the controversy to carefully distance itself from the "highly inappopropriate" Brits coverage for accreditation "implication".
Mastercard and Brit Awards go Soviet! hacks MUST Mention the sponsors in their reports or no press credentials! Vhttp://bit.ly/1fg6bYU

— Jon Snow (@jonsnowC4) February 19, 2014
Please fellow journalists do not agree to the absurd conditions for covering @BRITAwards. I've even just been told what I should tweet. No.

— Tim Walker (@ThatTimWalker) February 18, 2014
3. Volvo Car UK Celebrates Facebook Milestone
Volvo Car UK has marked hitting the 100,000 Facebook fans milestone with a specially commissioned artwork from illustrator Matt Johnstone. The bespoke illustration features real-life Facebook comments from fans who were asked to share their favourite Volvo stories and memories.
Kylee Rush, brand manager at Volvo Car UK said "This artwork reflects the rich history of Volvo, its vehicles and its owners, making use of Matt Johnstone's distinctively fun and quirky style of illustration to really bring it to life in a way that makes our fans feel a part of it."
Social media agency Mindshare collaborated on the illustration which Johnstone created at Volvo Car UK's HQ in Maidenhead with the whole process filmed live in time-lapse. The illustration is now featured as the Volvo Car UK Facebook page's cover photo and completed film features on the timeline, where fans are invited to enter a competition to win the bespoke creation.
4. Birds Eye Mashtags
Frozen food brand Birds Eye is making social media edible with new product 'Mashtags'. In the style of Birds Eye Alphabites, Mashtags come in five shapes: hashtags, the @ symbol, an asterisk and two emoticons (a heart and a smiley face).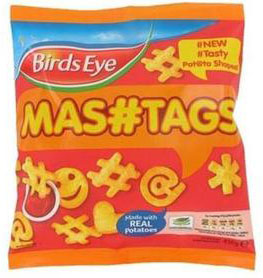 Pete Johnson, senior brand manager at Birds Eye said "Social media is all about conversation and we're confident Mashtags will resonate across various groups of people. We're constantly looking for ways to innovate and inspire consumers and hope that Mashtags will get people talking around the table and help to make mealtimes more enjoyable."
Available to buy from March, we're looking forward to munching on our potato-ey tweets.
5. Instagram on the Front Row
It's been another successful London Fashion Week in the social media world, but it seems Instagram that has come up trumps as the most favoured platform. Research from Bell Pottinger found that consumers are engaging with LFW 39 per cent more on Instagram than on Twitter. Overall, an estimated 3 billion impressions have been created from the buzz around the fashion event, with over 316,000 Instagram posts, 266,000 tweets and 4,000 blog posts.