#DontLeave, Blogger outrage, and Snapchat Group Chat
Our #FridaySocial is a weekly round-up of the key social media news stories from the previous seven days.  Let us know your thoughts in the comments or via Twitter – @Umpf
#DontLeave
The Obamas have issued their final White House Christmas card (?) leaving thousands of American citizens devastated; so much so that the hashtag #DontLeave has been trending on social.
The card shows the Obama clang with huge grins and dressed in evening attire, prompting fans of the president to upload videos and images of the card with the sentimental hashtag.
Obama is set to depart from the White House on 20 January, making way for Trump.
Got the Obama Xmas card ?? pic.twitter.com/VBr963HUl5

— Jess (@j3ssir) December 8, 2016
Sunday Times Style
An article from the Sunday Times Style journalist Francesca Hornak has sent the blogging community into a collective spin.
Hornak wrote a column entitled '24 Hours with a Beauty Vlogger' mimicking the general day of an influencer.
This included: "My outtakes are getting so many likes. Guess my followers appreciate seeing that I'm just a normal person" and "10am Starbucks. Post pic of my eggnog latte. #christmas goals #redcups'.
This has seen some un-amused replies from the likes of Tanya Burr and Sam Chapman…
except I hate eggnog obvs. ?

— Sam Chapman (@Pixiwoos) December 12, 2016
Wow. How embarrassing for you, writing about something you clearly don't have the first clue about.

— Tanya Burr (@TanyaBurr) December 12, 2016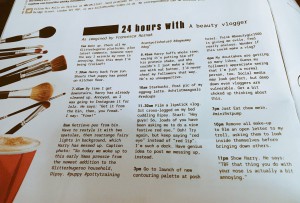 Youtube Algorithm
Vlogger PewDiePie, AKA Felix Kjellberg, pulled off what has been called 'the biggest hoax in YouTube's history' over the weekend, after promising to 'delete' his channel a few days prior.
PewDiePie claimed the reason for deleting his channel was because YouTube was trying to 'kill' his reach.
However, on Saturday (10 December), PewDiePie revealed that the promise had simply been a publicity stunt.  After reaching 50 million viewers he did delete his channel… but it wasn't his main one. Instead, the YouTube star deleted a defunct secondary account, Jack Septiceye2.
The hoax was delivered to highlight the nature of 'fake news' stories – an issue which has come under the spotlight in the aftermath of the US election (and previously covered here – http://umpf.co.uk/blog/news/friday-social-the-safety-pin-male-verification-and-farewell-to-fake-news/).
Go 360 with Facebook Live
Facebook's recent VR interaction demo at its Oculus Connect event showed that social engagement via VR may not be as out of reach as we might think…
Facebook has since gone on to announce that users will be able to capture a Facebook Live in 360 degrees, the next stage in the live streaming hype.
The first demonstration of this took place on Tuesday. A live broadcast from the Mars Desert Research Facility in Utah saw a team of scientists emerging from 80 days of isolation in Mars simulation pods.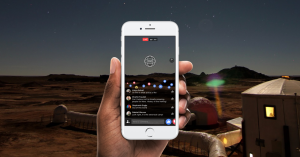 Millennials and social media
According to research conducted by the Media Insight Project, eighty-five percent of millennials claim that staying up to date with the latest news is 'at least somewhat important'. However, upon a closer look at how millennials consume news. It has appeared to have changed since the days of baby boomers and Gen Xers. Unsurprisingly, millennials prefer to use social media to find out the latest news.
Forbes claims that social media has changed the way millennials consume news in at least three ways.
It's integrated into their lives: sixty percent of millennials say they come across news when they are engaging in other activities, often on social media.
They're exposed to opposing viewpoints: out of the eighty-three percent of millennials that are exposed to diverse opinions on social media, seventy-three percent click to learn more.
They consume news from people they know: millennials are twice as likely to prefer getting their information from people that they know.
Snapchat introduces group chat and Shazam
Snapchat has introduced four new features, one including a Shazam partnership, to try and keep their users engaged and entertained.
With its Shazam alliance, users can now Shazam a song they hear by holding down on the app's camera screen. Once the artist and title appear on-screen, users have the option of listening to the track within Snapchat.
The app's new Scissors tool (which will premiere on iOS before launching on Android) will allow users to cut out bits of a snap to then turn it into a sticker.
Another feature to be rolled out, is the creation of a group chat allowing inclusion of up to sixteen people. To avoid numerous notifications, Snapchat will let users know which members are chatting within a group but won't send a notification for every single chat sent.