Click Farms, Instagram Crack Down and Facebook Chatbots
Our #FridaySocial is a weekly round-up of the key social media news stories from the previous seven days.  Let us know your thoughts in the comments or via Twitter – @Umpf
Click Farms
Ever get random likes from completely random Instagram accounts? Click farms may be the reason why…
Click farms are establishments in which low-paid workers spend their days clicking on web or social media content. Click farms contain hundreds or even thousands of phones, all at the ready for when an organisation or business pays for traffic.
A huge click farm based in Thailand is the latest to be caught. The click farm had more than 500 mobile phones and 350,000 SIM cards. The setup also included nine computers and 21 SIM card readers.
https://twitter.com/lmatsakis/status/874352947752189952?ref_src=twsrc%5Etfw&ref_url=http%3A%2F%2Fmashable.com%2F2017%2F06%2F13%2Fthailand-click-farm-caught%2F
Instagram Crack Down
This week, Instagram launched a brand new feature created to crack down on sponsored content. The aim is to make it more transparent where celebrities or influencers have been paid to endorse a product or  brand on their account.
Currently, this feature has only been rolled out to a few brand and influencers in order to gather feedback from the community. The next phase will be to create a policy that includes some sort of enforcement.
It will look a little something like this…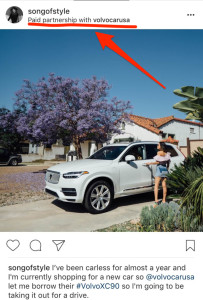 Facebook Introduces a GIF Button For Comments
To mark the 30th anniversary of the GIF, all Facebook users will be given the new GIF comment button which Facebook has been testing for three months.
Facebook added GIF support two years ago, but until now users had to enter the URL of a GIF hosted else. The GIF button cuts the hassle, especially on mobile. It's currently only available for comments, but Facebook may eventually also make it available for News Feed posts.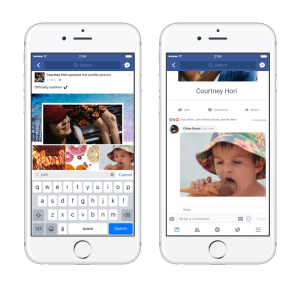 Snapchat Opens Self-Serve Ad Platform
After first announcing a new self-serve ads platform last month, Snapchat's parent company Snap Inc. has now officially launched the tool, while also announcing some additional ad options to help boost take-up of Snapchat ads.
Like most other social platforms, advertisers will now be able to create and purchase their own Snapchat ads via a new dashboard. Previously, you were only able to purchase Snapchat ads via partners or through Snapchat themselves.
Snapchat has also created audience tools which include lookalikes and Audience Match options (similar to other platforms) but also includes 'Snap Lifestyle categories', which it introduced late last year.
Facebook Launch An Era Of Advanced Chatbots
Facebook is discovering a new way to bridge the gap between tech and humans.
To do this, Facebook's researchers are working on ways of training its bots to think beyond the norm by presenting them with conversations between real people as they're in the midst of negotiating deals. Through doing this, super smart programs can be trained to learn from these experiences and even devise strategies of their own.
Facebook said: "Interestingly, in the [Facebook AI Research] experiments, people did not realize they were talking to a bot and not another person — showing that the bots had learned to hold fluent conversations in English in this domain."